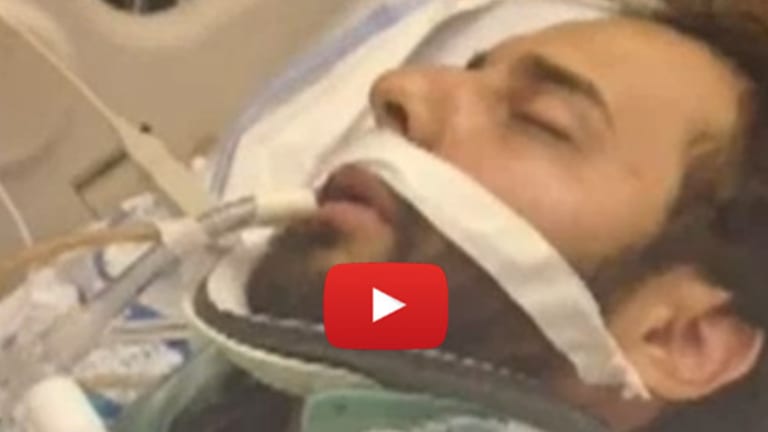 Iraq War Vet Spent 10 Years in USMC Unscathed, Returns Home to Have a Cop Put Him in the Hospital
Several tours in Iraq and not one wound, now he is facing permanent disability.
Matt Agorist
July 16, 2014
Transit officer, William Gonzalez, has been arrested July 5 and charged with aggravated assault after he allegedly knocked out Guillermo Balseca during a housewarming party.
The attack happened on the deck of Gonzalez's Linden Avenue home in Woodbridge, New Jersey, police say.
Balseca suffered bleeding and contusions around his brain after the fight with Gonzalez.
According to NBC New York, Balseca says he and others attending the housewarming party had been drinking alcohol, but says there is no excuse for the level of violence that resulted in his brain injuries, now manifesting in constant short-term memory loss and reduced mobility of his left foot.
Balseca's fiance, Charlene Charriez, who was also at the party, said Gonzalez continued to attack Balseca despite him begin knocked unconscious.
"He could not breathe. He was making no signs of life," she said.
Balseca's sister Lucille Nowakowski said: "He served his country. He was in combat. He was able to survive that. And he comes here to his home where he is supposed to be safe, and this happens to him? It's unfair."
Although Gonzalez was not on duty at the time, the loss of self-control exhibited by beating an unconscious man is not conducive to the occupation of law enforcement. Rightfully so, Balseca and his family think Gonzalez should be fired and face jail time.
Of course, a defense attorney for Gonzalez, suggested that he was justified in defending himself in the backyard fight. Gonzalez has filed his own counter-complaint against Balseca with Woodbridge Police.
Gonzalez has been put on desk duty pending an investigation and the Woodbridge police are looking into the charges.