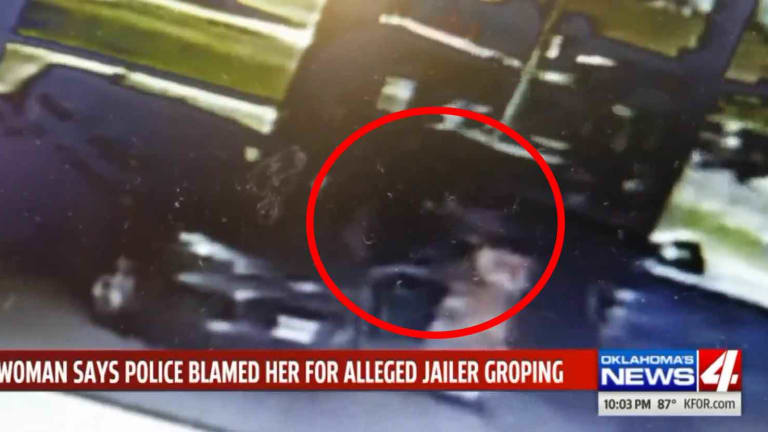 Police Tell Victim She Deserved It After Officer Caught On Video Publicly Groping Her
An Oklahoma City woman claims a jail cop groped her, tried to kiss, her and when she reported it she was told it was her fault.
Oklahoma City, OK — An Oklahoma County jail officer is being accused of making unwanted advances towards women at a gas station just down the street from where he works as a detention officer. Backing up these accusations is the surveillance video which captured the alleged assault.
Because the accusation is of a sexual nature, the victim is not being identified at the moment, nor is the officer. But the victim is speaking out to reporters at the same time decrying how the police department handled the situation. She says when she attempted to file a police report and have the jailer charged with sex crimes for allegedly groping her, the police blamed her saying she must have wanted him to come on to her.
The woman told reporters the sexual advances were definitely unwanted, unwelcome, and simply inappropriate. She described the incident which was partially captured on security cameras located at the gas station where the incident occurred.
He doesn't take no for an answer. And when a woman says no, she means no.
She described the officer's actions as having crossed the lines of legality.
He tried to kiss me on the neck, he hugged me and wouldn't let me go. He tried to kiss me on my mouth.
The Oklahoma County Jailer apparently and allegedly wouldn't leave the woman alone.
He is very aggressive, he is very handsy, and he is very pushy.
She said she had to tell the man she was married before he finally gave up making unwanted advances all the while groping the woman. Some of this can be verified on the video.
As TFTP has consistently reported, badge wearing members of society often use their position of supposed authority to sexually abuse hapless members of society.
Arguably, the most notorious criminal rapist cop hailed from Oklahoma City as well. Former Oklahoma City cop Daniel Holtzclaw used his badge and position as a police officer to prey upon and rape African American women while he was on-duty.
Convicted in 2015 on 18 counts of rape and sex crimes, Holtzclaw will never get out of jail and is considered a serial rapist. Even though the former officer was tried, convicted and sent to prison, the question remains, how can police officers get away with crimes for so long without their fellow boys in blue finding out about it and arresting them like the criminals they are?
The woman at the gas station last month may provide the answer to that question. She immediately called the police who, in her words, attempted to blame her for the unwanted advances and groping, instead of investigating one of their own. She also said the cops asked bystanders to make statements saying she provoked the advances.
Despite being railroaded, she remains firm and wants the jailer arrested and charged. She also wonders how many female inmates have been groped or worse by the same sexually aggressive officer.
I didn`t ask him for a hug, a kiss, not none of that. I had to tell him I was a married woman so he would leave me alone. I wonder how many other women out there he done this to. I wonder how many inmates in that jail he done this to.
News 4 asked a spokesperson for the sheriff`s department about the involved officer; they only would say he is under investigation. That officer is not allowed on gas station property until further notice, according to the report.
We will continue to bring you updates as this story progresses.