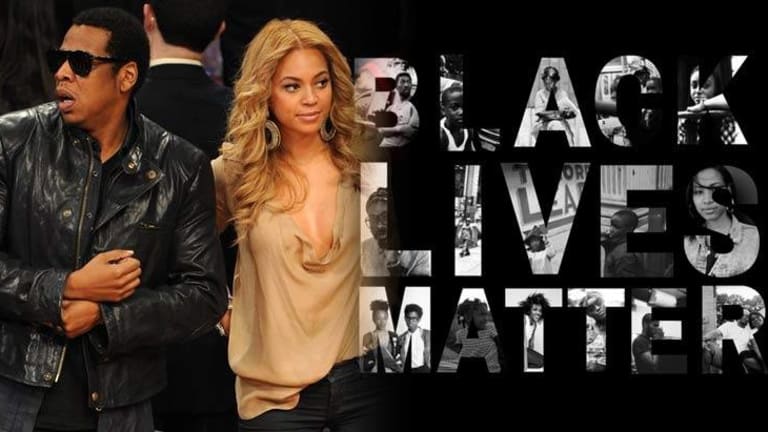 Jay-Z & Wife Beyoncé Allegedly Behind Large Donations in Support of #BlackLivesMatter Movement
A string of tweets on Sunday implied that Jay Z and Beyoncé are behind the recent and large anonymous donations to protesters.
Award winning filmmaker, writer and social justice organizer Dream Hampton took to Twitter, breaking the silence surrounding numerous large private financial donations, allegedly made by Shawn 'Jay-Z ' Carter and wife Beyoncé, to fund the Black Lives Matter protest movement and bail out protestors in both Ferguson and Baltimore.
Hampton, illustrating one of the most insidious ways in which political dissent is stifled in America, tweeted, "Protest is literally punished with tariffs." The quote referred to the state's preferred method of usurping the American people's ability to assemble and protest through financial attrition.
When people without adequate financial resources are fined precipitously by government agents, it becomes simply another means for the state to stifle free speech.
The organizer also took aim at criticism directed towards Jay-Z and Beyoncé by those that claim the couple doesn't confront important social issues, many of which have been thrust into the spotlight subsequent to the events unfolding in Ferguson and beyond.
According to Hampton, the Carters' have made large private donations to bail out protestors, along with a number of other major donations that are "too much to list."
The tweets have already been deleted, but here are the screenshots below.

Hampton, currently the 2015 Visiting Artist at Stanford University's Institute for Diversity in the Arts where she teaches "From Moments to Movements" a course on 21st century activism, new media and new narratives, then went on to detail the means by which the modern state attempts to usurp political dissent and marginalize protest movements through financial burdens.

With such a wealth of revealing information being released by Hampton, it begs the question as to whether the Carters were potentially the anonymous donors that bonded out the Baltimore teen who was being held on a $500,000 bond.
The actions taken by this power couple should serve as example to the multitude of stars, with large platforms and pockets to match, on how to utilize and leverage their financial resources to stand behind the people protesting in the streets for justice and social change.
It is only when the wealthy stand behind the people in the street, and against the tyranny of the state, that the voices of the people will again begin to echo in the halls of government.
Jay Syrmopoulos is an investigative journalist, freethinker, researcher, and ardent opponent of authoritarianism. He is currently a graduate student at University of Denver pursuing a masters in Global Affairs. Jay's work has previously been published on BenSwann.com and WeAreChange.org. You can follow him on Twitter @sirmetropolis, on Facebook at Sir Metropolis and now on tsu.