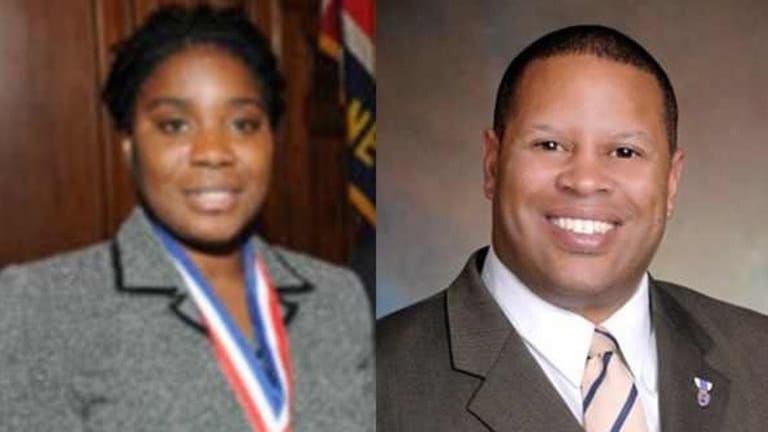 New Jersey Police Captain Snaps, Attacks City Councilman in Her Car
Newark, New Jersey - 43-year-old police captain Monique Smith is facing multiple charges after she attempted to run Newark City Councilman John Sharpe James off the road with her car.
She is now facing charges for aggravated assault, stalking, harassment, and criminal mischief. The officer is also facing multiple weapons charges, but the specifics on these charges have not been made clear.
According to police, around 11 PM this past Monday, Councilman James was standing near his vehicle at the intersection near his house when he was confronted by Police Captain Monique Smith. Smith apparently became aggressive with him, yelling and making threats.
Smith was just promoted to captain of the police force earlier that day, and was returning from a party when she confronted the councilman. Police have not disclosed whether or not Smith was under the influence of alcohol at the time.
Fearing for his safety, councilman James attempted to get away in his vehicle, and was quickly chased down the road. Smith followed James and smashed into his vehicle several times, attempting to run him off the road.
Eventually, James was able to make it to his parents house, where his father came out and scared the newly appointed police captain away. Ironically, his father is a former mayor who was convicted of fraud and conspiracy in 2008 and sentenced to 27 months in prison.
It is not clear whether this dispute had anything to do with a personal romantic relationship, or if some type of political corruption was involved.
John Vibes is an author, researcher and investigative journalist who takes a special interest in the counter culture and the drug war. In addition to his writing and activist work he is also the owner of a successful music promotion company. In 2013, he became one of the organizers of the Free Your Mind Conference, which features top caliber speakers and whistle-blowers from all over the world. You can contact him and stay connected to his work at his Facebook page. You can find his 65 chapter Book entitled "Alchemy of the Timeless Renaissance" at bookpatch.com.