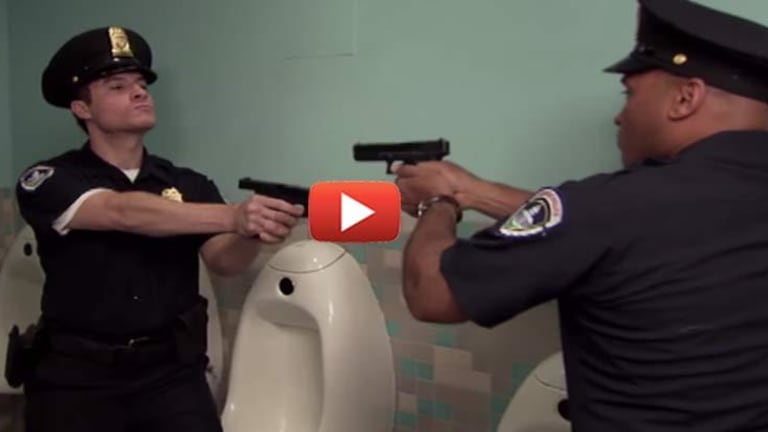 Jimmy Kimmel Makes Epic "Potty Training" Video For DC Cops Who Keep Leaving Guns in Bathrooms
After the Capital Police have announced they are going to give their officers training on how to use the bathroom, Jimmy Kimmel helps them out with a video of his own.
Washington, D.C. – Jimmy Kimmel has released a video highlighting the absurdity surrounding recent revelations that Capital Police accidentally left their guns in the Capital's public bathrooms. The department has announced that its officers will undergo special training on how to use the bathroom while armed.
The video comes after Capital Police Chief Kim C. Dine told Congress on Wednesday, "We are now providing additional training on what to do when you have to go to the bathroom."
Or as Kimmel so eloquently puts it, "The Capital Police are now undergoing potty training."
According to the AP:
Dine said he is considering increasing the minimum penalty to a 30-day suspension for a first offense, and termination for a subsequent violation.

 "I would be remiss if I did not say that the officers involved in these recent weapons cases reported in the media in no way intended to leave their weapons unattended. But as noted, this is not acceptable and they will be held accountable," Dine told the House Administration Committee. "They do take very seriously their life and safety responsibilities and they acknowledge that they made a mistake."
The "training video" goes on to provide a step-by-step guide for Capital Police to use the restroom without urinating on the floor, shooting others or leaving their weapon behind.
Jay Syrmopoulos is an investigative journalist, freethinker, researcher, and ardent opponent of authoritarianism. He is currently a graduate student at University of Denver pursuing a masters in Global Affairs. Jay's work has previously been published on BenSwann.com and WeAreChange.org. You can follow him on Twitter @sirmetropolis, on Facebook at Sir Metropolis and now on tsu.