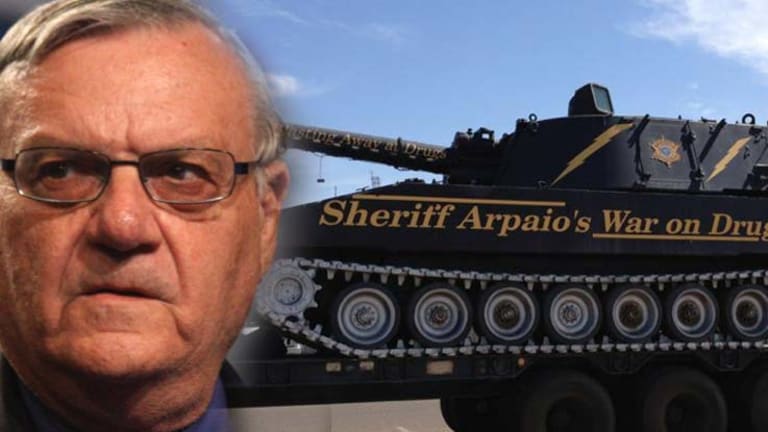 "America's Toughest Sheriff" Recommended for Criminal Prosecution for Targeting Brown People
America's toughest and perhaps most hated sheriff, Joe Arpaio, will soon face criminal contempt of court charges which could earn him time behind bars.
"America's toughest sheriff," as Maricopa County Sheriff Joe Arpaio frequently boasts of himself, is in hot water after a federal judge on Friday recommended criminal prosecution against the contentious Arizona lawman for violating court orders from a 2011 racial profiling case.
U.S. District Court Judge Murray Snow recommended prosecutors press criminal contempt charges against Arpaio as well as his second-in-command, Gerard Sheridan, Maricopa County Sheriff's Captain and Chief Deputy Steve Bailey, and an Arpaio attorney, Michele Iafrate.
Snow's 32-page recommendation comes on the heels of a ruling in May which found Arpaio and Bailey guilty of civil contempt "for intentionally ignoring an order to stop their immigration patrols," as local CBS affiliate KPHOreported.
Arpaio's brash railings against undocumented immigrants and his notorious tent city in the Arizona desert to house an enormous prison population have consistently earned public ire and garnered media controversy — but have also kept him the subject of legal scrutiny and repercussions.
Criminal contempt, if proven, carries potential time behind bars and fines. Further, should prosecutors choose not to follow Snow's recommendation, the judge would be at liberty to appoint a special prosecutor of his choosing to proceed with charges.
Mel McDonald, a former U.S. Attorney now serving as the sheriff's criminal defense attorney, unsurprisingly denounced the judge's recommendation.
"Judge Snow voiced his opinion, and we disagree with his conclusion," McDonald toldReuters. "There was no criminal intent by the sheriff."
But Snow's finding of civil contempt in May over Arpaio and his department's continued racial profiling of Latinos in defiance of a previous court order paint a different picture than that of a lawman targeted unfairly for just doing his job.
"The court finds that the defendants have engaged in multiple acts of misconduct, dishonesty, and bad faith with respect to the plaintiff class (Latinos) and the protection of its [constitutional] rights," Snow wrote in his decision, as CNNreported. "They have demonstrated a persistent disregard for the orders of this court, as well as an intention to violate and manipulate the laws and policies regulating their conduct as they pertain to their obligations to be fair, 'equitable and impartial' with respect to the interests of the plaintiff class."
Arpaio was found guilty on three counts, Sheridan, two, and two others — retired Chief Brian Sands and Lt. Joe Sousa — were each found guilty on two counts in that case.
"When a federal court finds that a law enforcement official has lied under oath and willfully flouted court orders, that official must be held to account,"asserted Cecillia Wang, director of the American Civil Liberties Union Immigrants' Rights Project, concerning the criminal contempt prosecution.
Snow's sometimes scathing recommendation illustrates a pattern by Arpaio and Sheridan of blatantly ignoring the court, as well as intentionally hindering investigations into racial profiling performed by the sheriff's department.
"Sheriff Arpaio and Chief Deputy Sheridan have a history of obfuscation and subversion of this Court's orders that is as old as this case and did not stop after they themselves became the subject of civil contempt," Snow wrote.
In 2011, a court injunction barred the Maricopa County Sheriff's Department from pulling over or otherwise stopping motorists on the simple assumption they had entered the country illegally — but Arpaio continued the practice for at least 18 months afterward.
In May 2013, Snow ruled Arpaio and his department actively and systematically racially profiled Latinos through immigration checkpoints, and had illegally detained individuals without just cause — a direct violation of constitutional rights.
Snow ordered sweeping changes under the guidance of an official monitor — prohibiting the sheriff's department from using an individual's "race or Latino ancestry" in the decision to stop a vehicle — but Arpaio and his department both thwarted the investigation and are rumored to have continued the practice.
Arpaio's impossibly strict and arbitrarily demeaning practices include jailing inmates in tents in the scorching Arizona desert while forcing them to wear pink underwear. His anti-immigrant histrionics have kept the sheriff in national headlines, as critics believe such practices, coupled with the pattern of racial profiling, border on human rights abuse.
In fact, British journalist Johann Hari discovered startling accounts of gross abuse in the Maricopa County jail in researching his book "Chasing the Scream: The First and Last Days of the War on Drugs." Primarily shedding light on the little-known father of the drug war, Harry Anslinger — of whom Arpaio "was a personal disciple" — Hari also examined the brutal prison system in the U.S.
In an interview with the ACLU, Hari recounted an interview with Donna Leone Hamm, one of the "only" advocates for prisoners' rights in Arizona. Hari paraphrased a harrowing story of abuse an inmate had told Hamm [emphasis added]:
"There was a woman called Marcia Powell, about whom almost nothing was known when I started doing the research, except that she kept being arrested either for having meth or prostituting herself to get meth. In 2009, she woke up in Perryville prison. She was suicidal, and the doctor refused to believe she was suicidal. To kind of shut her up, they took her and put her in a holding cage — which is literally an exposed cage in the desert — and they left her there. She cried and she begged for help. She begged for water, and she shat herself. The guards ignored her or mocked her, depending on whose account you believe — and in the end she collapsed. By the time they called an ambulance, she had been cooked to death. No one ever was criminally punished for what happened to Marsha Powell. A few people were fired, but no one ever faced criminal prosecution."
Though some Arizonans feel Arpaio's policies and practices are necessary to curb the once-massive influx of immigrants crossing into the state illegally, the sheriff undoubtedly has countless other detractors who claim those actions cross the line.
Criminal contempt of court is the latest evidence the bombastic sheriff feels he somehow stands above the very law he's tasked with enforcing. On the civil contempt ruling in May, Wang asserted somewhat optimistically:
"Willing or not, the sheriff will be made to comply with the law."
Former Maricopa County supervisor Mary Rose Wilcox, who sued Arpaio 'over politically-motivated criminal charges' had stronger words following Friday's announcement.
"Arpaio's problems have only just begun. I think this is the beginning of the end for Arpaio," she surmised, according to CNN. As for the sheriff, Wilcox did not hold back:
"You're going to be facing charges and may God have mercy on your soul."