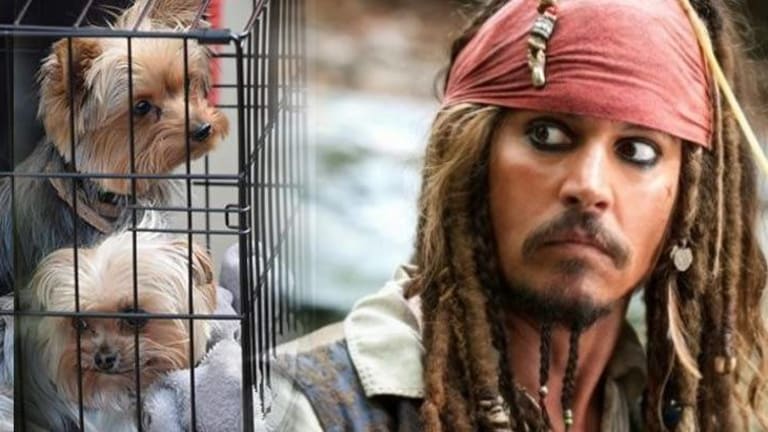 Megastar Johnny Depp Could Face 10-Years Prison for Bringing his Dogs to Work
Johnny Depp could face up to ten years in prison simply for traveling abroad with his dogs.
Australia – Actor Johnny Depp finds himself in a potentially serious situation, as he could face up to 10 years in an Australian prison for illegally bringing his two dogs into the country.
Depp failed to declare his two Yorkshire terriers when bringing them on his private jet to Australia for the filming of the latest installment of the Pirates of the Caribbean: Dead Men Tell No Tales film.
The pilot of the private jet could face up to two years behind bars, with state officials describing the case as "very serious."
On 25 May, an Australian senate committee was told that if it goes to court, Depp could receive a sentence of up to 10 years in prison with a maximum fine of roughly $265,000 USD, according to The Guardian.
The dog troubles began for Depp when pictures of his dogs were shown on social media showing them at a local Australian groomer.
Initially, the dogs were threatened with death if not removed from the country. Reports indicate that Depp's wife, Amber Heard, then left the country with the dogs, returning to California.
Quarantining animals for intercontinental travel is a highly necessary practice as it helps to prevent the transfer of non-native pathogens which could become highly invasive. Johnny Depp's actions could have caused harm.
However, threatening to kidnap and place a man in a cage for ten years, for bringing his pets on a business trip, seems like an overboard reaction.
When the letter of the law becomes more important than the intent behind the law, is the law actually worth anything at that point?
Jay Syrmopoulos is an investigative journalist, freethinker, researcher, and ardent opponent of authoritarianism. He is currently a graduate student at University of Denver pursuing a masters in Global Affairs. Jay's work has previously been published on BenSwann.com and WeAreChange.org. You can follow him on Twitter @sirmetropolis, on Facebook at Sir Metropolis and now on tsu.