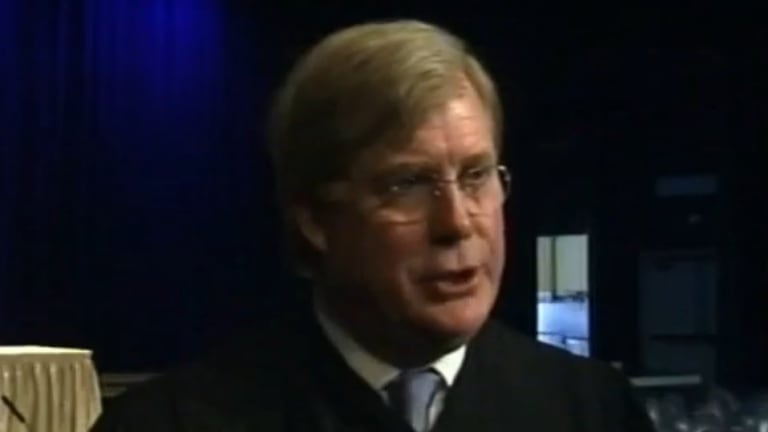 Judge Arrested For Domestic Violence Will Keep $200,000 Per Year Salary
U.S. District Judge Mark Fuller, of Alabama, was arrested last week after he allegedly assaulted his wife during an argument. The argument apparently started when Fuller's wife questioned him about an affair that she believed he was having.
According to the police report, an argument at a Ritz Carlton hotel between the judge and his wife turned into a physical fight, which resulted in his wife sustaining visible injuries.
Each side blamed the other for the altercation, but the evidence shows that Judge Fuller was likely to blame. His wife was covered in cuts and bruises and there was blood all over the room, but Fuller claims that he was the one who was being attacked, and that he was only defending himself.
Police were called to the room because the woman dialed 911 crying and telling the operator that her husband was beating her.
The couple's 17-year-old son was also at the hotel when the incident occurred, and confirmed his mother's story, telling police that this was not the first time that something like this had happened.
The circuit court made a statement this weekend saying that all of Fuller's cases will be handed off to other judges.
"Effective immediately, all legal matters filed with the United States District Court for the Middle District of Alabama that are pending before Judge Fuller will be reassigned to other judges in accordance with standard procedures for the assignment of cases," the statement said. "No new legal matters will be assigned to Judge Fuller until further notice."
Although his caseload has been given to other judges, Fuller will continue to collect his annual salary of roughly $200,000.
Fuller was divorced from his first wife, and attempted to have the divorce records sealed from the public. His ex-wife, Lisa Boyd Fuller, attempted to make the files public, saying that judge Fuller "was guilty of marital misconduct and is attempting to shield himself from the public scrutiny thereof."
Despite her efforts, the records of his prior divorce are still sealed.
Fuller is scheduled to return to court on Aug. 22 at 9 a.m. If convicted, he could face up to a year in jail.
Donald Watkins, an ASU attorney wrote an open letter Thursday requesting that Fuller receive the maximum sentence if he is found guilty.
"Fuller has earned a reputation as a hardcore 'law and order' judge for the harsh sentences he imposes in criminal cases. He is a firm believer in handing down maximum sentences in criminal cases. If Fuller is found guilty, we request that the Court sentence him to the maximum one-year jail time allowed under Georgia law for a misdemeanor,"Watkins wrote.
John Vibes is an author, researcher and investigative journalist who takes a special interest in the counter culture and the drug war. In addition to his writing and activist work he is also the owner of a successful music promotion company. In 2013, he became one of the organizers of the Free Your Mind Conference, which features top caliber speakers and whistle-blowers from all over the world. You can contact him and stay connected to his work at his Facebook page. You can find his 65 chapter Book entitled "Alchemy of the Timeless Renaissance" at bookpatch.com.