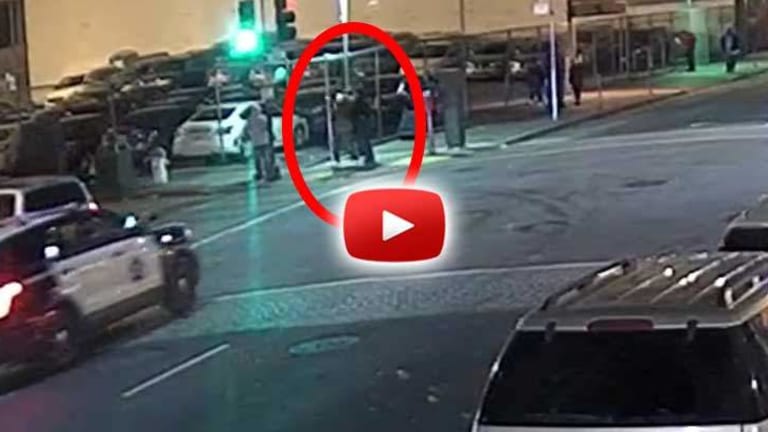 Man Exonerated and Cops Exposed as Lying Thugs After Video Surfaces Refuting 'Official' Story
"The video was unequivocal in rebutting everything the police officer testified to," said the judge.
San Francisco, CA – Caught on video assaulting a man and later lying to justify his actions, a San Francisco police officer was accused of perjury before a federal judge dismissed the case against his arrestee. Although officers eventually discovered a handgun on the suspect, the judge determined that the police had no legitimate reason to attack and search him.
On December 1, 2015, a surveillance camera captured roughly a dozen men playing an illegal dice game on the corner when a patrol car suddenly pulled up next to them. As many of the men calmly stood up and began walking away, Officer Nicholas Buckley and his partner exited their vehicle while immediately confronting people on the sidewalk.
According to Buckley's report and testimony, Brandon Simpson ignored several commands to stop while concealing his hands under his coat and near his waist. Acting aggressively, Simpson allegedly attempted to "sprint away up the hill" before Buckley tackled him along with other officers and subdued Simpson on the ground.
But surveillance video from a nearby nonprofit housing building revealed that Simpson had been walking in Buckley's general direction with his hands clearly visible when the officer abruptly assaulted him. Although Buckley admitted to punching Simpson twice, one of the officers in the video can be seen punching Simpson at least eight times.
">
Despite the fact that Simpson did not appear to fight back, several cops tackled him to the ground and subdued him. After finding a loaded handgun on him, the police arrested Simpson and charged him with possession of a gun while on probation for a prior felony. On Thursday, U.S. District Judge Charles Breyer dismissed the case against Simpson after watching a video of the incident.
"The worst thing in the world is the prosecution and conviction of an innocent person, or a conviction based on perjured testimony," Judge Breyer stated after dropping the charges against Simpson. "The affront is to all of us… I am not enraged, but I am deeply saddened."
During Simpson's recent trial, Buckley falsely testified to witnessing Simpson's aggressive behavior and attempt to flee. But after watching the surveillance video of Simpson's arrest, Breyer dismissed the federal charges against him on Thursday while publicly accusing Buckley of committing perjury.
"The video was unequivocal in rebutting everything the police officer testified to — at least to all the pertinent details," Breyer admitted after dismissing the case.
Facing up to 10 years in prison based on a cop's false testimony, Simpson walked out of court a free man, while Breyer ordered prosecutors to give copies of the video to San Francisco Police Chief Greg Suhr. Even though cops are rarely charged with perjury, District Attorney George Gascón has received pressure to prosecute Buckley and his partner, Officer John Fergus, with committing perjury under oath.
"Video has become a champion of justice," declared Public Defender Jeff Adachi. "They should be charged with perjury."
[author title="" image="https://"]Andrew Emett is a Los Angeles-based reporter exposing political and corporate corruption. His interests include national security, corporate abuse, and holding government officials accountable. Andrew's work has appeared on Raw Story, Alternet, Activist Post, and many other sites. You can follow him on Twitter @AndrewEmett and on Facebook at Andrew Emett.[/author]