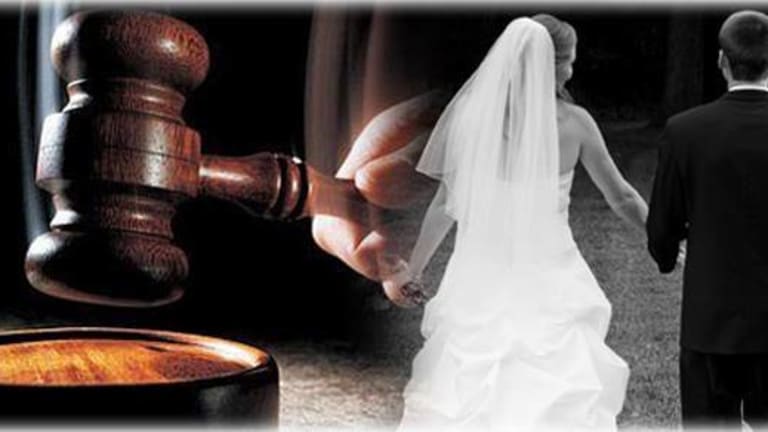 State Orders Man to Get Married or Go to Jail, Forces Him to Write Bible Verses Like a School Child
A judge in Texas sentenced a man to marry his live-in girlfriend following a physical altercation with his ex.
Smith County, Tx -- A Texas man, Josten Bundy, 21, was given an absolutely ludicrous ultimatum by a judge after pleading guilty to misdemeanor assault for punching his girlfriend's ex-boyfriend.
The charges stem from an incident in which Bundy had gotten into a physical altercation after the ex allegedly made disparaging remarks about the woman, Elizabeth Jaynes.
The Smith County Judge, Randall Rogers, gave Bundy the choice to either accept 15 days in jail or two years probation, a seemingly standard choice to be made within the court system.
Where things got strange is when the requirements of the probation were revealed. The probation term included requirements that Bundy write out a Bible verse 25 times a day ("If a man digs a pit, he will fall into it." -- Proverbs 26:27), and getting married within 30 days.
In an interview with KLTV, Bundy said that he would have taken the 15 days in jail, but the judge strong-armed him by refusing to allow him to inform his job.
"[Rogers] offered me 15 days in jail and that would have been fine and I asked if I could call my job [to let them know]," said Bundy. "The judge told me 'Nope, that's not how this works.'"
In an interview with CNN, Jaynes stated, "We figured he'd get probation but were surprised about the other conditions, especially the marriage."
"Then the judge asked Josten if I was worth it and if we were living together, and we both said 'yes.' When the judge said part of the probation was that we had to get married Josten smiled at me and I was turning red. The judge said, 'You might want to check with her first.' Josten said that because my face was red he thought I was OK with it, but then the judge made me stand up and asked me if I was OK with it. I said yes. People were laughing behind me and the bailiff had to say 'order in the court.' It was embarrassing."
Jaynes's father, Kenneth Jaynes, was extremely upset after she informed her parents about the events that had transpired in the courtroom.
"I was really upset. Judge Rogers stepped into my family and tried to tell them what to do without any regard for me or anything. This isn't his decision," Elizabeth's father, Kenneth Jaynes, told CNN.
"I told them they didn't have to do this, but they were afraid. They are young and they didn't know that they had any other options," he said.
The teens followed through on the absurd probation term by getting married at City Hall on July 20.
The judge's apparent abuse of his authority in this case is both stunning and frightening. Aside from the absurd marriage requirement, the fact that the judge is requiring people to write religious verses as part of a state-mandated order would seemingly be a direct endorsement of a particular religion by the state.
Jay Syrmopoulos is an investigative journalist, free thinker, researcher, and ardent opponent of authoritarianism. He is currently a graduate student at University of Denver pursuing a masters in Global Affairs. Jay's work has been published on BenSwann's Truth in Media, Chris Hedges' truth-out, AlterNet and many other sites. You can follow him on Twitter @sirmetropolis, on Facebook at Sir Metropolis and now on tsu.