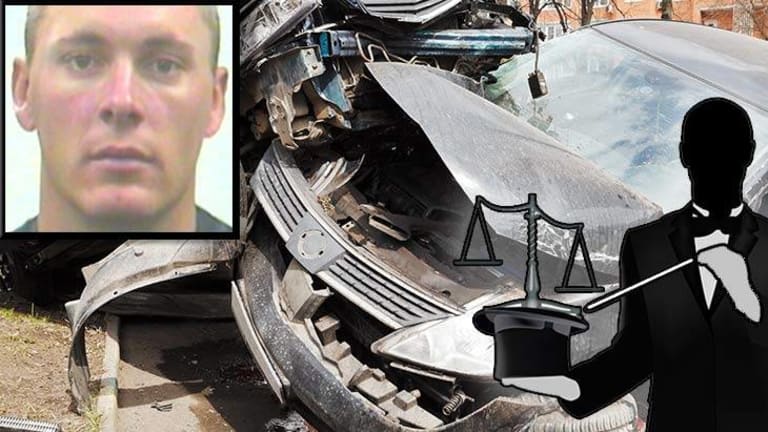 Speeding Cop Kills Man, Only Gets Ticket. Prosecutors Magically Forgot to Tell Judge Someone Died
An Arizona cop was only given a speeding ticket for a deadly accident because prosecutors failed to mention to the judge that a person was killed in the crash.
Glendale, AZ-- On December 16, 2013, Deputy Sean Pearce, son of recalled State Senator Russell Pearce, was recklessly driving an unmarked Chevrolet Tahoe. He was going 81 mph in a 40 mph zone, with no lights or sirens activated as he pursued a murder suspect. The suspect was over a mile away from the officer when Pearce rammed into the vehicle of 63-year-old John Edward Harding and took his life.
Last year, County Attorney Bill Montgomery announced that he would not be charging Harding with a felony. He cited that both drivers may have been obstructed due to a third vehicle, but the city of Glendale did want to pursue traffic violations from the fatal event.
"An individual who commits a civil or criminal traffic violation resulting in death or serious physical injury is not eligible to attend a defensive driving school, except that the court may order the individual to attend a defensive driving school in addition to another sentence imposed by the court on an adjudication or admission of the traffic violation," Arizona State law asserts.
Interestingly, nobody informed the judge that the deputy's actions lead to a loss of life. Pearce was therefore sentenced only to attending a defensive driving class, against Arizona state law, after admitting responsibility for a criminal traffic speeding ticket only.
On March 11, Judge Delgado who presided over the case called a hearing to express his concern over not being informed about the death of Harding before handing down his ruling. He claims that he only found out about the death after a public records request was made regarding the case.
"The reason I have you here today, both of you, is one simple question: Uh, was there serious physical injury in this case, or death?" Delgado is heard saying in the transcript obtained by The New Times.
The prosecutor, as well as the defense attorney, both responded "yes." Pearce's lawyer claimed to have informed the court, something the prosecutors office absolutely should have done.
Delgado told them that he had obtained audio of the proceedings and listened several times, hearing no mention of the death. Pearce's lawyer maintained he mentioned it twice, and merely "speaks softly" so it may not have been captured on the recording. He also admitted to telling the judge that Pearce was eligible for defensive driving class. However, this is something which would imply nobody had been injured or killed claiming that it wasn't necessarily the speed which caused the accident, but a possibly obstructed view.
The judge, however, was not buying this excuse and stated that he is inclined to believe Pearce was not eligible for the sentence that he had handed down.
"I just felt that I was not being given some details that should have been given to me. So obviously, I had some concern about candor in the court," Judge Delgado stated.
Another hearing on the dubious matter has been scheduled for April 8 at 1:15 pm.