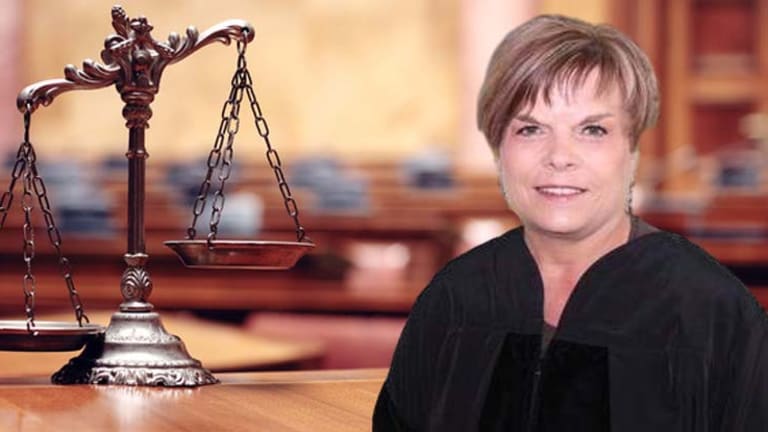 Judge Sics Cops on Journalist for Requesting Public Court Docs -- Has Him Arrested, Charged
A North Georgia newspaper publisher was indicted on a felony charge and jailed last week – for filing an open-records request.
Fannin County, GA – In a disturbing use of state power for retaliatory purposes, a Georgia Superior Court judge initiated felony charges against a local newspaper publisher for filing an open-records request.
Mark Thomason, publisher of Fannin Focus, had been trying to access courtroom transcripts and copies of certain checks from court bank accounts, but ran into fierce opposition from chief judge Brenda Weaver and the district attorney. Thomason and his attorney, Russell Stookey, were arrested last Friday.
"Thomason was charged June 24 with making a false statement in an open-records request in which he asked for copies of checks "cashed illegally." Thomason and Stookey were also charged with identity fraud and attempted identity fraud because they did not get Weaver's approval before sending subpoenas to banks where Weaver and another judge maintained accounts for office expenses. Weaver suggested that Thomason may have been trying to steal banking information on the checks."
The suggestion that Thomason was trying to steal banking information has no basis in reality, of course, and only adds insult to injury for a journalist simply doing his job. Identifying information can be redacted before being made public, as Weaver undoubtedly knows.
But the vindictive judge made it plain to see that her aggression is based on nothing more than emotion.
"I don't react well when my honesty is questioned," Weaver said. "It's clear this is a personal vendetta against me. I don't know how else to explain that."
Even if Thomason has no love for Weaver, the punitive use of the Open Records Act represents a shocking level of judicial retaliation against citizens exercising their right to see how taxpayer money is being spent.
In addition to having to post a $10,000 bond to get out of jail, Thomason must submit to random drug tests, and both defendants must adhere to a "long list of things they cannot do or things they must do to avoid going to jail until their trials."
"I was astounded, in disbelief that there were even any charges to be had," said Thomason, 37, who grew up in Fannin County. "I take this as a punch at journalists across the nation that if we continue to do our jobs correctly, then we have to live in fear of being imprisoned."
It started in 2015 when Thomason asked for the courtroom transcript where Judge Roger Bradley, who resigned earlier this year, and an assistant district attorney used a racial slur when announcing a case. Courtroom deputies repeated the slur, but Thomason was told by the court reporter that this part of the dialogue was "off the record."
When Thomason asked to listen to the audio recording which presumably would have shown the deputies using the racial slur, his request was denied.
Thomason reported on this turn of events in his local newspaper and asked Stookey to file paperwork to force the stenographer to release the recording. The stenographer, Rhonda Stubblefield, responded by filing a $1.6 million counterclaim against Thomason, "accusing him of defaming her in stories that said the transcript she produced may not be accurate."
This lawsuit was dropped after a visiting judge dismissed Thomason's case regarding the inaccurate transcript. Stubblefield was not done, though. She filed a claim against Thomason to recoup legal fees, even though she got a $16,000 check from then-Judge Bradley's operating account.
Stookey filed subpoenas for certain checks so he could prove Stubblefield's attorneys had already been paid, and this is when Judge Weaver decided to use her power to punish Thomason.
"To the extent these criminal charges stem from the use of the Open Records Act undermines the entire purpose of the law," said Hollie Manheimer, executive director of the Georgia First Amendment Foundation. "The Open Records Act is the vehicle by which citizens access governmental information… Retaliation for use of the Open Records Act will inhibit every citizen from using it, and reel us back into the dark ages."

Another expert said the charges against attorney Russell Stookey may also be unfounded. Robert Rubin, president of the Georgia Association of Criminal Defense Lawyers, said it was wrong for the grand jury to indict a lawyer who "is using the legitimate court process for a subpoena to get records relevant for his case."
The Society of Professional Journalists has called for the state Attorney General to investigate why Judge Weaver would seek charges against Thomason and Stookey for trying to obtain court records.
"We are shocked that any journalist would be jailed for simply asking a question," the society said in a statement.
"Where on earth is the DA coming up with a felony?" said J. Tom Morgan, the district attorney in DeKalb County for 12 years. "Sounds like a (dispute) between a judge and a public gadfly."
In a final bit of irony, Judge Weaver—who initiated this attack on journalism and the people's right to public information—currently chairs the Judicial Qualifications Commission, which investigates allegations of judicial misconduct.