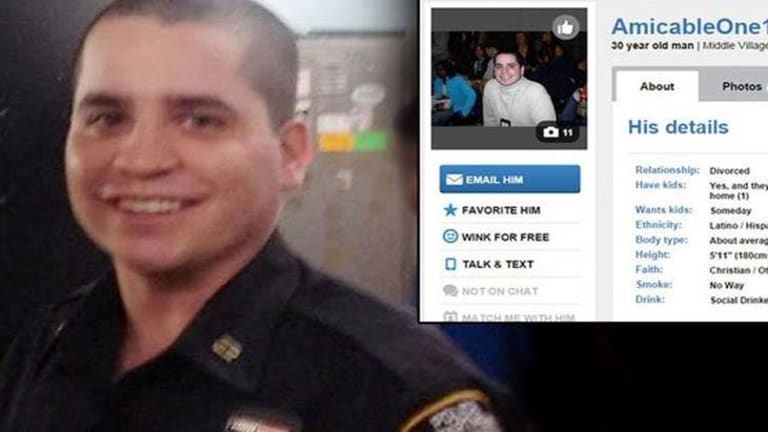 Cop Found Guilty Of Using Police Database To Stalk, Kill & Eat Women, But Judge Set Him Free
In a despicable act of flexing one's blue privilege, an NYPD cop who planned to murder dozens of women, was set free by a judge.
New York City, NY - Former NYPD officer Gilberto Valle has been in and out of court since 2012, when it was discovered that he was using a police database to stalk over 100 different women. To make matters even more disturbing, Valle spoke in graphic detail in online chats about how he planned to kidnap, kill and eat the women on his list.
He was originally convicted of conspiracy to kidnap and illegally accessing an NYPD database in 2013, but the conviction was overturned on the grounds that Valle's plans were not real, but were part of a "fantasy roleplay." Valle did not deny that he searched the women in the database, nor that he had spoken about killing and eating them, he just claimed that it was all a fantasy that he never planned on going through with. Surprisingly, even though a jury found him guilty, a judge accepted his excuse and overturned the verdict.
An appeal against the ruling was filed, led by prosecutor Justin Anderson who argued that the judge misused his authority by letting Valle off the hook.
"It was not Judge Gardephe's role to see himself as a 13th juror in the trial and decide whether his view of the evidence was in line with the jury's view of the evidence,"Anderson said.
The evidence is substantial that these were actual plans and not fantasies.
"The complaint alleges that Valle illegally used federal and state law enforcement databases to "locate potential victims," and that he surveilled some of these women at their homes and places of employment. He also allegedly drafted an "operation plan" to abduct and cook one woman, and researched "methods of disabling and drugging women."

In one July communication, Valle wrote that he was contemplating tying one "tasty" woman "onto some kind of apparatus…cook her over a low heat, keep her alive as long as possible." When asked about the size of his oven, Valle replied, "Big enough to fit one of these girls if I folded their legs." Agents found a document on Valle's computer titled "Abducting and Cooking [Victim-1]: a Blueprint." The document included the woman's name, date of birth, height, weight, and bra size, along with a "Materials Needed" section (car, chloroform, and rope).

Valle's computer also revealed that he and a co-conspirator "negotiated and agreed to a price at which Valle would kidnap" another woman, who is referred to as "Victim-2" in the complaint. Valle wrote, "$5,000 and she is all yours," noting that, "I'm putting my neck on the line here. If something goes wrong somehow, I am in deep shit." He subsequently added, "I think I would rather not get involved in the rape. You paid for her. She is all yours and I don't want to be tempted the next time I abduct a girl."
This week, the appeal was rejected, and Valle was able to avoid any consequences for his actions.
The judges in the case defended their decision, saying that stalking women and planning to kill them were within Valle's rights to free speech.
"We are loath to give the government power to punish us for our thoughts and not our actions. That includes the power to criminalize an individual's expression of sexual fantasies, no matter how perverse or disturbing. Fantasizing about committing a crime, even a crime of violence against a real person whom you know, is not a crime, " 2nd US Circuit Court of Appeals Judge Barrington Parker said in a statement.
"The Court's decision today confirms what we have said from the outset of this prosecution: fantasies, no matter how repugnant, are not crimes. This ruling is a very important victory not just for Mr. Valle, who has now been cleared of all criminal charges, but for an open society that treasures freedom of thought and expression," Valle's lawyers said in a statement.
John Vibes is an author and researcher who organizes a number of large events including the Free Your Mind Conference. He also has a publishing company where he offers a censorship free platform for both fiction and non-fiction writers. You can contact him and stay connected to his work at his Facebook page. You can purchase his books, or get your own book published at his website www.JohnVibes.com.