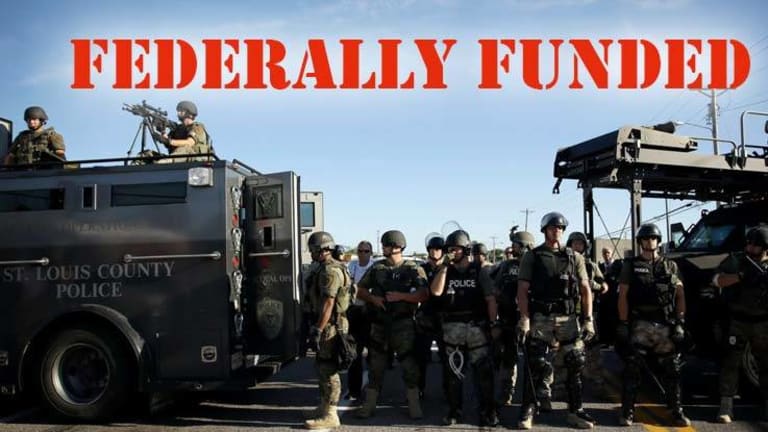 Define Irony: Justice Department Suing Ferguson Over the Horrid Police Crimes They Subsidized
The DoJ's investigation was thorough and uncovered unspeakable crimes, and the lawsuit is valid, but it was all made possible with federal money.
The city government of Ferguson, Missouri has rejected a proposed consent decree with the US Department of Justice that would mandate a list of police reforms. According to Mayor James Knowles, the federal demands would be cost-prohibitive for the cash-strapped city.
"In order to make sure this is a successful decree, we got to make sure that this something we can implement, something we can afford," Knowles insisted. The mayor was deaf to the irony of his plea for financial leniency: For decades, tens of thousands of Ferguson citizens, the overwhelming majority of them black, have been caught in a pitiless system of taxation-through-citation in which they were treated as livestock to be caught, penned, and fleeced on any available pretext.
By fiscal year 2015 – which began shortly after the shooting of Michael Brown by Officer Darren Wilson – Ferguson's anticipated fine and fee collection account for nearly one-quarter of the city's general fund revenues. It's worth recalling in this connection that the fatal encounter and controversial shooting occurred not because Officer Wilson was investigating Brown for suspicion of strong-arm robbery, but because of what the Ferguson Municipal Code calls: "Manner of Walking in Roadway." While it remains unclear what Wilson knew about Brown's alleged cigar theft, citing him for an ordinance violation would have been more profitable for the city than arresting and prosecuting him for a property crime.
Ferguson's police and municipal courts routinely violated constitutionally protected rights by "prioritizing the misuse of law enforcement authority as a means to generate municipal revenue over legitimate law enforcement purposes," asserts the federal lawsuit filed by the Justice Department after the city sent back the consent decree with a handful of unilateral revisions. "The Ferguson Police Department conducts stops and searches, issues citations, and makes arrests without legal justification. Ferguson officers routinely detain community members without reasonable suspicion and make arrests and issue stop orders [essentially , unconstitutional extra-judicial arrest warrants] and summonses without probable cause…. [The] Ferguson Police Department engages in at least two practices, the issuance and enforcement of what it calls `wanteds' or `stop orders,' and conducting what it calls `ped checks,' that routinely violate the Fourth Amendment."
Every contact between a citizen and an officer is treated as a revenue-generating opportunity, and few citizens escape without being issued multiple citations. The victims are then fed into a court system in which fines are also set according to revenue-generation objectives, and no allowance is made for the victim's ability to pay. Missing a hearing (because of work or family conflicts) or a payment will result in an arrest warrant. One of the most fruitful tactics for Ferguson's armed revenue-farmers, when no evidence exists of an actual crime, is to arrest citizens under Section 29-16 of the municipal code, which makes "Failure to Comply" with an officer's demands, whether or not they are lawful, an offense.
"Officers routinely arrest individuals under Section 29-16(2) for failure to identify themselves despite lacking reasonable suspicion to stop them in the first place," notes the Justice Department's complaint. The lawsuit describes an October 2011 in which two sisters were detained while backing their car into the driveway of their home. Despite the fact that they had committed no offense, both sisters were arrested and briefly jailed – one of them for refusing to provide identification, the other for getting out the car after being unlawfully ordered to remain inside.
"Ped checks" – essentially stopping and searching pedestrians without probable cause or reasonable suspicion – frequently yield "failure to comply" charges, as well. In one January 2013 incident uncovered during the Justice Department investigation, a young African-American man was assaulted by a patrol sergeant for refusing to answer questions or submit to a frisk despite the fact that the officer never explained the basis for the search.After the man asserted his rights and crossed his arms in front of his chest, the uniformed assailant shot the victim with a taser. After the victim hit the ground, the sergeant applied a continuous 20-second charge, later lying about the incident in an official report by claiming that the victim had tried to get to his feet (video captured by the taser's embedded video recorder documented that the man simply writhed on the ground). The victim of this act of aggravated assault was charged with Failure to Comply and Resisting Arrest.
After the man asserted his rights and crossed his arms in front of his chest, the uniformed assailant shot the victim with a taser. After the victim hit the ground, the sergeant applied a continuous 20-second charge, later lying about the incident in an official report by claiming that the victim had tried to get to his feet (video captured by the taser's embedded video recorder documented that the man simply writhed on the ground). The victim of this act of aggravated assault was charged with Failure to Comply and Resisting Arrest.
Ferguson officers also make unwarranted use of weaponized canines. A 14-year-old boy who skipped school was attacked by a police K9 officer after he was found "curled up in a ball inside a closet." Four officers were on the scene, and the 5'5", 140-pound, unarmed teenager posed no threat – yet the dog was deployed as a form of summary punishment when the young man refused to leave the closet.
The complaint documents numerous incidents in which police conducted retaliatory arrests of people who video-recorded incidents of abuse or misconduct. In June 2014, for example, an officer detained a family after the children were seen urinating in shrubbery next to their parked car. When the mother complained about the father being detained in front of the children, the officer snapped to the husband, "You're going to jail because your wife keeps running her mouth." The officer became infuriated when the mother pulled out her cell phone to record the incident.After the father was arrested on a charge of "parental neglect," the mother followed in the family car, continuing to record the encounter. The officer then pulled over the mother and arrested her.
After the father was arrested on a charge of "parental neglect," the mother followed in the family car, continuing to record the encounter. The officer then pulled over the mother and arrested her.
"No more mercy, since she wanted to videotape," declared the officer as he cuffed the mother and confiscated the cell phone.
A business owner was arrested in July 2012 after she called police headquarters to complain about the detention of an employee returning to work after visiting the bank. The revenue-gatherer charged the employee – who apparently had not been jaywalking – with "walking unsafely in the street." After she called 911 and demanded to talk to the Chief of Police, the owner was charged with "Interfering with Police Business" and "Misuse of 911."
"The officer decided to arrest her only after the woman tried to contact the Chief of Police, and indicated that his intent was to retaliate against her for reporting his conduct," narrates the Justice Department's suit.
Even on those rare occasions when Ferguson police respond to an actual crime of violence, their custom is to focus on revenue extraction, rather than protecting the public. Domestic violence calls, for example, can result in the victim being arrested for "occupancy permit" violations. One woman who received that treatment, according to the responding officer's report, exclaimed that she "hated the Ferguson Police Department and will never call again, even if she is being killed."
Official e-mails examined by the Justice Department document that the city government is contemptuous of its subjects, and that attitude is frequently expressed in explicitly racial terms. A May 2011 email written by an officer in the FPD contained a degrading joke: "An African-American woman in New Orleans was admitted into the hospital for a pregnancy termination undefined. Two weeks later she received a check for $5,000. She phone the hospital to ask who it was from. The hospital said, `Crimestoppers.'"
Ferguson officials, the Justice Department's investigation revealed, "explicitly distinguish Ferguson's African-American residents from Ferguson's `normal' residents' or `regular' people." A Court Clerk who was terminated in May 2015 testifies that racial stereotyping and circulation of bigoted emails "went on all the time" in the FPD and court system, and that "they would have to shut the doors because they [the emails in question] went through the whole station…."
Local citizens who file police misconduct complaints are flagged by the city prosecutor as "kooks," and critics of the system are routinely excoriated as people who "lack personal responsibility." However, notes the Justice Department, "City officials condone a striking lack of personal responsibility among themselves and their friends."
In August 2013, a police patrol supervisor sent an email entitled "Oops" to Prosecuting Attorney Stephanie Karr "regarding a ticked his relative received in another municipality for traveling 59 miles per hour in a 40-miles-per-hour zone." Having the ticket dismissed "would be a blessing," pleaded the officer, whose petition was granted. A similar exchange in November 2011 began with a request to "fix a parking ticket," and ended with a clerk's cheerful reply, "It's gone baby!"
"Your ticket of $200 has magically disappeared!" announced the same Court Clerk in March 2014 after another friend asked for similar assistance. The same person returned with a request several weeks later: "Can you work your magic again? It would be deeply appreciated."
No request of that kind made by one of the privileged few would be made in vain. By way of contrast, no resident or visitor to Ferguson not thus protected will be spared the attentions of its omnivorous revenue-collection apparatus. Official correspondence among the City Council, Police Department, and City Court make this very clear.
In a March 2010 email to then-Ferguson PD Chief Thomas Jackson, Finance Director Jeffrey Blume warned that "unless ticket-writing ramps up significantly before the end of the year, it will be hard to significantly raise collections next year. What are your thoughts? Given that we are looking at a substantial sales tax shortfall, it's not an insignificant issue."
Jackson promised that once more officers were hired the City would be able to deliver a ten percent increase in citation-based revenue.
Four years later, communication among Jackson, Blume, and then-City Manager John Shaw recommended implementation of an "I-270 traffic enforcement initiative" intended to "fill the revenue pipeline.
According to Blume, "there is nothing to keep us from running this initiative, 1,2,3,4,5,6 or even 7 days a week," although if the last option were chosen "we would see diminishing returns" owing to overtime costs.
The all-encompassing need for revenue collection prompted Shaw in May 2012 to reject demands that Judge Ronald Brockmeyer (who was simultaneously employed as a prosecutor in the neighboring cities of Florissant and Vinita Park ) be removed for his failure to follow appropriate procedures in applying the law. It goes without saying, the City Manager pointed out, that "the City cannot afford to lose any efficiency in our Courts, nor experience any decrease in our Fines and Forfeitures" – and swapping out their pet corrupt judge might lead to appointment of a less predictable gavel-wielder. Identical concerns were displayed in an April 2011 message in which the Court Clerk complained that the fines being sought by the new Prosecuting Attorney weren't high enough: "We need to keep up our revenue."
When the machinery of plunder is humming, all of Ferguson's Important People are happy.
"May is the 6th straight month in which court revenue (gross) has exceeded the previous year," kvelled Chief Jackson in a June 2011 email to Blume. A March 2012 email from the Captain of the Patrol Division boasted that the court clerk staffers "have been swamped all day with a line of people paying off fines today."
So deeply entrenched are the attitudes, habits, and practices of the Ferguson municipal clique that they persisted even after the Michael Brown shooting, the subsequent riots, and the beginning of the Justice Department inquiry. In December 2014, Blume publicly predicted that Ferguson would be able to make up an anticipated $2.5 million revenue shortfall through expanded code enforcement: "There's about a million-dollar increase in public-safety fines to make up the difference."
Just weeks prior to Blume's prediction, Ferguson's business district was ravaged as a result of riots that police misconduct had done much to incite – and that police response had done nothing to abate. While stores were pillaged, and business owners took up arms to protect what they had built, the police were deployed to protect the infrastructure of official plunder – the City Hall, Police Headquarters, and Municipal Court.
Like many larger municipalities – Baltimore being a splendid example – Ferguson, which has a population of roughly 21,000, is at one grotesquely over-policed and entirely unprotected. According to the Justice Department investigation, "As of December 2014, over 16,000 people had such warrants, almost all of which were issued for a missed payment or appearance. In fiscal year 2013 alone, the court issued warrants to approximately 9,000 persons"; those warrants "applied to roughly 32,000 different offenses" – a figure that underscores the practice of issuing multiple citations at every available opportunity. Among that population of potential arrestees was a 90-year-old man who "had a warrant issued for his arrest after he failed to timely pay the five citations FPD issued to him during a single traffic stop in 2013."
Many law-and-order conservatives – such as Sheriff David Clarke of Wisconsin's Milwaukee County – consider Ferguson's municipal government to be the victim of what the sheriff calls a "witch hunt" conducted by race-obsessed ideologues. Other critics of the Obama/Holder/Lynch Justice Department have described the investigation and lawsuit as part of a federal campaign to destroy the independence and local accountability of municipal police.
What the Ferguson investigation reveals is a consummate lack of accountability by the police, coupled with institutional hostility toward the public they supposedly serve. Just as importantly, it documents that the Ferguson PD – like every other "local" agency of its kind -- is a federally subsidized entity. Paragraphs 31 and 32 in the federal lawsuit note that Ferguson "has been and continues to be a recipient of federal financial assistance from the United States Department of Justice … either directly or through another recipient of federal financial assistance." In addition, the Ferguson Police Department "participates in the DOJ Equitable Sharing Program," a joint venture in official plunder through which the Feds help "local" police retain ninety percent of any property or currency they confiscate through "civil asset forfeiture."
The Justice Department's investigation of Ferguson was thorough, and its lawsuit addresses systemic abuses that cannot be allowed to continue. It should not be forgotten, however, that the abuses detailed in the suit were cultivated and sustained with federal assistance, and if the city hadn't succumbed to violent convulsions following the Michael Brown shooting Ferguson's status as a revenue plantation would have received no national attention.