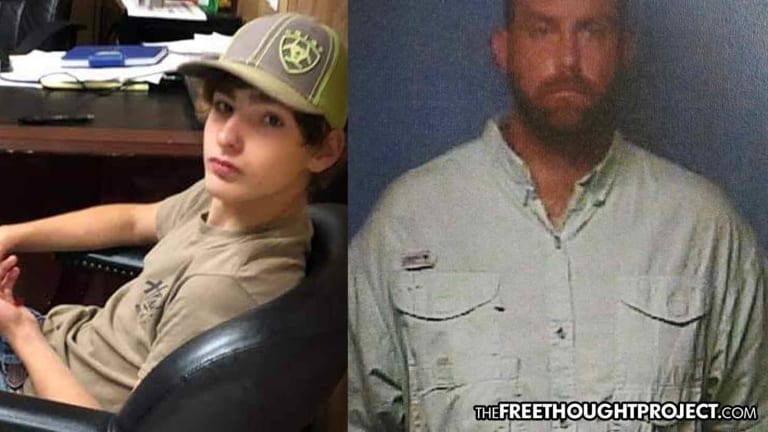 Cop Gets Insultingly Low 'Manslaughter' Charge for Killing Innocent Teen Holding a Plastic Bottle
The family has been fighting for justice for over three months and have just learned that the justice may never come.
Lonoke, AR — As we have been reporting over the last several months, the officer who shot and killed an innocent teen, 17-year-old Hunter Brittain, was fired but never charged for killing the child. The former sergeant with the Lonoke County Sheriff's Office, 30-year-old Michael Davis killed Brittain within a few moments of pulling him over. Family and friends have been fighting for justice for Hunter since that fateful day, and days ago, they found out that it might not come.
Davis was fired over the incident in July — not for murdering an unarmed teenage boy — but failing to film it when he did. But on Friday, he was finally charged. Unfortunately, the charge is weak and has shocked the community.
Davis, who shot and killed Brittain — who had committed no crime — was charged with manslaughter and turned himself in over the weekend. Davis was taken to an undisclosed jail and has his court appearance this week.
"As I said from the beginning of this sad, tragic case: Any of my deputies who violate the law or my policies will be held accountable," Lonoke Sheriff John Staley said in a video message after the charges were announced.
"This former deputy failed to follow my policies about proper use of body-worn cameras, which is why I terminated his employment … I did my job and now our justice system will do its job."
But Davis only faces up to 3 to 10 years if he is convicted — hardly justice. What's more, manslaughter means the "unintentional killing of another person." If you fire your gun at another person, your intentions are perfectly clear, making the charge of manslaughter, incredibly insulting.
Other than firing the killer cop over the body camera failure, authorities have remained tight-lipped and have refused to release any details until last week when the coroner's report was released.
The report from the Pulaski County coroner, as the Northwest Arkansas Democrat Gazette reported last week, said the initial 911 call came in at 3:08 a.m. on June 23 and Brittain was pronounced dead around 3:58 a.m. by an attending physician at Baptist Health Medical Center in North Little Rock — his death ruled a homicide.
The report said that Davis conducted a traffic stop when "the decedent" [Brittain] got out of the vehicle and "got something out of the back" before moving toward the sergeant, after which the sergeant fired his weapon.
Though the autopsy was not released, the coroner's report negated any speculation as to whether Hunter was on drugs or alcohol and nothing was found in his system. His cause of death was listed as two bullet holes, one to his neck and one to his arm.
These are the only details that have been released so far and the family has yet to even see the autopsy. Thanks to a secretive law in the Arkansas state code, the autopsy results are "privileged and confidential" and that only a defendant, attorney of defendant or prosecuting attorney can be granted access to records "pertaining to a defendant's criminal case." Victims be damned.
"This is the latest example of law enforcement shooting first and asking questions later," a statement from the family's attorneys said. "When officers fail to use their body camera, they fail to be transparent."
"Instead of answers, the family is left with questions about how a traffic stop could lead to the tragic killing of their young loved one," the statement went on.
"Nothing will bring Hunter back, but we can honor his memory and legacy by calling for justice and change in his name."
Thought the authorities have lacked all transparency, as we reported, Brittain's friend, described a blatant act of murder.
On the morning he was killed, Brittain and his friend Jordan King, 16, were working on his truck's transmission so Brittain could drive to work later that morning. Brittain's boss, Scott Hundley, who owns Hundley Construction, confirmed to KATV that he spoke with Brittain the night before to line up a ride to work if Brittain couldn't get his truck fixed.
"I was checking with him on his truck," Hundley said. "[He was] sending me pictures of his truck at the shop. He says he's been working on this truck but he's trying to make it."
But thanks to Davis, Brittain would not make it to work the next morning. And, according to King, it's because Davis murdered him.
King spoke to KATV off camera and detailed how the situation unfolded. He told reporters that he and Brittain had worked through the night to fix Brittain's truck and after they finally got it running they took it on a test drive around 3:00 a.m.
According to King, while on their test drive, Davis pulled them over about a mile from the shop where Brittain was working on his truck. Davis claimed the smoke from Brittain's vehicle was probable cause for the stop.
King said Davis pulled them over on Arkansas Highway 89 and within just a few minutes, Brittain would be killed.
As KATV reports, King said Brittain's truck wouldn't go into park, so Brittain got out to grab a blue oil jug to put behind his truck's tires and stop it from hitting Davis' car. According to King, Davis then fired without telling Brittain to stop or get on the ground.
"They didn't say one word that I know of. I didn't hear it and it happened so fast," King said.
King said after other deputies showed up, he was then handcuffed and forced into the back of a police cruiser for hours as he watched his friend bleed out on the pavement in front of him.
"[He] told me get out with my hands up and pull my shirt up and stuff, and then took me to the ground, put me in handcuffs and was dragging me around and stuff," King said. "And then I sat in the back of the cop car for about three hours."
King said he told deputies that he had no idea why Davis killed Brittain as he had no weapon and wasn't doing anything wrong.