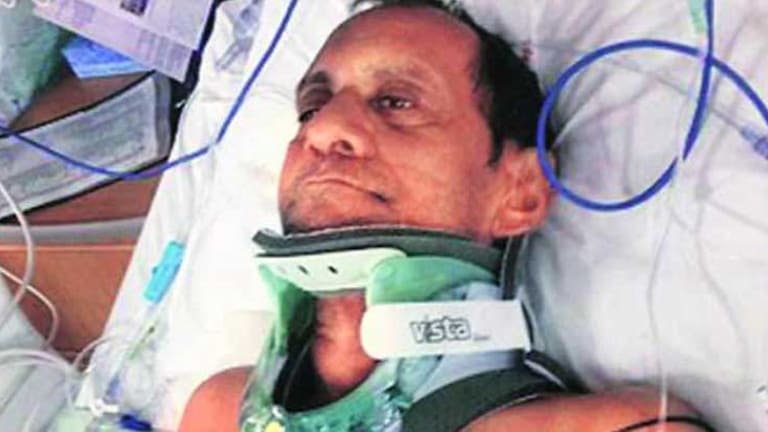 No Justice for Indian Grandfather Left Paralyzed by Alabama Cop -- Mistrial Declared
What is wrong with people when they can watch a police officer attack an innocent old man on video and not find him guilty.

Huntsville, AL – After a jury failed to reach a decision in the federal trial of an Alabama police officer, which left an Indian grandfather partially paralyzed, the judge declared a mistrial in the case.
The surprising announcement by U.S. District Court Judge Madeline Haikala came after jurors told the judge on four separate occasions that they were unable come to a unanimous decision.
Officer Eric Parker is accused of using excessive force while violating the civil rights of a man from India. Parker was caught on video violently slamming 58-year-old, Sureshbhai Patel to the ground in early February 2015. This left Patel with severe injuries, including partial paralysis.
Patel, who was in the U.S. visiting relatives, was approached by officer Eric Parker as he was taking a morning walk. The incident began after a paranoid neighbor reported a "suspicious" thin black man walking through the neighborhood.
Parker was subsequently arrested for assault after the brutal encounter with Patel, which was caught on dash camera. When the incident became public, it sparked international outrage. The Indian man had only recently come to the United States to assist in caring for his grandson, and spoke no English. The condemnation went so far as to force Alabama Gov. Robert Bentley (R) to formally apologized to the Indian government.
A grand jury indicted Parker in March on one count of felony use of unreasonable force.
During the trial, the defense attempted to portray Parker as a scared officer simply reacting to the actions of Patel, claiming that the officer escalated his use of force commensurate to the victim.
"This was an escalated police action based on what Mr. Patel did," Robert Tuten, Parker's attorney, said during closing arguments.
Parker incredulously claimed that he simply lost his balance as he took the grandfather to the ground, which he did because he feared for his safety as Patel reached into his pockets and pulled away from him.
According to the Washington Post:
Patel testified through a translator during the trial, telling jurors that he recognized men wearing police uniforms shouting from behind him but he couldn't understand their commands, WHNT reported. "No English, no English," Patel said to them, he testified. He also testified that he didn't resist.

Closing arguments came Wednesday and jurors first informed the judge Thursday that they were deadlocked. The judge urged the jury to come to an unanimous decision Friday after they had sent her three notes declaring that they reached an impasse, AL.com reported.
The failure of the jury to decide that Parker's actions were criminal shows a level of indoctrination into a level of authoritarian control that baffles the mind.
The video clearly shows this cop approach a man who speaks no English and escalate the situation into a violent encounter that left a man partially paralyzed.
"The government will retry the case," the U.S. attorney's office in the Northern District of Alabama said in a statement. "We look forward to having another jury hear the evidence."
The idea that this behavior was anything less than criminal shows either an extreme ignorance of what conduct is legally acceptable for a cop, or a blatant disregard for Patel's civil rights, most likely for having a darker complexion in Alabama. Hopefully, the next jury holds Parker accountable for his thuggish behavior captured in this brutal video.
Jay Syrmopoulos is an investigative journalist, free thinker, researcher, and ardent opponent of authoritarianism. He is currently a graduate student at University of Denver pursuing a masters in Global Affairs. Jay's work has been published on Ben Swann's Truth in Media, Truth-Out, AlterNet, InfoWars, MintPressNews and many other sites. You can follow him on Twitter @sirmetropolis, on Facebook at Sir Metropolis and now on tsu.