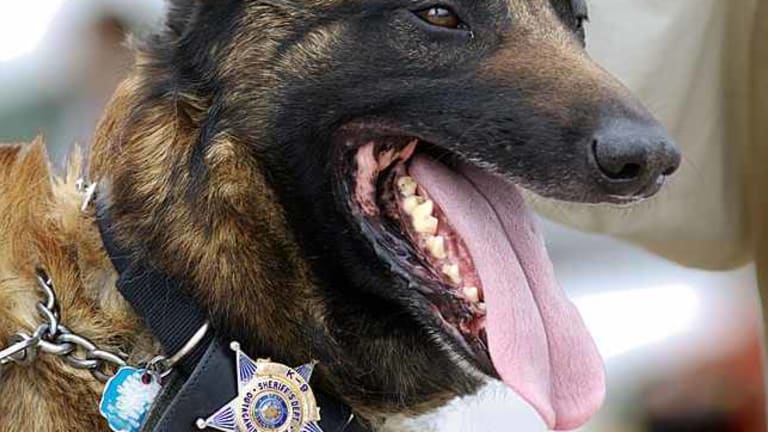 K-9 Dead After Officers Leave Dog in Hot Car For 6 Hours With Windows Up
A police officer in Mills, Wyoming was recently accused of leaving his K-9 dog in a police car for over 6 hours on a hot day with the windows rolled up. The dog was found dead after spending an entire hot day in the car without any water or ventilation. According to an affidavit obtained by KCWY13 news, it was 86 degrees on the day when the dog was left in the vehicle.
The car was parked in direct view of a security camera at the police station, which captured officers Zachary Lee Miller and Jake Bigelow leaving the dog in the vehicle. Miller is the senior officer who was responsible for the dog, but he has put the blame on Bigelow, his trainee. Miller said that he "yelled" at Bigelow for not turning the air conditioner on, but the fact still remains that the dog was in the car for 6 hours unattended, without any water.
Both officers are still employed with the Mills Police Department, allthough Miller is apparently on leave as a result of "unrealted personal reasons". Miller has pleaded not guilty to a misdemeanor animal cruelty charge and is schedule to appear in court soon.
Just two months ago an Indiana police officer was caught on tape beating his k-9 dog.
These officers clearly violated several sections within the Wyoming Cruelty to Animals Statutes, namely section (b) which states:

(b) A person commits cruelty to animals if he has the charge and custody of
any animal and unnecessarily fails to provide it with the proper food, drink or
protection from the weather, or cruelly abandons the animal, or in the case of
immediate, obvious, serious illness or injury, fails to provide the animal with
appropriate care.

Had this been a person without a shiny metal badge, we can rest assured that they would be 'punished to the full extent of the law.'
John Vibes is an author, researcher and investigative journalist who takes a special interest in the counter culture and the drug war. In addition to his writing and activist work he is also the owner of a successful music promotion company. In 2013, he became one of the organizers of the Free Your Mind Conference, which features top caliber speakers and whistle-blowers from all over the world. You can contact him and stay connected to his work at his Facebook page. You can find his 65 chapter Book entitled "Alchemy of the Timeless Renaissance" at bookpatch.com.