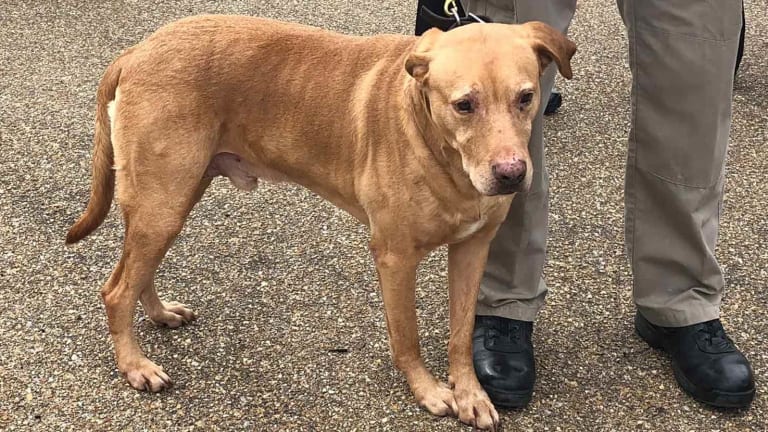 Cop Demoted After Dumping His Retired K-9 Partner at a Shelter to Be Killed
Instead of adhering to the policy of letting his K-9 retire in his home, a cop in Mississippi dumped his partner of 9 years off at a shelter to be euthanized.
Jackson, MS — Inside police departments across the country, hundreds of dogs are trained for various purposes. Some dogs sniff out drugs and bombs while others train to take out suspects who refuse to comply. In order to forge the bond between dog and handler, these K-9 units live with the officers whom they go out with every day. We often see stories in the media when K-9 officer is injured or dies and we are shown how the handler is suffering from a loss in this bond. What is not pushed to the front pages of the paper and the local news outlets, however, is when an officer abuses their K-9 or, as the following case illustrates, completely abandons them.
In October of 2018, after nearly a decade on the force, K-9 officer 'Ringo' was set to retire from the Jackson Police Department. He'd devoted his entire life to sniffing out drugs for the cops but when it came time for Ringo to retire and spend his golden years laying in bed and eating soft food, he was deliberately forgotten, thrown to the wayside and dumped off at a shelter by his handler.
Detective Carl Ellis was that handler for Ringo, a yellow Labrador retriever who had worked nine years on the narcotics team of the Jackson Police Department. Ringo's retirement came at the same time another K-9, Alpha, was set to retire as well. As is the policy, Alpha retired to his handler's home—but not Ringo.
Instead of receiving some rest after a decade of service to his handler Ellis, Ringo was dumped off at the pound. This dog, who devoted his life to Ellis then sat in the Animal Shelter for weeks, essentially on doggy death row. Ringo was no stranger to shelters either. It was 12 years ago that his former trainer found him in a shelter on the verge of death and rescued him.
Only by the slimmest chance of luck, another officer happened to enter the shelter weeks after Ringo had been dumped off there and he recognized the retired K-9. That officer then sent a photo of Ringo to the dog's former trainer, who immediately recognized him.
"Sure enough, it was Ringo there at the shelter, and my heart sank," the dog trainer, Randy Hare said, "With the way he actually started—being close to death, and the way he was kind of abandoned in this, we're not going to let that happen again."
As Hare filled out the paper work to adopt Ringo, the shelter told him that he may have been a former police K-9 so Hare sought the help from another officer.
"Why would he turn his back on the dog and surrender his dog like that?" Mr. Hare said, referring to Officer Ellis, in an interview with the NY Times. "I never dreamed in a thousand years that he would pull this. I thought he would at least call me first and let me help him."
We would like to ask the same question. To be okay with dumping a dog off at a shelter who you've had a relationship with for 10 years is appalling and outright heartless. In a surprising move, Ellis' superiors agreed and this cop was demoted.
"He wasn't pleased," the spokesman, Sgt. Roderick Holmes, said in an interview of the chief James E. Davis' reaction. "We treat our canines like we do any other officer with our department."
Ellis was removed from the narcotics unit and demoted back to patrol duty, according to the police department.
Wanting to know why he would dump off his K-9 after years of service, Hare contacted Ellis. However, Hare said Ellis refused to answer any questions and then hung up on him.
"It baffles me," he said.
Now, Ringo is living out his golden years in Nashville with Hare. After seeing Ringo dumped off in a shelter by cops, Hare says he has cut back on training police dogs out of fear it may happen again. He now primarily works with pups and owners on obedience training, according to News Channel 5.
While dumping a K-9 off at a shelter may appear extreme, TFTP has reported on multiple cases — many of which were caught on video — of police officers hurting their K-9 partners.
Earlier this month, TFTP reported on a video taken from a local bar on December 30, 2019 in Amarillo, TX, showing a K-9 officer kicking his dog in the face. 
Before that, TFTP reported in August on a cop — allegedly on a steroid rage — who was allowed to quietly resign after he broke his own K9 partner's leg.
An investigation into Anderson Sheriff Deputy Jacob Saxon revealed that he "slammed K9 Magnum to the ground multiple times" and there is a possibility that "illegal use of steroids played a part."
However, thanks to a corrupt system that protects violent cops — even when they hurt their own — Saxon was allowed to quietly resign and the "investigation" was closed.