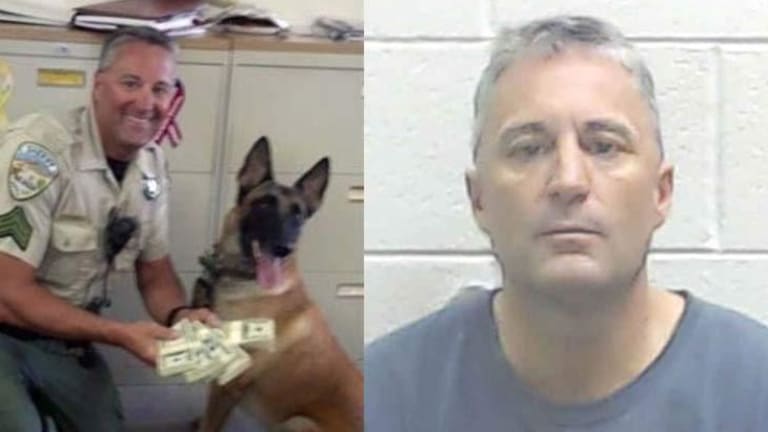 KARMA? Cop who "Legally" Robbed People of their Cash, Arrested for Assault with a Deadly Weapon
Sgt. Dove was legally assaulting people with deadly weapons for years. But he's in trouble now that he did it without his uniform on.
Winnemucca, NV -- Last year, Sgt. Lee Dove became the poster child for asset forfeiture in America. After video footage of his extortion racket became public and a subsequent photo depicted him smiling as he showed off the cash he stole from innocent people, Americans became that much more aware of asset forfeiture.
Now he's in a different photo, his mugshot, and that should go equally viral.
The Humbolt County Sheriff's department became infamous last year after infuriating dashcam footage showed Dove conducting literal highway robbery.
In something that you'd expect to see in a third world country, dashcam video from one of Dove's drug interdiction stops documented his "legalized" theft. No drugs were found, but that didn't stop the deputy from grabbing the cash.
"How much money you got?" Humboldt County Deputy Dove can be heard asking in the video.

Dove can be seen dropping cash on the hood of the car.

"That's not yours, is it?" said Deputy Dove as he salivated over this innocent man's cash.

"That's mine," said his victim.

"Well, I'm seizing it," said Dove just before threatening to steal more from the man if he refused to be robbed.
The video and the photo which was taken afterward set the Humbolt County Sheriff's Department down a long road, full of federal lawsuits from previous victims.
You can see that sickening video below.
The irony here is that while Dove was assaulting people with a gun and stealing from them, while on-duty, he escaped all accountability. But when he assaults people with a weapon, while off-duty, he is then arrested.
According to police, Dove, 47, was arrested in response to a dispatch call about a man with a gun at a gas station. He was charged with drawing a deadly weapon in a threatening manner and assault with a deadly weapon.
He was booked into the Humboldt County Detention Center on Tuesday, and his bail was set at $22,500. He has since been released.
Dove had been on paid leave since January.