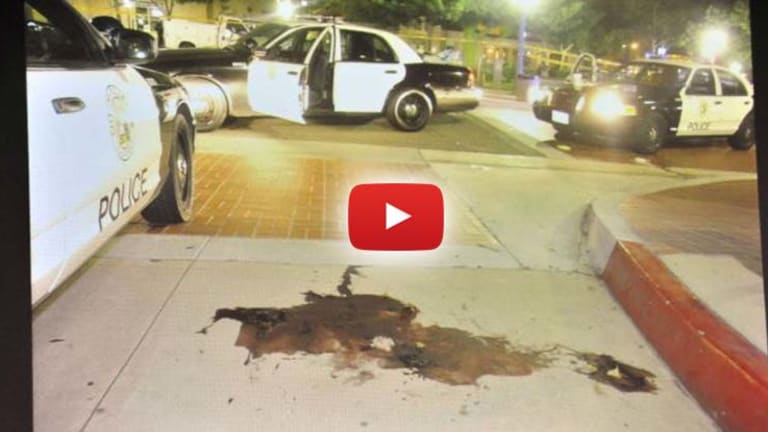 5 Years Ago Today Police Set a Deadly Precedent -- We Can Kill You On Video and Walk Free
Today marks the five-year anniversary of Kelly Thomas' horrific and fatal beating by six Fullerton police officers. None of them went to jail.
Fullerton, CA - Today marks the five-year anniversary of Kelly Thomas' horrific and fatal beating by six Fullerton police officers. None of the officers that beat Thomas to death were ever convicted.
Video recordings of the assault captured the anguished screams of the helpless, unarmed, 160-pound man as he was slugged, kicked, tasered, and clubbed as the attackers bellowed, "Stop resisting!"
For those unfamiliar with the case, Kelly was an unarmed, schizophrenic, transient man, savagely beaten to death by officers Jay Cicinelli, Manuel Ramos, Joe Wolfe, Kenton Hampton, James Blatney, and Sergeant Kevin Craig.
The fateful incident began when Fullerton police were dispatched to Slidebar Rock-N-Roll Kitchen, under a false report that Thomas was breaking into cars. In reality, Thomas was only picking up cigarette butts that were littered on the ground.
When Thomas was uncooperative with officers when they attempted to search him, Fullerton police officer Manuel Ramos said to Thomas "Now you see my fists? They are getting ready to fuck you up."
During the course of the brutal 9-minute beating, Thomas is heard crying out for his father 31 times, yelling "sir please" 30 times, "help me" 26 times, and "I'm sorry" 15 times before slipping into a coma.
Thomas never regained consciousness from the vicious beatings and was ultimately removed from life support five days later.
In a heartbreaking video of the attack, Kelly's last words can be heard…
"Dad help me. God help me. Help me. Help me. Help me."
Because the assailants who beat Kelly Thomas to death on the streets of Fullerton, California were swaddled in government-issued costumes and clothed in "qualified immunity," the killers went free.
"These peace officers did their jobs -- they did what they were trained to do," insisted John Barnett, the police union lawyer who represented Ramos during the trial. Michael D. Schwartz, who represented Cincinelli, likewise insisted that the pitiless assault on Thomas was carried out in strict fidelity to the "training" the officers had received.
The video, and subsequent outcome of this case, validated the privilege of police to kill without cause or consequences – except to the taxpayers who are compelled to pay for such "services," and then indemnify the resulting victims. It set the precedent -- cops can kill an innocent man on video and walk free.
Now, this is a socially accepted norm of police and society.
Watch the video below to see how these state sanctioned thugs took the life of a mentally ill homeless man – and walked free.