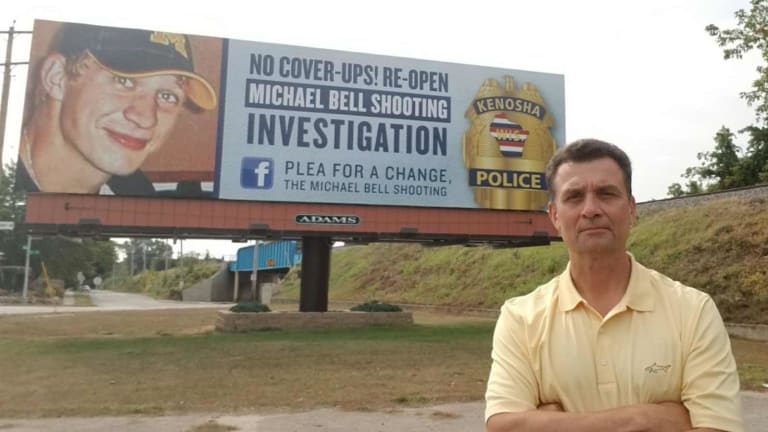 Kenosha PD Shot Jacob Blake Just Like They Did Michael Bell Jr., A Decorated Air Force Colonel's Son
The same police department who just put 7 bullets into a father's back in front of his kids, also got away with killing a Lt. Colonel's son, execution style.
The same police department that shot Jacob Blake seven times in the back in front of his wife and family, who were in the middle of a domestic dispute, also shot and killed a retired Air Force Lt. Colonel's son. Michael Bell, Sr., who we've interviewed on numerous occasions has tried unsuccessfully to bring his son's killer to justice and now must live through yet another officer-involved shooting in his hometown.
When TFTP asked Mr. Bell about the shooting of Blake, he said it was to be expected.
"I could honestly say I knew it was coming....only a matter of time," said the retired Air Force Colonel.
Bell was not at home on the fateful night Michael Bell Jr. was shot and killed by Kenosha PD officer Alberto Gonzales but his wife and daughter both witnessed their loved one gunned down in their own driveway — in the same way Blake's family watched him. Bell successfully sued the Kenosha PD in a wrongful death lawsuit and won a hefty 1.75 million dollar settlement which he used to mock the system of justice which allowed police departments, specifically the Kenosha PD, to investigate themselves when officer-involved shootings take place.
Bell successfully lobbied the State of Wisconsin and got the state's law changed to prevent law enforcement agencies (LEA) from using their own detectives to exonerate their fellow boys in blue without oversight from outside agencies.
He did so by canvassing the state with billboards which read, "When Police Kill Should They Judge Themselves"? After getting the state's law changed he then turned his attention to Kenosha PD demanding his son's case be reopened and investigated by an outside agency. Michael Bell Jr. was unarmed, was not resisting arrest, according to eye witnesses, and was shot execution style in the head while being held by at least three officers. Kenosha PD, to this day, has not reopened his son's homicide.
Bell has endured threats, intimidation, and belittling by members of the local police union. Not only did his son get killed by cops but Bell was forced to endure a face to face confrontation with his son's killer following a meeting where Bell was decrying the murder of his son in a public forum.
During this meeting, Gonzales told Bell to his face he would do it all over again if the same circumstances were in place. Little did Gonzales know it but Bell was recording the encounter and gave the Free Thought Project the exclusive audio recording as proof his son's killer was unapologetic about killing his son.
Kenosha has been burning for two now, following riots and protests in the wake of Blake's shooting. One can only imagine if the shooting could have been prevented had Kenosha PD had the decency to fire the cop who shot an unarmed young man in the head in front of his mother and sister. Instead, Kenosha PD claimed Michael Bell, Jr. was attempting to take an officer's firearm from its holster.
They also allegedly lied under oath about the shooting, even recreating the event on video in an attempt to allegedly deflect criticism of the incident.
Just last year, Bell claims he has now found the bullet's impact on his garage, a fact if proven true should theoretically be sufficient evidence to reopen the Michael Bell, Jr. investigation. So far, the cries from the decorated Air Force combat veteran have fallen on deaf ears.
However, it seems now, everyone is focused on Kenosha PD, waiting to see how the LEA will respond to yet another apparently senseless shooting while the city comes burning down around them. Maybe they should have taken the Lt. Colonel's claims more seriously.