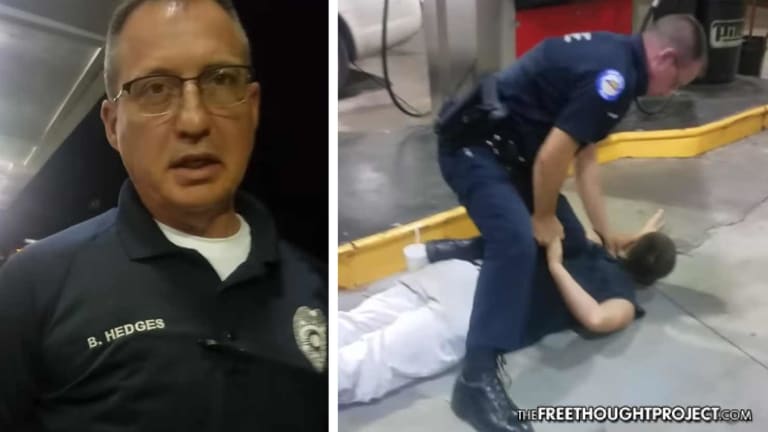 WATCH: Innocent Man Attacked and Arrested for Saying Cops Abuse Their Power
A Kentucky cop took offense to being told police officers throw their weight around, so he assaulted and kidnaped an innocent man.
Lebanon Junction, KY — A video recently uploaded by the Oath Accountability Project (OAP) shows a Lebanon Junction police officer arrest Avery Williams for simply asking for his name and badge number along with the name and badge number of his supervisor and noting how this cop was abusing his power.
" target="_blank" rel="noopener">The video begins with Williams and a female friend at a Lebanon Junction, KY Pilot gas station. After Williams asks the police officer for permission to stand under the awning, he tells his female friend:
Police in this town, in this state, in this city, have nothing better to do than to rouse people for nothing...play the bully role because they wear badges.
A Lebanon Junction officer returns to speak to the couple. His badge states his name as Officer Hedges. The officer tells the man he's, "free to go," but the citizen wanted to apparently hold the officer accountable for his actions and asks for his badge number as well as the name of his supervisor. "This is going to go online so people can see truth and consequences, how you guys push your weight around," the man says.
All of a sudden, the officer takes a defensive tone. "You are done! Get on the fucking ground," he says as he throws the man on the ground, cranks his hand behind his back and then threatens to tase the man. All the while the man pleads for the reason why he's being arrested.
It appears from the video that Ofc. Hedges didn't like William's promise to expose him to the world as the bully he appears to be. As a result of the OAP exposing the cop for his heavy-handedness, and likely unlawful arrest for questioning the quick-tempered officer's authority, a lot of attention is now being given to the small Kentucky town. Ironically enough, this cop proved Williams' point by acting in the manner that he did.
Hedges miserably explained to the young lady his reasons for arresting Williams.
I don't know what to tell you. He did what he did. I tried to be nice to you all and he refused to go along with it.
As a result of the arrest, many people believe the young man should now sue the police department and the officer for infringing on his civil rights.
We called the Lebanon Junction Police Department. The telephone number published on their Facebook page rang and rang with no answer. According to the website Supporting Heroes, the department only has four police officers and serves a community of fewer than 2,000 residents.
We have since learned Williams was eventually arrested and charged with several criminal offenses. But many people critical of the officer's actions are coming to his defense. They've taken to Google reviews and Facebook to voice their objections to the way the motorist was treated. Wade Oliver wrote the following Google review:
Officer Hedges should be fired and charged with assault and false arrest. This punk cop was picked on and stuffed in his locker as a child and now that he has a badge and weapon is taking out his childhood on law abiding citizens. What a shame the people of this town put up with his terrible behavior and by doing so they are condoning this behavior and will find themselves or their loved ones subjected to it one day.
In a TFTP exclusive, courtesy of the OAP, we had a chance to interview Williams. He said he was arrested and charged with disorderly conduct, resisting arrest and public intoxication controlled substance. He did not specify as to what substance it was he had in his possession after he was arrested. He said he was released after posting a $50 booking fee.
The woman with me is a life long friend her name is Toni...we were in the moving truck I was in the process of moving from Kentucky to Missouri. We had just arrived back in Ky to get another load after being on the road for 12 hrs When I stopped to get us drinks at the pilot truck stop in Lebanon junction KY.
He says all his problems with the law started after he won a cash prize with his lottery ticket and simply wanted to cash in his winnings.
I had attempted to redeem a scratch of lottery ticket when the attendant informed me she couldn't I asked why and she replied that their lotto machine had already shut down for the night. I inquired as to why that the machine at every where else shuts down at 2am. To which she replied then just f***ing go to speedway. As I was walking away she screamed across the store "it's not like you work here" to which i replied "no but i did for 4 years" I proceeded to go the McDonald's which is attached to the pilot to get the drinks I was wanting. When I exited the McDonald's the pilot attendant was standing out side and begin running her mouth. I don't recall what she was saying but at that point I took out my phone and told her I'm recording you and I'm going to report you. She replied I have a cop inside that will disagree with you.
He says the gas station attendant made good on her promise to get the police involved. Williams' earnings were quickly spent after he was arrested. Here's how he described the incident and how much money he says he's spent trying to get his case dismissed. It's unclear how a lawyer worth his weight in salt could not successfully argue the arrest was made without probable cause. After all, Ofc. Hedges did say, and it was caught on camera that Williams was "free to go".
 I have subsequently made 4 more trips to KY for court over this issue at an expense of over 1500 dollars only to have them repeatedly continue the case and give a new court date. My next court date over this issue is scheduled for Jan 2.