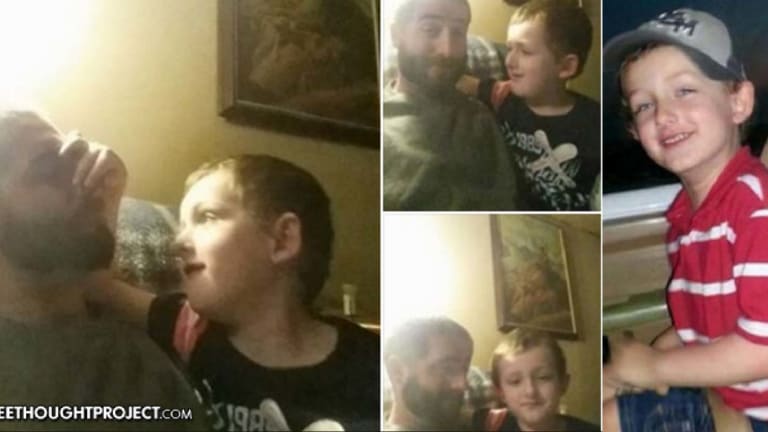 "They Kept Shooting": Father of 6yo Boy Killed by Cops Speaks Out for First Time
The father of Jeremy Mardis, a 6-year-old boy killed by cops, took the stand and spoke about the murder of his son for the first time in public.
Marksville, LA — It is now day three of the trial for Derrick Stafford, one of two officers charged with the 2015 murder of six-year-old Jeremy Mardis. Jeremy's father, Chris Few, who was also shot that fateful night, took the stand Tuesday and spoke about the murder of his son for the first time in public.
During his heartbreaking testimony, Few noted that officers Derrick Stafford and Norris Greenhouse Jr. immediately started firing — with no warning.
"The only thing I heard was gunshots. Then I heard verbal commands after they were through firing," Few said. "I stuck my hands out the window. They kept firing."
After he was shot, Few lost consciousness and didn't know his son died until he woke up in a hospital six days later — the day of Jeremy's funeral.
Matthew Derbes, a prosecutor in the case asked Few if he regrets not immediately stopping his car that night.
"Most definitely," Few said. "Every day."
However, Few noted that he was merely trying to catch up with the car in front of him, driven by his then girlfriend, so he could give Mardis to her in case he was arrested.
"The whole reason there was even a chase was for his well-being," he said.
Few said his son remained calm as they drove after his girlfriend. "He always liked going on rides," Few said of his son who was diagnosed with autism at age two.
According to the Greenhouse and Stafford, the officers decided to conduct a traffic stop because Few had an outstanding warrant. However, the Clerk of Court, the District Attorney's Office, Marksville Police Department, and City Court noted that they did not have any warrants against him. The officers also claimed Few had a weapon, that was also a lie.
Prior to the shooting, Greenhouse reported that Few had rammed his SUV into the officer's patrol car. But State Police detective Rodney Owens testified that no physical evidence exists suggesting Few's vehicle had collided with Greenhouse's patrol car.
Despite this lack of physical evidence, Stafford's attorneys are trying to pin the blame for the deadly confrontation on Few.
"Innocent people do not run from the police. Innocent people stop their vehicles, surrender to the police," defense attorney Jonathan Goins said as he called Few "the author of that child's fate."
However, since there was no warrant, no gun, and no subsequent charges, the implication that Few was not innocent, is another falsehood.
Even the other officer, Jason Brouillett, testified that he did not feel Few was a threat that night — which is why he did not fire.
"That car was not being used as a deadly weapon at that time," District Court Judge William Bennett declared after viewing the body cam footage. "I daresay it was not even close to being used as a deadly weapon at that time."
The horrifying body cam, released last September shows the disturbing scene that unfolded down that dark Marksville road.
During his testimony, Few kept his composure and even smiled when the prosecutor showed him a photo of little Jeremy celebrating the boy's first Christmas. The jury, however, was unable to do the same.
KATC reports, jurors saw crime scene photos, and several members of the jury were visibly upset, even crying, when shown pictures of the 6-year-old. Images of Few's gunshot wounds were also shown.
As the Free Thought Project has previously reported, this entire scenario could've been over a relationship. In November 2015, Few's fiancée came forward about her relationship to one of the murdering cops, Norris Greenhouse, Jr.
According to the Advocate, Megan Dixon, Few's fiancée at the time, said Few had a previous run-in with Greenhouse. A former high school classmate of Dixon, Greenhouse had started messaging her on Facebook and had come by the house Few and Dixon were sharing at the time.
"I told Chris, and Chris confronted him about it and told him, 'Next time you come to my house I'm going to hurt you,'" Dixon said.
Sadly, for Jeremy Mardis, who will never see another Christmas or Birthday or throw the ball with his dad, and his family, the outcome of this trial is the only thing his heartbroken parents can hope for.
If convicted, Stafford faces a mandatory sentence of life in prison without parole, probation or suspension of sentence.
[author title="" image="https://tftpstagingstg.wpengine.com/wp-content/uploads/2016/03/magorist-e1456948757204.jpg"]Matt Agorist is an honorably discharged veteran of the USMC and former intelligence operator directly tasked by the NSA. This prior experience gives him unique insight into the world of government corruption and the American police state. Agorist has been an independent journalist for over a decade and has been featured on mainstream networks around the world. Agorist is also the Editor at Large at the Free Thought Project. Follow @MattAgorist on Twitter, Steemit, and now on Facebook.[/author]