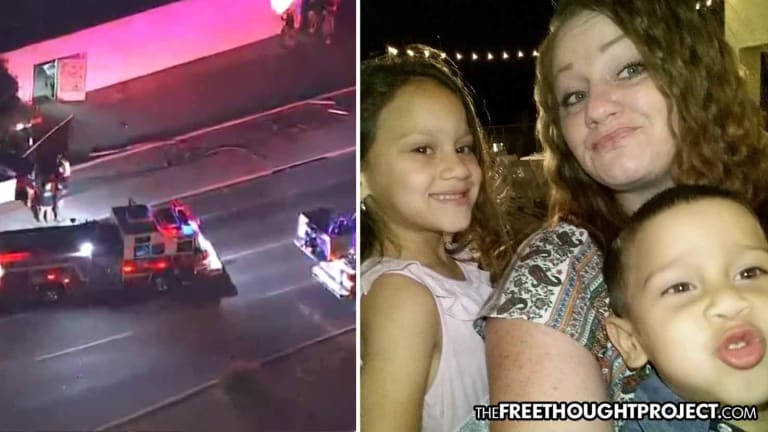 Kids Watch in Horror as Cops Mistake Mom's Diabetic Shock for Being High, 'Brutalize' Her
Ignoring her children's pleas for help and claims their mom was in diabetic shock, police yanked the mother from her car, handcuffed her, and threw her in the back of the cruiser.
Phoenix, AZ -- Monday night, Nicole Bryden was on her way back home with her two kids, 5 and 8-years-old, after attempting to enjoy a night out to eat with them. As the family made their way home, Bryden, who is diabetic, experienced a loss of consciousness due to low blood sugar and got into a terrible accident, crashing into a local business. When police showed up, instead of helping the mother in need, they "brutalized" her, according to the family. They mistook her medical emergency for "being high" and treated her like a criminal instead of someone in need.
Bryden says she is now considering a lawsuit after she was pulled from the car in front of her young children, handcuffed, and thrown in the back of a police cruiser instead of receiving the medical care she so desperately needed.
According to Bryden, as police were yanking her from the car, her children were telling them that she is diabetic and needs help. Apparently, however, these cries for help fell on deaf ears as they just knew this mother was high on something.
That night, Bryden explained that she felt a bit off before dinner, so they never made it into the restaurant and instead decided to return home.
"I never got out of the car. My kids said I fell asleep for a while," Bryden said.
When the family decided to leave, that's when things took a turn for the worse.
"That's when I blacked out," Bryden said.
When Bryden finally came to, she was not in an ambulance, but rather surround by cops, handcuffed in the back of a police cruiser.
"I was handcuffed. They threw me in the back of the cop car," she said. "My daughter told me she kept telling them, 'My mom's diabetic.'"
Despite her children's attempts to warn cops, none of them listened. Luckily for Bryden, however, a paramedic was on the scene who she asked for help.
The paramedic took Bryden's blood sugar and found it to be at a dangerously low 38 mg/dL. Normal blood sugar levels are just under 100 mg/dL after not eating (fasting) for at least eight hours. And they're usually less than 140 mg/dL two hours after eating, according to WebMD.
Luckily for Bryden, after the paramedics were able to get her help, she was not charged. News12 spoke to the flower shop into which Bryden had crashed and they said their insurance is going to cover the damage. It was also reported that Bryden will not face any charges.
Bryden told the local news that she feels she was mistreated and "brutalized" by police and has setup a GoFundMe account to raise funds for an attorney.
"As some of you know my sister, Nicole Bryden, fell into diabetic shock while driving and had a horrible accident in which her new car was destroyed. As if that wasn't enough, she was brutalized on scene by phoenix police because they though she was high on drugs instead of treating her glucose level of 38," reads the GoFundMe description.
Sadly, cops mistaking medical problems for criminal behavior is an unfortunately common scenario. Fortunately for Brysen, she wasn't savagely beaten. In the two incidents below, however, the victims were not as lucky.
Earlier this year, TFTP reported the story of John Priest, who was savagely beaten by police, on video, by cops who mistook his low blood sugar for criminal activity.
As the video shows, Priest is stopped in the road in a clear state of diabetic distress when two Amarillo police officers pull up behind him. He is unable to respond to their commands and so police respond by smashing out the rear window and then hitting the unresponsive diabetic in the head multiple times.
As TFTP previously reported, like Priest, Carl Leadholm was in diabetic medical distress and needed help when he was targeted by five police officers. However, his innocence and the fact that he needed help was of no consequence to the officers who mistook low blood sugar for a criminal act. Like Priest, Leadholm was savagely beaten.