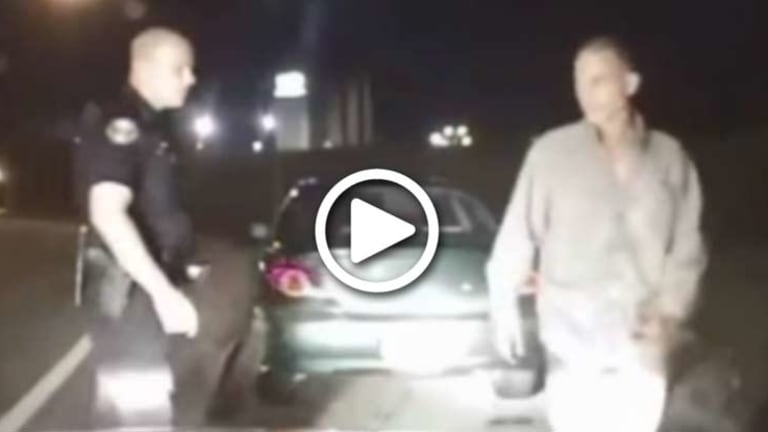 Graphic Dashcam: Cop Shoots Fleeing, Unarmed Man in Back, Fires Again After He Falls
A Knoxville police officer, who shot a man six times in the back as he was fleeing, will not be allowed to claim qualified immunity.
Three years after a Knoxville police officer shot an unarmed man in the back six times and killed him, an appellate court has determined that the officer is not eligible for qualified immunity in the $3 million civil rights lawsuit he is facing.
The incident occurred during a stop on the side of the road when Officer David Gerlach encountered Ronald E. Carden, a 45-year-old man who was recently released on parole. It ended with Gerlach shooting Carden multiple times in the back, and then proceeding to shoot him as he was falling to the ground. The horrific incident now serves to illustrate that not only did police lie about what happened, they covered it up, and refused to bring charges against an officer who should have likely been charged with homicide.
Carden's son, Brandon, is suing Gerlach and the Knoxville Police Department for $3 million in a federal civil rights lawsuit. He recently won a small victory in court when an appellate judge refused to grant qualified immunity to Gerlach. The court ruled that not only did case law not sustain that the shooting was justified, but they denied Gerlach's claim of immunity from prosecution. The court wrote:
"Because it was clearly established at the time of the shooting that the police may not fire on a fleeing suspect who does not pose a threat of serious physical harm, the denial of qualified immunity was proper."
In other words, while police officers are normally protected from prosecution because of qualified immunity statutes, when a suspect is running away, a police officer may not shoot and kill such a person. One might be tempted to believe such a conclusion would fall in the realm of common sense, but not when it comes to police, as The Free Thought Project has reported.
The incident occurred along the side of Knoxville's Interstate 40 at about 3 a.m. on July 27, 2014, when the car Carden was driving got a flat tire. From Gerlach's dashcam footage, two men (Carden and a friend) can be seen attempting to change the flat tire on the car. Some police officers may have attempted to help the two men, but Gerlach ran Carden's plates which reportedly came back registered to a different vehicle.
Thinking the car might be stolen, Gerlach began questioning Carden. As soon as Gerlach reached for Carden's arm, Carden punched him and began running away, out of camera view. A taser can be heard as having been deployed, and then six shots were fired.
Gerlach radioed "shots fired" and backup officers arrived, and Carden's friend—who had stayed out of the encounter, even as he watched the shooting—was placed in handcuffs. The story that followed was anything but the truth.
KPD spokesman Darrell DeBusk reportedly described such a violent struggle for Gerlach's gun that the holster broke under the force. "Officer Gerlach was able to retain enough control of the gun to fire more than one shot," DeBusk said.
What DeBusk failed to mention, which the autopsy confirmed, was that Gerlach shot Carden in the back six times, with five bullets being fired from a distance of more than three feet. Not only was Carden fleeing, but Gerlach shot him after he had fallen to the ground, according to the autopsy report.
Carden's son filed a federal civil rights lawsuit against Gerlach, and the KPD for its officer's use of deadly force against his father. Gerlach's attorneys contended he should be given immunity from prosecution on the basis that he was acting within his official duties as a police officer at the time of the shooting. The judge overseeing the case completely disagreed.
Proof Gerlach shot both a fleeing man, and killed a wounded man comes from the pen of the judge overseeing the appeal. The Knoxville News Sentinel reported that Sixth District U.S. Court of Appeals Judge Tom Varlan cited the autopsy report as well as evidence presented by Carden's attorneys. Varlan wrote:
"(Carden) started to flee, and made it about one step, when (Gerlach) began shooting at (Carden)...(Gerlach) fired approximately two to three shots at (Carden) while (Gerlach) was still lying on the ground. He then stood up and fired three more shots down at (Carden). Approximately thirty-five seconds elapsed from the moment (Carden) struck (Gerlach) to the moment (Gerlach) fired his final round."
The Sentinel also noted that while the dash cam footage showed Carden wearing jeans and a buttoned-up shirt when he ran from Gerlach, his body arrived at the morgue shirtless and in handcuffs. The shirt was not turned over until three weeks after the shooting, and it was "still buttoned but turned inside out," with "no evidence Carden was wearing the shirt when he was struck by bullets."
For those who might assume that Gerlach had probable cause to shoot Carden, the court opined:
"[Even if Gerlach] had probable cause to fear for his safety during his struggle with Carden [a jury could find] he lacked the same cause after the struggle had ended and Carden, still unarmed, had turned and begun to flee."
Police officers and departments everywhere should take notice that it is still unlawful to shoot at fleeing suspects who pose no serious threat to police.
According to a report from the Knoxville Mercury, which conducted an extensive review of the disciplinary procedures inside the KPD, the problem is systemic.
"Although more than 100 officers have been flagged in the 14 years since an early intervention system was instituted to nip problem behaviors in the bud, only one of those officers has actually been enrolled in the correctional part of the program. In all other cases, supervisors decided the officers' activities weren't a problem."
Equally disturbing is the fact that the police department investigates itself when officers are accused of serious infractions.
"The Mercury examined the personnel files of more than 20 officers who have either recently been the subject of lawsuits related to use of force, had repeated misbehavior problems or high-profile errors, or who have been flagged for recurring problems by the department itself. In these officers' cases, reprimands, "counseling forms," and even suspensions often appear to have had little to no effect on officers' annual reviews, pay raises, or promotions. The department itself investigates potential criminal allegations against its officers, even in cases that involve deadly use of force or shooting deaths."
Had there been an independent review board, operating outside of the influence of the police department, and an effective discipline program at work within the KPD, then maybe this shooting could have been prevented.
As Carden's son moves forward in his civil rights lawsuit, it is important to remember that even if he does win the $3 million he is pursuing, Tennessee taxpayers will be the ones footing the bill, not the killer cop.