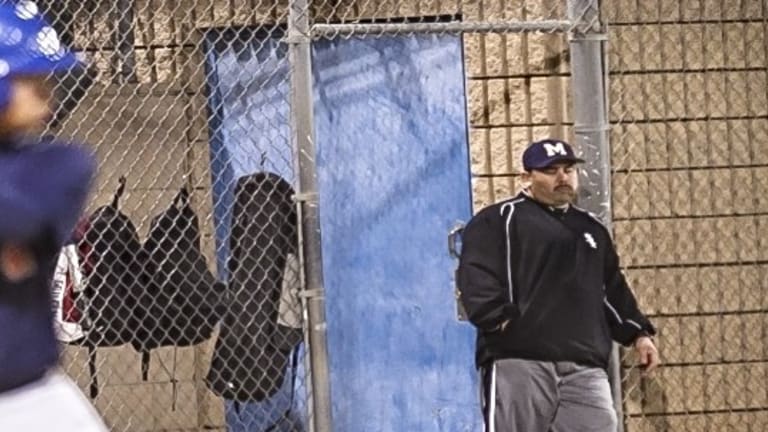 Killer Cop Manuel Ramos Has a New Job: Pony League Baseball Coach!
March 13, 2014
The lights shone brightly at Duane Winters Field in Fullerton's Amerige Park earlier this week for a PONY League baseball game. Youngsters stepped up to the plate as the sound of aluminum bats thwacking baseballs rounded out what otherwise was a normal night of America's pastime...save for the killer cop in the dugout.
There stood Manuel Ramos, coaching kids in the fine art of swinging a baton at a defenseless homeless man...sorry, swinging a bat at a defenseless homeless man...sorry, coaching kids. Across the street from the baseball diamond stood his former workplace, the Fullerton Police Department.
Returning to civilian life after a jury acquitted him and his former partner officer Jay Cicinelli in the July 5, 2011 beating death of Kelly Thomas this January has been rocky for Ramos. Last month, he tried to enjoy a night at Denny's (no word if Cicinelli has been seen eating pancakes at "Eyehop" yet!) until patrons ran him out.
Be wary of Coach Ramos putting on those batting gloves...
At Amerige Park, the scene was calmer, with the only ruckus being raised by the sparse crowd's cheers for every hit and strikeout. The disgraced cop stood outside a dugout wearing a hat, sports jacket and sweatpants, his likeness unmistakable thanks to Ramos' trademark Thump Records mustache and fat fuck-ness.
The Weekly reached out to Mike Silva, President of Fullerton PONY baseball, for comment; after indicating he'd respond last afternoon, Silva has yet to call us back.
Read the Full Article at OCWeekly.com