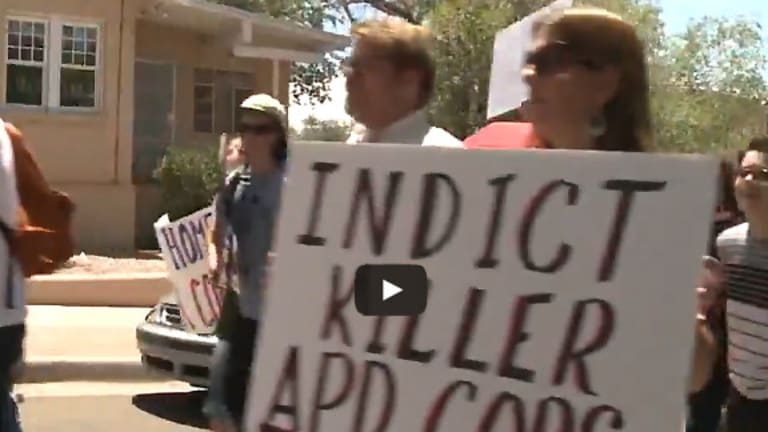 Killer Cop Works Undercover at Protest Against Killer Cops
 Undercover APD officer secretly films protesters
June 22, 2014
ALBUQUERQUE (KRQE) – A wide cross-section of disparate community groups, family members and friends of people shot by police and others turned out on a sweltering Saturday for another demonstration against police violence in a city that has been rocked by it during the past several years.
One of those groups was there for another purpose, and it's raising concerns.
The Albuquerque Police Department sent undercover officers to the peaceful demonstration, which featured numerous speakers at Roosevelt Park — itself the scene of a police-vs.-citizens riot in the 1970s — a march through the middle of the city and a mock trial that turned up a guilty verdict against Police Chief Gorden Eden.
An APD spokesman, officer Daren DeAguero, said the undercover officers were sent to the demonstration to "ensure (the protestors') safety and the safety of the community."
"I don't understand how protecting us is infiltrating us," Sayrah Namaste, who helped organize Saturday's event, said after News 13 told her about the undercover APD presence. "We are peaceful, we were lawful, there was no issue with the people who were marching today so, why were they surveilling us? That doesn't make sense."