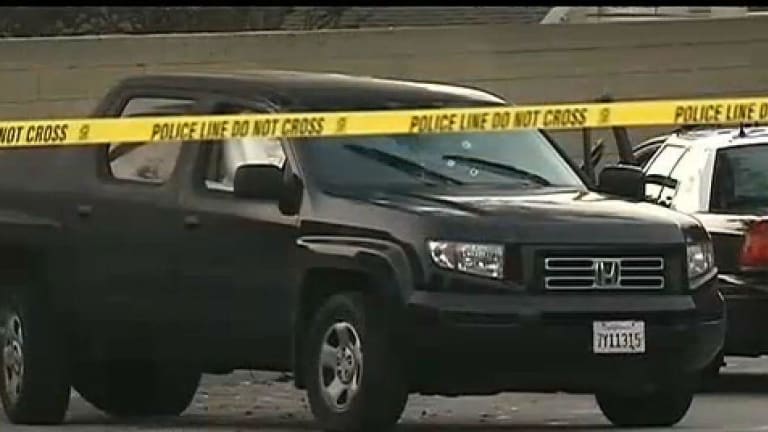 LA Cop "Justified in His Actions" For Ramming and Shooting at Innocent Man During Hunt For Chris Dorn
(FOX 11/CNS) - A Torrance police officer who opened fire on a pickup truck during the manhunt for former Los Angeles police Officer Christopher Dorner was justified in his actions and will not face any criminal charges, the District Attorney's Office announced today.
Prosecutors concluded that Officer Brian McGee "did not commit any criminal misconduct" on Feb. 7 of last year when he rammed David Perdue's truck with a patrol car, then fired three shots through the driver's side window.
According to a charge evaluation worksheet prepared by Deputy District Attorney Geoffrey Rendon, McGee acted reasonably in light of the ongoing search for Dorner, who had killed two people at that point and went on to kill two others -- a Riverside police officer and San Bernardino County sheriff's deputy.
"McGee's actions are analyzed based on the totality of circumstances, which include McGee's knowledge of Dorner's previous threats and actions in the days and hours preceding these events, which gave rise to an atmosphere of fear and extreme anticipation," Rendon wrote. "Those circumstances created a situation in which a reasonable mistake of fact, namely that Dorner was driving the truck, nearly resulted in a horrific tragedy.
"Nonetheless, given the circumstances, as detailed above, we conclude that Officer McGee was justified in using force to stop the vehicle and in discharging his firearm. Therefore, prosecution in this matter is declined and this office will take no further action."
According to NBC Los Angeles, "It was only the poor marksmanship of Torrance officer Brian McGee that led to Mr. Perdue being alive today," said Perdue's attorney Robert Sheahen.
In the report, the district attorney found that because McGee and his partner, Erin Sooper, were "anxious" and in a state of "panic," their attempt to kill Mr. Perdue was justified.
Are they kidding? So since the cop, McGee, who is a professional "law enforcement officer" was anxious and panicked, it is okay for him to have shot at an innocent person?!
This is absolutely horrendous! So if Officer McGee had killed Perdue with one of the 3 shots, would his actions still be justified?
This sets the precedent; if a criminal is on the loose, cops can ram and shoot anyone they want in the hunt for that criminal, and it will be just.
We must not let this stand. These criminals are condoning their own brutal and irresponsible behavior as they kill and brutalize innocent people. Please help to spread the word of this injustice before its too late.
Awareness is the first step to prevention.