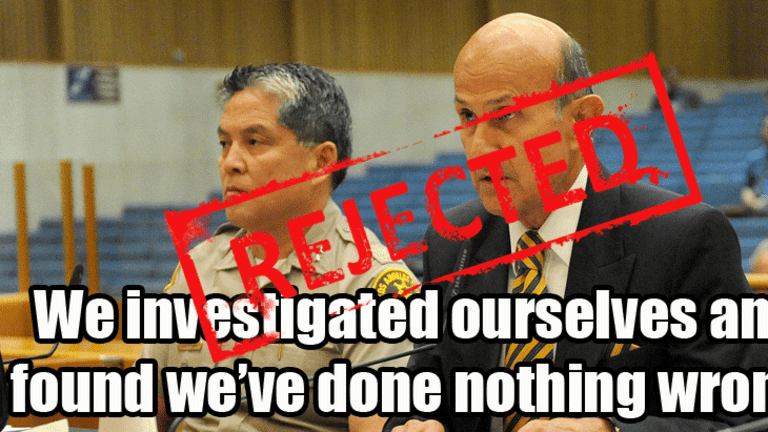 "We Did It!" Citizens of LA Create Landmark Civilian Review Board to Force Police Accountability
"It is all about accountability ... and constitutional policing"
Los Angeles, CA -- After multiple failed attempts to establish an independent, non-police-backed, civilian commission to oversee the LA County Sheriff's department, the Los Angeles County Board of Supervisors finally approved the measure on Tuesday.
In a split vote of 3-2, Supervisors Mark Ridley-Thomas and Hilda Solis combined efforts to propose the independent commission. Supervisor Sheila Kuehl backed the plan, while Michael Antonovich and Don Knabe voted against it.
This was an imperative move by the board as the Los Angeles County Sheriff's Department is and has been rife with corruption.
"We can't afford to delay any longer," Solis said. "Across this country, public trust in the people who are charged with keeping us safe has fallen to a low."
"It is all about accountability ... and constitutional policing," Ridley-Thomas said.
What's unclear at the moment is how large the commission will be or the scope of their oversight.
According to the LA Times, the precise powers of the commission will depend to a large extent on the new sheriff, Jim McDonnell, who was elected to the job last month after longtime Sheriff Lee Baca resigned in January. The sheriff is an independently elected office, so McDonnell is not obligated to take direction from the supervisors or their oversight commission.
McDonnell takes over the post under an unprecedented degree of scrutiny, including an impending federal consent decree governing mentally ill inmates. Last year, the supervisors appointed a veteran public corruption prosecutor to be the department's inspector general.
Many of the commission's details, including how many members it will have, the scope of its powers and its relationship to the new inspector general's office, remain to be worked out. A panel including the sheriff and other county officials will issue recommendations within three months.
In 2011, a temporary Citizens' Commission for Jails Violence was established and made several recommendations in response to the horrific jail conditions and the maltreatment of mentally ill inmates.
However, according to the Los Angeles Daily News, implementation of several of those changes is still under way.
That is why many supporters of this new commission are pushing for subpoena power. The Daily News reports that backers of the idea said that even an advisory-only board would offer community members a critical voice and a forum for grievances, but today many demanded that the civilian commission be given subpoena power and should not include any current or retired members of law enforcement.
The concept of excluding current and former law enforcement members is a huge move as it is usually the retired police officers within the unions that have so much sway over cops regaining their jobs after being fired for abuse.
Sheriff Jim McDonnell, who has only been in the post for a little over a week, expressed his support for the civilian commission, but he questioned the subpoena power.
Of course the commission is not without criticism by people who apparently think that oversight is somehow a negative approach to police accountability. Supervisor Antonovich came out in opposition stating the the board would be "a step backwards," saying that some of the department's "darkest days" took place under multiple layers of oversight.
According to the Daily News, other opponents of a civilian board, including a representative from the Citizens' Commission for Jail Violence, said such a commission would have no authority over the elected sheriff without changes to state law. Other critics said a civilian panel could dilute the efforts of Inspector General Max Huntsman.
However, it was Huntsman who has expressed his willingness to work under a board that has the power to fire him. Huntsman noted that the board must have complete access to the department however, in order to successfully implement such measures.
"The issue of access ... is absolutely critical," Huntsman said. Success would depend, he said, on "whether or not what they have to say is welcomed by the department."
While this is a significant step forward in the efforts of police accountability, it still has a long way to go. But third party, non-police related, boards such as this one, are the only way to stop these completely unaccountable, massive rights violations by police departments.
As long as police officers who are accused of a crime have the ability to investigate themselves, we'll never see progress. The entire country should start pushing for their local governments to establish similar civilian accountability measures and start firing police officers who violate citizens' rights.