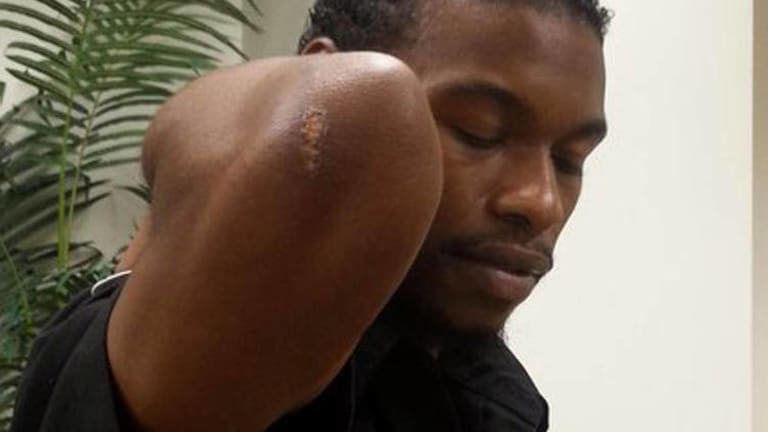 LAPD Brutally Beat, Kicked, Tased Handcuffed Man on Video and Refuse Transparency
"I was just praying that they wouldn't kill me. I just closed my eyes and tried to hold on"
Los Angeles, CA -- The Los Angeles Police Department is facing heavy criticism for their brutal ways once again, after allegedly assaulting a handcuffed man and tasing him in both his head and his back.
Unfortunately for the thugs at LAPD, the entire incident was captured on video, though the less-than-noble Chief Beck is refusing to release it- despite claiming he would be providing transparency on the case.
"If Chief Charlie Beck wants to be transparent," Harper said, "the chief will release it. He has the power to do so no matter what he says."
Their victim, Clinton Alford, appeared in court on crutches this past Wednesday and alleges LAPD beat him and kicked him in the head repeatedly in South LA after being stopped on a bicycle and arrested for the victimless crime of drug possession.
Alford claims the officers did not say they were police when they yelled at him to stop, so he ignored them and kept riding. When the two officers caught up to him, he says he laid down, put his hands behind his back, and complied- a statement that those who have seen the tape agree happened.
Another patrol car is then seen pulling up and the officer driving gets out and horrifically beats the handcuffed and face down man.
Officer Richard Garcia is reportedly seen kicking and/or stomping on Alford's head and upper body, then dropping to the ground and assaulting Alford with his elbows, sources told the LA Times.
The Times continued on to report that two sources told them Alford's head can be seen on the video hitting the pavement from the force of the strikes.
It didn't end there though, with the two initial officers still restraining him, Garcia leaned his knee into the small of Alford's back and, for a prolonged period, bounced with his body weight on top of the 22 year old man, the sources said. At one point, even putting his other knee on Alford's neck.
Throughout much of the attack, the two arresting officers restrained Alford, eventually moving away.
"He had to have stitches," Lawyer for Alford, Caree Harper told KCAL9. "He has fractures, he has two serious wounds to the head where the Taser was stuck."

"I was just praying that they wouldn't kill me. I just closed my eyes and tried to hold on," Alford told the Times.
Concerns have also been raised about what happened once Alford's limp body was carried into the cop car. The officers reportedly appear to notice the security camera on the wall and Officer Richard Garcia knocks and enters the building shortly after.
This specific division of the LAPD, Newton- appropriately nicknamed Shootin' Newton, has already been under fire for the recent murders of Ezell Ford and Omar Abrego, who were both unarmed as their lives were taken less than a week and a half apart.
All four officers involved in the arrest and a sergeant who arrived on scene afterward have been suspended with pay as the department investigates the Oct. 16 attack. Alford's charge of resisting arrest has been dropped.