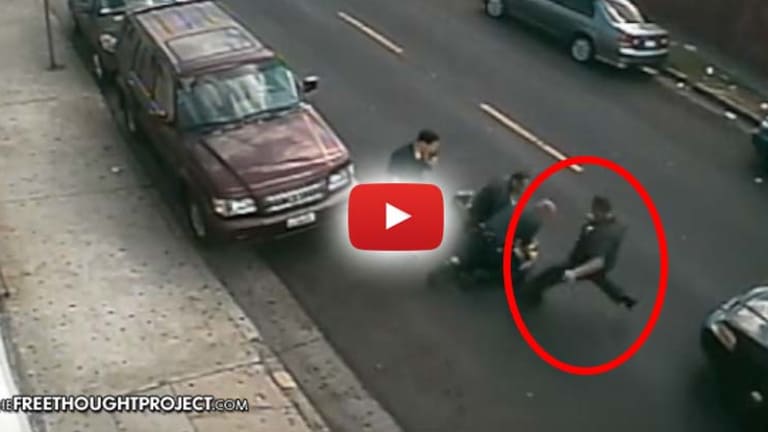 VIDEO: Cops Mistake Man for Bike Thief, Tackle, Cuff Him -- Crazed Cop Then Kicks His Face In
LAPD cops were caught on camera mistaking an innocent man as a bike thief and then stomping him into the street, over and over again.
Los Angeles, CA -- Clinton Alford Jr. had done nothing wrong as he was riding his bike one afternoon, when out of the blue he was attacked by a gang of men. When one of the men grabbed his bicycle, Alford became frightened and took off running. These men proceeded to throw Alford to the ground and place him in cuffs. These men were LAPD cops and they incorrectly thought he stole the bike he was riding. According to Alford, they never identified themselves as police. However, being assaulted by cops who mistook him for a bike thief was only the beginning. When officer Richard Garcia saw the officers on top of Alford, who was handcuffed, he felt it necessary to run up to the restrained man, kick him in the face, and then punch and elbow him.  For more than two minutes, Garcia would continue his assault on this unarmed and entirely restrained man. He only stopped when four of his fellow officers came over to pick up the battered and handcuffed Alford. Alford was not the man police were looking for either. This incident happened in October of 2014 and the video was kept from the public, in spite of it being repeatedly cited by police and procesecutors as the city pressed charged against Garcia for assault. 
"I was just praying that they wouldn't kill me. I just closed my eyes and tried to hold on," Alford told the LA Times in 2014.
According to the Times,
Garcia and another officer told investigators that Alford refused their orders and resisted after he was on the ground, according to a report from Beck made public last fall. Garcia said he punched and elbowed Alford to "cause Alford discomfort" and later used his knee to hit him because he thought Alford was reaching toward his shorts for a weapon.

After viewing the video, Beck concluded the officer's actions were not reasonable "given Alford's limited and unapparent resistance," his report said. The chief and Police Commission determined Garcia violated department rules during the arrest. Seven months later, prosecutors charged him with assault.
The abusive cop also told internal affairs that he thought Alford was reaching for a weapon. However, as the video clearly shows, Alford was in no way reaching or otherwise posing any threat whatsoever.
Garcia was staring down a possible three-year prison sentence. However, without saying anything to the press, Garcia was given a sweet plea deal by prosecutors that would allow him to avoid any jail time.
All Garcia has to do now is complete community service and donate $500 to charity -- for attacking a handcuffed man and repeatedly punching him.
"If this encounter didn't result in more serious criminal penalties, what would?" said Peter Bibring, a senior staff attorney for the American Civil Liberties Union of Southern California, according to the Times. "It raises serious questions whether the D.A. — even in those cases where they file charges — [is] being vigorous enough to hold the officers accountable."
President of the Police Commission, the civilian panel that oversees the LAPD, Matt Johnson said that what he saw was "not only out of policy, but unlawful and at odds with our mission to build more trust between the LAPD and communities of color."
"I am personally disappointed that Mr. Garcia is not going to be serving jail time and will have the opportunity to have his conviction reduced to a misdemeanor," Johnson said in a statement.
In the Land of the Free, police can attack a man for doing nothing wrong, proceed to stomp him into the ground and walk free.