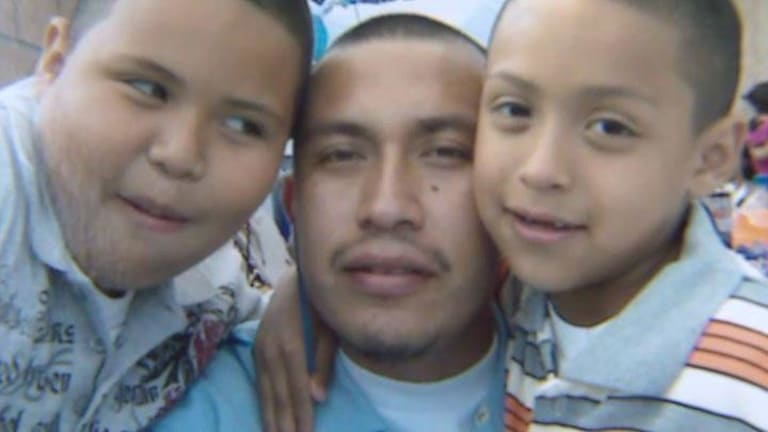 LAPD Cops Fatally Beat Father of Three During a Traffic Stop a Week Before They Killed Ezell Ford
Cellphone video shows 37-year-old Omar Abrego bleeding while lying facedown, and one witness said police officers punched him for 10 minutes.
Father of three, Omar Abrego, was on his way home from work on August 2, when he was pulled over in front of his own house by 2 LAPD officers.
Abrego was only four blocks from where Ezell Ford would be killed just 9 days later.
Two LAPD sergeants from the same Newton Division that killed Ford, stopped Abrego because he was allegedly driving erratically, speeding and almost hit a pedestrian, according to LAPD officials.
According to LAPD Cmdr. Andrew Smith, "After the vehicle stopped at 69th and Main, the suspect started to flee and the two supervisors caught the individual and an altercation ensued. As a result of that altercation…the suspect had a laceration and that's one of the reasons they called the ambulance."
Abrego died 12 hours later as a result of his injuries.
Smith claims that the officers sustained injuries during the altercation. One officer apparently suffered a fractured hand and the other an injured knee; coincidentally these are both parts of the body that officers use to subdue their suspects.
Could it have been that these injuries were sustained from the officers punching and kneeling on Abrego?
According to witness testimonies and cellphone video given to KTLA 5 news LA, that may have actually been the case.
A witness who did not want to be identified said he saw officers strike Abrego's face while he was down. Cellphone video from the scene appeared to show Abrego bleeding when he was on the ground.

"I witnessed the officer, the sergeant for LAPD, strike the individual twice in the face with his fist. Then officers arrived on the scene," the witness said. "I saw a lot of blood on the suspect's face."

"They were beating him real bad, and he died of the wounds," said Yair Abrego, the victim's brother.
Abrego's death has not only left an entire family in a horrid state of grief, it has also left them "traumatized" and "scared," according to Omar Abrego Jr., his eldest child. "I'm just trying to stay strong for my little brother and sister," he said.
In a matter of minutes a woman was made a widow and 3 children were left fatherless because of a man's interaction with police. Something has got to change.