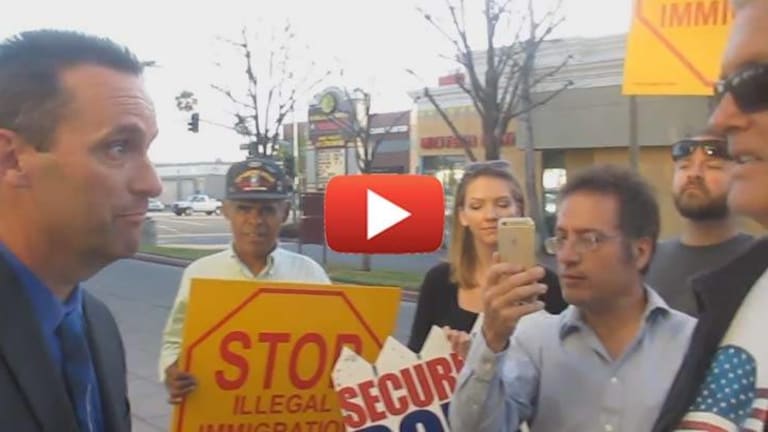 VIDEO: Cop Turned Congressman Channels His Former Cop, Threatens Protester with Violence
California Congressman Steve Knight threatened a protestor with physical violence outside of his office at an anti-immigration protest.
Simi Valley, CA-- A former Los Angeles Police Department officer turned Republican congressman, Steve Knight, was caught on camera last week reverting to his LAPD ways, and threatening a protester.
" width="790" height="444" frameborder="0" allowfullscreen="allowfullscreen">
As anti-immigration protesters congregated outside of his California office, a man referred to in the video as "Mike" walks up and gives the congressman a handshake.
"You told me you didn't vote for amnesty, and you did. I looked it up on the Internet. You lied to me," Mike says to Knight before giving him a pat on the shoulder.
The tap causes the former LAPD officer to come blaring out of Knight, as he gets in close to Mike and says, "Mike, Mike, hey- if you touch me again, I'll drop your ass."
The group was outside demonstrating against H.R. 240, which they believed the congressman voted on in favor of amnesty for immigrants.
The initial version of the bill that Knight voted yes on was tucked into a Department of Homeland Security funding bill, and would have revoked President Obama's executive orders on immigration. As the funding bill could not be passed as it was, the portion about immigration had to be removed and sent back for voting in order to pass the funding for DHS.
It is generally not a good move for a congressman to threaten someone with violence, even if they are out protesting against freedom and in support of imaginary lines drawn on maps made up by government.