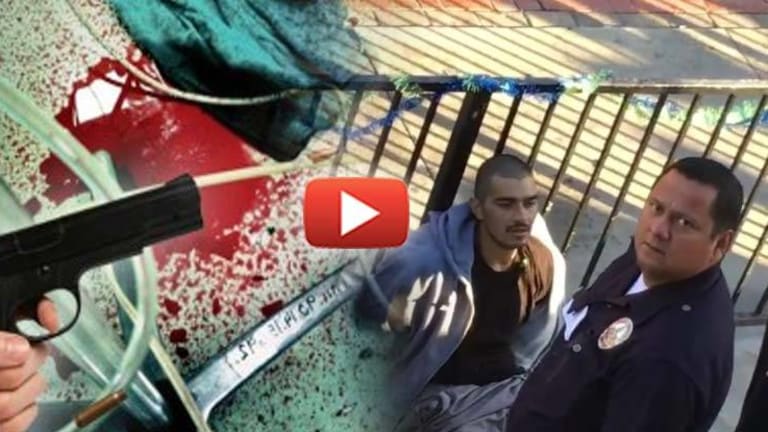 LAPD Officers Shoot and Kill Unarmed Mentally Ill Man in His Hospital Room
Instead of simply closing the door to the hospital room and allowing the mentally ill man to calm down, cops went in and shot him.
Torrance, CA -- Ruben Jose Herrera, 26, whose mother says is bipolar, was killed Saturday afternoon by LAPD officers in his hospital room after a violent arrest.
On Saturday, police responded to a call of a man throwing bottles and fighting with neighbors at an apartment complex off West 207th street. When officers arrived, they found Herrera, whose mother and another witness say was not the man throwing bottles. 
His mother, Graciela Herrera, and a neighbor stated Ruben Herrera was fixing a flat tire on a bike when officers approached.
As officers approached Herrera, they said he fought by kicking and punching. According to police, Herrera knocked the stun gun out of an officer's hand.
A portion of the arrest was captured on video which does not show this struggle. However, you can hear Herrera's mother telling police that her son is bipolar.
Herrera was then placed under arrest and brought to Harbor-UCLA Medical Center where he was treated for injuries sustained during the arrest. None of the officers involved in the arrest or shooting were injured, according to police.
According to police, after Herrera was treated for his injuries, he was unshackled from the gurney and became violent.
Police say Herrera picked up a stool and was swinging it at officers. When officers attempted to subdue Herrera, he allegedly "reached for an officer's gun."
Fearing for his partner's life, the other officer fired one fatal round into Herrera. The shot was so well placed that in spite of already being in a hospital, the medical staff was unable to save Herrera's life.
It is important to note that had Herrera become "combative" without police being there, that this incident would have likely been resolved without excessive violence.
Unarmed hospital staff deal with violent and mentally ill individuals on a daily basis in hundreds of hospitals across the country. Amazingly enough, they resolve these situations on a regular basis without killing anyone. However, police lack the training to deal with the mentally ill and their only solution, when such instances present themselves, is to put a bullet in it.
This shooting comes just one day after a video was released showing two LAPD officers murder a man in cold blood. Police accused Noel Aguilar of having a gun after they shot him in the back at point blank range multiple times.
The trigger happy cops were so overzealous that Albert Murade was shot in the stomach during the melee by his partner Jose Ruiz.