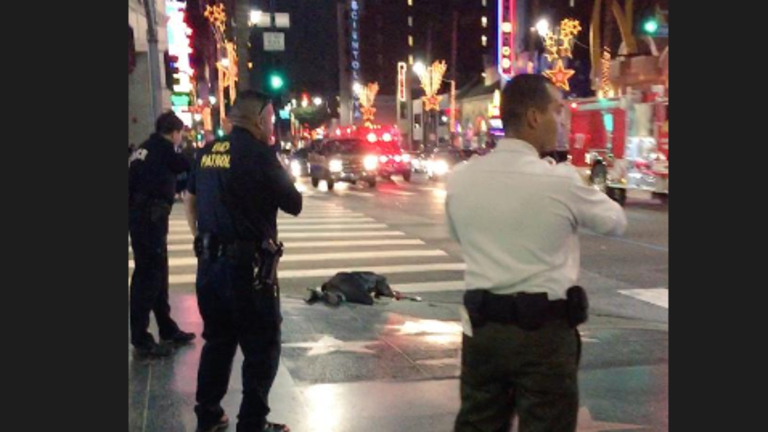 LAPD Shoots and Kills Man at Site of Protests Against Police Murder, Less than 24 Hours Later
Los Angeles, CA-- Not even 24 hours after solidarity die-in's for Eric Garner wrapped up on the corner of Hollywood and Highland, the Los Angeles Police Department has repeatedly shot a man, reportedly in the head, on the exact same corner. The incident occurred shortly before 7pm on Friday evening.
Thursday evening, at Hollywood and Highland:
The only information released so far is that the man was transported to the hospital in critical condition and was allegedly armed with a knife- a fact that witnesses are already disputing. Shortly after 10pm the LAPD announced he died.
While his condition was unknown, one witness, Jordan White, wrote on Facebook:
"He died right in front of me, then a squad of police rolled up and put his dead body in handcuffs, what the FUCK LAPD"
White also stated that he heard at least 10 shots fired.
Friday evening on Hollywood and Highland:
LAPD later tweeted this photo of the alleged weapon, a small un-extended knife. Its a bit troubling that either those who are supposed to "serve and protect" could not disarm someone with this weapon, or far worse that they chose not to. Warning: Video contains horrific footage

Post by Jordan White.
There really is something extremely morbid and unsettling about the police shooting someone in the head at the exact spot where a protest against police violence occurred less than 24 hours before.
UPDATE: Around 10pm pst LAPD announced the victim died.