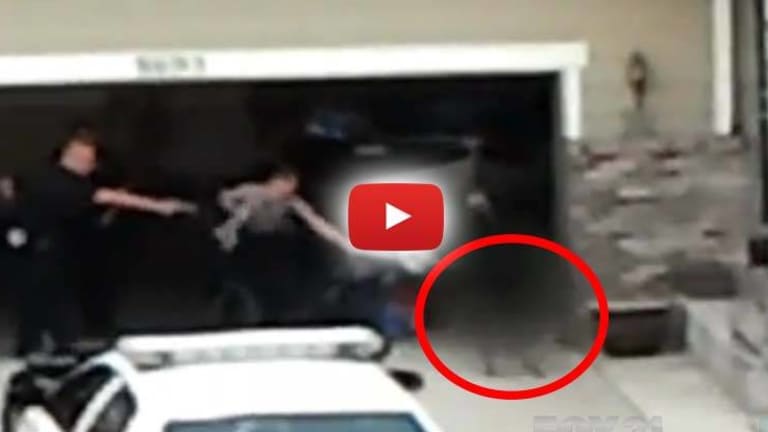 Largest Settlement for a Dog Killing in US History Paid After Cop Murders Restrained Dog on Video
Because of the gruesome video documenting the tragedy, a family of a slain dog was just awarded the largest settlement of its kind.
Commerce City, CO -- Commerce city taxpayers have just been hit with a $262,000 bill for a settlement in an incident where someone's dog was needlessly shot and killed by police.
According to the report, On November 24, 2012, Commerce City police responded to reports of a "loose, vicious dog." When officers arrived on scene, a small woman was able to get the catchpole around the dog's neck. However, officer Robert Price felt it necessary to taser the dog, whose name was Chloe, and then shoot her five times.
The graphic incident was captured on a neighbor's cellphone and was used as evidence in the case.
Officer Price was subsequently charged with felony aggravated cruelty to animals. However, as is typical in police officers charged with crimes caught on video, an Adams County jury found him not guilty. Commerce City police documents obtained by KDVR show an internal affairs investigation ruled Price was "within policy" when he killed the dog.
After the not guilty verdict, Chloe's owner, Gary Branson took civil action against Commerce City and to avoid going to federal court, the city agreed to pay $262,000. According to the Animal Law Center, this is the largest settlement of its kind in American history.
In addition to the settlement, Commerce City spent $125,227.38 in legal fees, according to KDVR.
Last year The Free Thought Project reported on a slew of tragic dog shootings, including one department in Buffalo, NY whose officers shot 92 dogs from Jan. 1, 2011 through Sept. 2014.
Buffalo is hardly an isolated incident either. In Southwest Florida, the News-Press discovered 111 instances of dog shootings among multiple agencies between 2009 and 2012, representing about 37 per year. According to the Chicago Tribune, Chicago Police shot approximately 90 dogs per year between 2008 and 2013.
Last year we broke the story of a SWAT team responding a dispute between two neighbors and then shooting a small dog as it ran away from them.
Some of these officers really do seem to get a thrill out of shooting animals.
In October of last year, we broke the story of the sickening video uploaded to Facebook of a Cleburne Texas Police officer calling a small dog towards him and then shooting it.
Why are these cops killing so many dogs? 
Is it because their lives in are in danger of ending every 98 minutes as they come across vicious animals in the line of duty? Some people in law enforcement actually expect us to believe that.
Watch the graphic video below and you be the judge, did this officer need to fire?
Matt Agorist is an honorably discharged veteran of the USMC and former intelligence operator directly tasked by the NSA. This prior experience gives him unique insight into the world of government corruption and the American police state. Agorist has been an independent journalist for over a decade and has been featured on mainstream networks around the world.