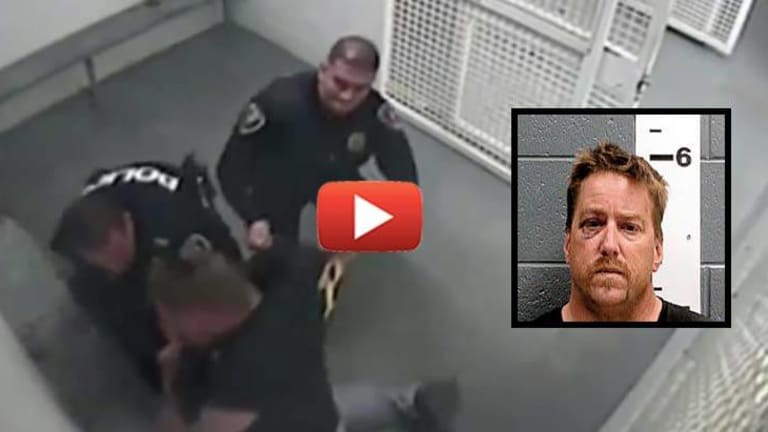 Cops Fired After Video Refuted their Story About Why they Smashed In a Handcuffed Man's Skull
Two Los Cardenas police officers are now out of a job after an investigation showed they lied about brutally beating a restrained man, landing him in the ICU.
Las Cruces, NM - Two Las Cruces officers were fired Monday according to authorities, after a surveillance video surfaced of the two cops beating a restrained man last December.
As we reported in March, Officers Richard Garcia and Danny Salcido were caught blatantly lying about the incident when the surveillance footage showed them barging into the cell and brutally beating 47-year-old Ross Flynn. The video shows the cops pinning the restrained man down, beating him, throwing him against the bars of the cell, and bashing his head so hard against the wall it fractured his skull. Flynn was in the ICU for several days according to attorneys.
Not shockingly, the offending officers had quite a different story before the footage was revealed. Officer Garcia's report claimed Flynn "was walked back all the way where he did hit his back and head against the wall." Garcia goes on to lie in the report stating they knee-kicked the restrained man to stop him from "grabbing at the officer's belt," and that Flynn actually pinned the officer between him and the wall.
Not even close.
"It's absolutely shocking. It was a vicious attack on Mr. Flynn," attorney Christopher Cardenas with the Lahann Law Firm, which is representing Flynn, told KRQE. "Mr. Flynn was handcuffed. He was already in police custody. So he was posing no threat to the officers."
In a press release Tuesday, LCPD Chief Jaime Montoya stated,
"The allegations against both officers were reviewed, and it was found that these officers violated internal policies and procedures which warranted their discharge from employment with the Las Cruces Police Department."
According to Cardenas, the termination of the officers is a "step in the right direction." He stated,
"We're satisfied with the result — the firing. It's justice partially served; however, we still would like to hear from Mark D'Antonio regarding the state's recommendation for criminal charges and whether the DA's office will be moving forward with charges."
He added,
"At the end of the day, we still have that civil rights suit, which is specifically to address the constitutional harms that those officers did to my client. That's the best justice we can give him."
The federal lawsuit filed by Flynn names Garcia, Salcido, and two other officers involved in the arrest leading to the beating (which Flynn is disputing), and seeks damages in the amount of $12.5 million.
District Attorney Mark D'Antonio has stated that criminal charges may be pressed against the officers, and a decision will be made within the next two weeks.