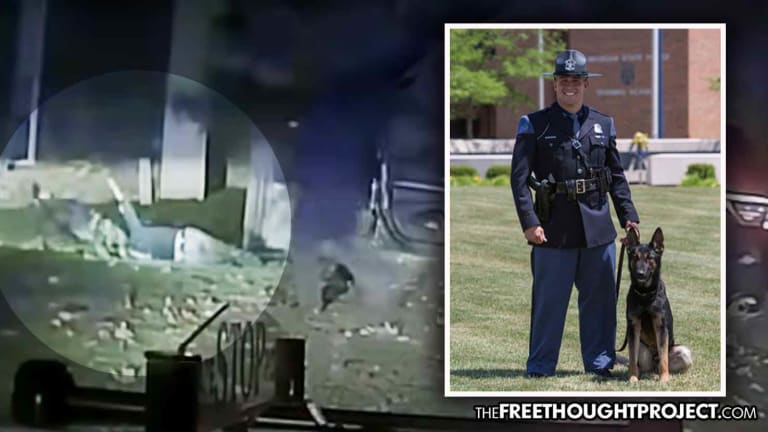 Cop Forced K-9 to Maul Compliant Man for 4 Minutes Until the Dog Started Licking Man's Wounds
The taxpayers of Michigan were put on notice for $1 million after a state trooper forced his dog to maul a surrendered man for nearly 4 minutes.
Flint, MI — Disturbing video was released showing what led up to a Michigan State trooper charges for felonious assault with a dangerous weapon. For nearly four entire minutes, trooper Parker Surbrook, 33, forced his dog to maul a compliant, unarmed and surrendered man, quite literally from head to toe.
On March 5, Surbrook, a 9 year veteran with the MSP, was arrested and charged felonious assault. He has pleaded not guilty to the charge. While his arrest was welcomed, a lawsuit filed this week is demanding more accountability.
"I called this press conference today to announce the filing of a Federal Civil Rights Lawsuit against Trooper Surbrook of the Michigan State Police and the Michigan State Police Department," Attorney Maurice Davis, with Davis Law Group, said on Thursday.
"He didn't care about a black man being mauled by his canine," Davis said.
According to police, Surbrook and another undercover officer saw a vehicle leaving an area known as an "illegal activity spot" and moved to pull it over. Instead of stopping, however, the vehicle fled and then crashed into a tree after a brief pursuit. During the crash, the driver, Robert Gilliam broke his hip.
Gilliam told FOX 2 this week that he had just met up with a high school friend and says they weren't doing anything wrong, but he says the cops targeted him because he was Black in a known drug neighborhood.
He says he ran because cops kill black people all the time and he was afraid.
"My leg was broken, my hip was already demolished, I couldn't even move," explained Gilliam.
After the vehicle crashed, the video shows Gilliam exit his vehicle, lie on the ground, and put his hands out. By all definitions, he had surrendered and it was not even possible for him to flee.
Nevertheless, Surbrook rushed out of his car with the dog, yelling "stop him, stop him, stop him, stop him, stay on the ground mother f**ker!"
As Surbrook directs his K-9, Knox, Gilliam, lying down on the ground with his hands out, completely surrendering, says, "I'm done, I'm done" and made no attempts to get up. Still, Surbrook kept yelling at his dog to attack and the dog follows his orders.
Surbrook looks like a raving lunatic as he jumps around the scene running back and forth, yelling at the two entirely compliant and surrendered individuals.
"He's got me…he's got me," Gilliam yells as he begs for help. In response to the pleas for help, Surbrook gives the K-9 more commands to bite the man.
Gilliam begs, "I'm not moving, please get him," pleading with Surbrook to call off Knox.
He starts pleading, "please sir…sir," and Surbrook tells Knox "good boy" and "stay on him."
"Please, Sir, he's on my face," the man can be heard screaming.
"I don't care," Surbrook responded.
As you watch the video, it is clear that Surbrook's actions are nothing less than torturous as he continues forcing the K-9 to tear into Gilliam, despite having absolutely no justifiable reason.
"I'm not moving, sir, I'm not moving," the driver says.
"Do you got him?" Surbrooks asks the other officer if he has the passenger under control, ignoring the fact that his dog is nearly killing a man.
"Please sir my legs are tore up, you got me. Sir?"
"Stay on him," the sadistic cop orders.
"Please sir, please sir, please I'm begging you sir, please sir, please, please sir…please."
"Come on, sir…He's trying to choke me. Sir, please, please stop, please," Gilliam said. "Sir he's choking me sir."
Surbrook said again, "I don't care."
This exchange went on three minutes and 44 seconds.
"It felt like three years and 44 minutes," Gilliam told FOX 2 this week.
When he finally removed the dog from the bloodied and mauled driver, Surbrook was ecstatic at what he just witnessed and celebrated the horrific act of unnecessary violence he just inflicted.
"Good boy, God damn time, holy f**k, good boy, good boy," he said.
When he gets on the phone, he tells the person on the other end, "it was a good bite."
According to the Lansing State Journal, the hospital documented bite injuries to his head, left shoulder blade, left bicep, left forearm, left-side rib area, both sides of his pelvic bone area, his genitals and the top of his thighs.
In his report Surbrook lied and claimed the driver fled which is why the K-9 was deployed. But that was quickly discredited after his supervisor watched the video.
Surbrook's supervisor, Lt. Ryan Maki, said Surbrook's statements and report after the arrest "led him to believe the suspect had ran on foot and that K9 Knox was deployed to perform the chase and hold to stop the suspect as he was running."
When Maki watched the video, however, he realized Surbrook was not telling the truth.
"While the unfortunate reality for police officers is that use of force is sometimes a necessary action to ensure the protection of themselves or others, care and concern for human life should always be at the forefront of any police officer's actions," Col. Joe Gasper, director of MSP, said in a statement. "This makes Trooper Surbrook's disregard of the driver's pleas for help totally unacceptable."
"Unacceptable" is the understatement of the year. His actions were criminal, sadistic, and torturous.
"The dogs stopped and start licking my wounds. If the dog knows to stop and lick your wounds, what's that say about him as an officer as police officers? What's hat say about him his character?" Gilliam said.