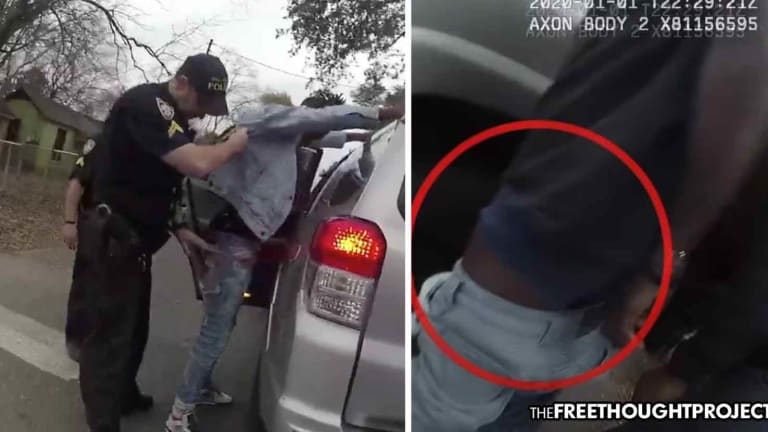 Lawyer Posted Video of Cops Strip Searching Child in Public So Police Want to Put Him in a Cage
With the family's permission, a lawyer posted body camera footage of police strip searching a child, now cops want to lock him up for it.
University of Virginia law professor and defense attorney Thomas Frampton was retained by the family of 23-year-old Clarence Green after Baton Rouge police officers violated Green's civil rights and the rights of his 16-year-old brother during a traffic stop on January 1, 2020.
As TFTP reported at the time, Green and his minor brother were made to strip down nude on the roadside as cops fondled their genitals.
After Frampton released the body camera footage of the unlawful traffic stop and subsequent warrantless search of the Green family home, Baton Rouge police now want to arrest Frampton. According to Reason news:
Frampton received notice that East Baton Rouge Parish Attorney Anderson "Andy" Dotson III, Assistant Parish Attorney Deelee S. Morris, and Special Assistant Parish Attorney Joseph K. Scott III had filed an order to hold him in contempt of court and put him behind bars for up to six months. The request cites a Louisiana state law that prohibits disseminating "records and reports" relevant to juvenile court proceedings.
As we reported, lead officer in the case, Sergeant Ken Camallo initiated the traffic stop after finding an out-of-state vehicle parked in front of what he determined to be a known drug house. The traffic stop started as a fishing expedition which turned into strip searches of the two males, one a minor, in public.
Camello and his fellow officers then drove to Green's home, entered the home without a warrant, and berated Green for telling his mom to call a lawyer. The threats to "f**k you up" for asking for a lawyer did not go unnoticed and were captured on body camera footage, so were the strip searches done in public. From the body camera footage it is clear the officers thoroughly checked both men's genitals, over the protests of the young men involved.
Frampton got permission from Green's family to release the body camera footage to the public provoking a backlash of consternation from the public at large directed at the police department. Now, it seems, the district attorney's office wants to prosecute Frampton for doing so.
Frampton, who won the civil suit against the Baton Rouge PD which a was settled out of court for $35,000, is now in the county's crosshairs. The decision to go after the Green family's attorney could be seen as retaliation for speaking out against their constitutional rights being violated but is also seen as a First-Amendment issue as well. The law professor wasted no time criticizing the district attorney's decision to go after him. Frampton told Reason news:
I'm not really surprised in the sense that if Baton Rouge thinks that it's okay to strip-search citizens in public, including children, and run into homes, guns drawn, without a warrant…the fact they'd go after a law professor for releasing the video isn't a huge shock...At the same time, it's a little surprising they'd have the chutzpah to claim that they were interested in the juvenile's privacy as the rationale for why I'm facing jail time when the city and police department have made abundantly clear that they have no respect for the privacy and dignity of children, or the population at large.
It's the third time Camello has been accused of violating citizens' rights in the line of duty. However, in Green's case, the city, or better stated the taxpayers, had to foot the bill. Green also spent five months in jail before the charges were dismissed, time Green will never be able to get back. The federal judge presiding over the civil suit, Judge Brian A. Jackson had harsh words for the Baton Rouge police department and officer Camello, a 20-year-veteran. Jackson wrote:
The state agents in this case demonstrated a serious and wanton disregard for Defendant's constitutional rights, first by initiating a traffic stop on the thinnest of pretext, and then by haphazardly invading Defendant's home (weapons drawn) to conduct an unjustified, warrantless search.
That's right America, a cop with a history of abusing the civil rights of those he's sworn to protect and serve, can stop, frisk, strip-search, and invade a family's home, guns drawn, and the only person going to jail for 5 months is the citizen. While the Green family may have gotten a fair payday for their pain, now it seems lawyers are also fair game for a system rife with corruption.