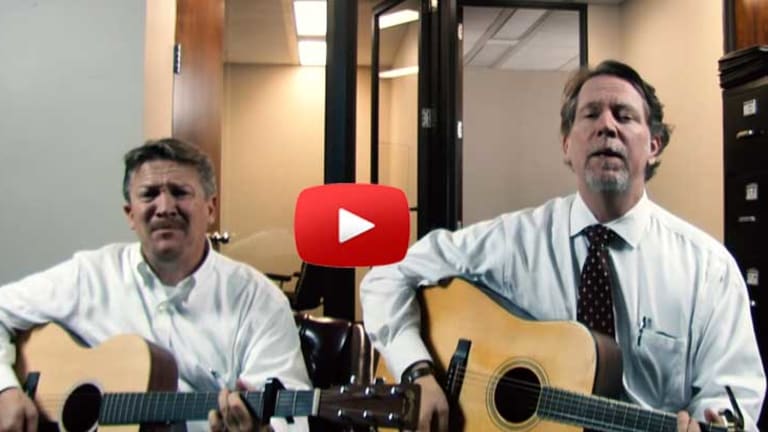 Lawyers Make Music Video About Weed That Everyone Should Watch For Their Own Protection
Two attorneys found a most creative way to inform the public on the dangerous actions police take in their immoral war on weed.
Waco, TX -- Will Hutson and Chris Harris took a novel approach to advertising, and it's helping to keep people out of the clutches of an immoral War on Drugs.
The Waco attorneys used acoustic guitars and their own voices to make a catchy tune called "Don't Eat Your Weed," which warns drivers of a common mistake people make when pulled over by Texas cops.
Possession of less than two ounces of cannabis in Texas is a Class B misdemeanor, but tampering with the "evidence" in front of a cop (such as trying to eat it or throw it out) will turn that into a third-degree felony.
The song goes:
"Moving down the road, you're driving pretty slow 'cause you got some marijuana on you. You really love pot, it's not a whole lot…just an ounce or maybe two.
Uh-oh, red and blues, flashing in the rearview…you pull off to the shoulder. No, please don't eat your weed. It's only a class B…misdemeanor."
Many cops are looking for any excuse to escalate the situation and catch you in a more serious crime, so don't give them the opportunity. Until every state wakes up to the fact that cannabis prohibition is unjust and a waste of time and resources, users will need to be wary of law enforcement.
Hutson and Harris also have a song called "Shut Up," which reminds us of the 5th Amendment right to remain silent and not answer questions during a roadside stop.
"There are some lawyers' commercials out there that are just so ridiculous, you wonder if somebody would take you seriously," Harris said. "But what we were shooting for as to impart — these are not really like commercials, they are more like public service announcements — we were hoping to look like a couple of guys who are lawyers who happen to play guitar. That is what we were shooting for."
Both attorneys are graduates of Baylor Law School and are well regarded by colleagues in the local bar association. Their past experience with playing music has proved useful in advancing their notoriety, with local residents and with radio stations around the country.
As of July 15, 2016 their YouTube " target="_blank">"Don't Eat Your Weed" video has gotten almost 300,000 views.
"I have seen a significant number of cases that are charged as felony tampering with physical evidence that arise out of somebody trying to eat or ingest a misdemeanor amount of marijuana," said 54th State District Judge Matt Johnson, who watched the video on YouTube. "Mr. Hutson and Mr. Harris have certainly developed a unique way to communicate with their clients or potential clients."
Even prosecutors have had positive things to say about the unique morphing of music and legal advice the Texas attorneys have created.
Almost everywhere we look, the war on weed is crumbling. As much as we report on cops who prey on cannabis users, there are more cops who turn a blind eye to simple possession, realizing the absurdity of it all.
Until the day comes when we can call prohibition history, the songs of Hutson and Harris will provide a valuable service while keeping us entertained.