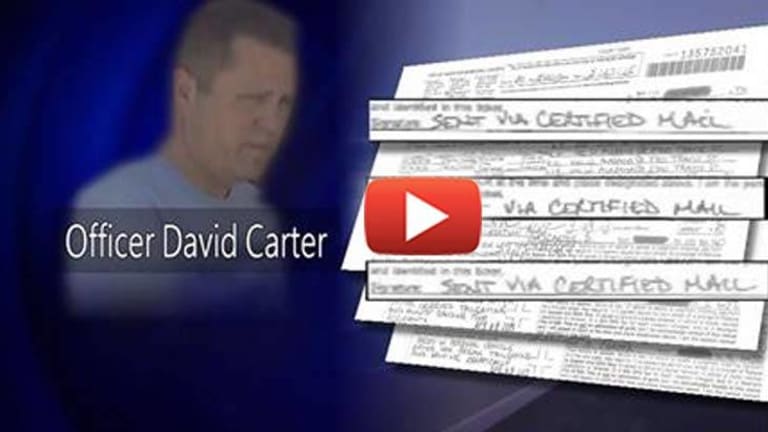 Were You One of His Victims? Scamming Cop Busted Mailing Traffic Tickets to Innocent People
In an entirely new form of revenue collection, a Texas cop was caught randomly picking victims to extort through the mail for fake speeding tickets.
Houston, TX - A police officer was recently suspended after it was discovered that he was mailing speeding tickets to random people who were not even driving in the area at the time. Officer David Carter is now under investigation because a number of drivers disputed their tickets, and it was determined that it would have been impossible for them to be speeding in the area where they were accused.
Emanuel Morfin is one of the drivers who caught on to Carter's scam, and he told KHOU that he was mailed a speeding ticket for a date that he was out of town.
"Actually I was down south in South Texas, so I'm like, well how am I speeding in Houston if I'm out of town? It was kind of ridiculous I was kind of shocked," Morfin said.
Morfin wasn't alone either, Carter regularly wrote tickets and assigned them to random vehicles, although it has not been determined how he picked his victims.
Larry Karson, Criminal Justice Professor at the University of Houston said that none of the tickets are valid if the actual driver of the car can't be identified
"You have an officer who is abusing their discretionary authority. You have no idea who's driving that car. You're sending that ticket to a registered owner, who may or may not be behind the wheel," Karson said.
Carter tried to explain some of the tickets by saying that he tailed people in his personal vehicle.
"He's actually making the situation worse because what he's doing is he's becoming another vehicle flying down at 90 miles an hour and no one knows that he is a police officer. All they know it's another crazy person on the highway," Karson said.
Randy Zamora, criminal law division chief with city's legal department said that all of the cases in question will be dismissed.
"I do not believe the citizens had any knowledge of the citations. Therefore, I did not think it was in the interest of justice to prosecute the cases and asked that all of the citations be dismissed," he said.
John Vibes is an author, researcher and investigative journalist who takes a special interest in the counter-culture and the drug war. In addition to his writing and activist work, he organizes a number of large events including the Free Your Mind Conference, which features top caliber speakers and whistle-blowers from all over the world. You can contact him and stay connected to his work at his Facebook page. You can find his 65 chapter Book entitled "Alchemy of the Timeless Renaissance" at bookpatch.com.