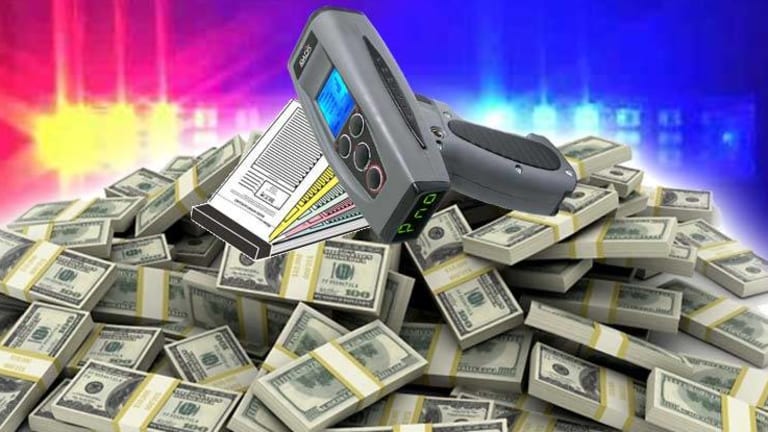 Ticketing for Profit so Rampant, State Lawmakers Forced to Take Action - Cops are Furious
Utah police chief and mayor Mike Johnson is fuming over the possibility of losing his speed trap cash cow.
Mantua, UT -- The Mayor and Police Chief of a minuscule Utah town is infuriated by a bill that would shut down his lucrative speed trap.
In response to accumulating complaints by residents of the town, State Senator Lyle Hillyard has introduced SB 100, a bill that would restrict traffic ticket collections to 25 percent of a town's municipal general revenue, with the balance to be turned over to the state.
"I have never had a complaint about a Utah Highway patrolman enforcing traffic laws, or law enforcement in Brigham City or Wellsville," Hillyard told the Ogden Standard-Examiner. However, the senator -- who lives in nearby Logan -- says that he has been inundated with pleas from Mantua residents seeking relief from the municipal revenue farmers.
Mantua (pronounced "MAN-too-ay"), located at the mouth of Sardine Canyon in Utah's Box Elder County, is ideally situated to serve as a speed trap. In 2013, city police issued 2.49 tickets per resident, by far the highest ratio in the state. In 2014, the city issued 2,200 tickets and collected more than $220,000 in traffic fines. An interesting contrast is found in the neighboring town of Willard, which is twice the size of Mantua and bisected by the same state highway -- yet issued fewer than one-third as many traffic tickets in the same year.
"The cop down there is like a sniper," local resident Sheri Leishman, whose husband has been issued speeding tickets several times in Mantua, told the Salt Lake Tribune. "Everyone knows he comes right out of nowhere and slides right in."
Although Johnson insists that his department (three part-time officers and a clerk, in addition to himself) are motivated purely by concern for public safety, their zealous revenue collection earned a rebuke from the Utah Department of Transportation. In a 2012 letter, the department complained that the section of highway used as a "duck blind" to entrap motorists was being damaged by patrol cars, creating an "immediate safety issue."
With no measurable crime rate, non-traffic enforcement arrests and detentions are practically unheard of in Mantua. Apart from shaking down motorists, Johnson and his officers spend most of their time issuing citations to people caught fishing without a license.
"I'm personally offended at this incentivization to simply write as many tickets as possible for funding," Sen. Hillyard told the Logan Herald-Journal newspaper. "Revenue should be a side effect of public safety, but should not be the driving factor."
Predictably, Mayor Johnson claims that his omnivorous traffic enforcement system is supported by the good and respectable citizens of Mantua, and that Hillyard's bill would undermine public safety.
"This ill-conceived and shortsighted piece of legislation is truly unbecoming of a senior senator of our state Legislature," groused Johnson in a press release. "This entire episode reminds us of the hazards of being in a position of too much power for too long. Perhaps Mr. Hillyard's efforts would be put to better use by crafting term-limit legislation."
Whether or not Hillyard has been in the legislature for too long, Johnson and his cronies have been running an inter-generational racket, given that Mantua's speed trap has been in operation for decades. A 1998 Deseret News story reported that during 1997, "1,338 traffic tickets were issued by Mantua police, an average of 3.6 per day, according to the town's records."
After Hillyard's bill was approved by Utah Senate's Transportation and Public Utilities and Technology Committee last week, Mayor/Chief Johnson said he was "disappointed" but promised that somehow "we'll make do" if his municipal clique is forced to shut down its speed trap.