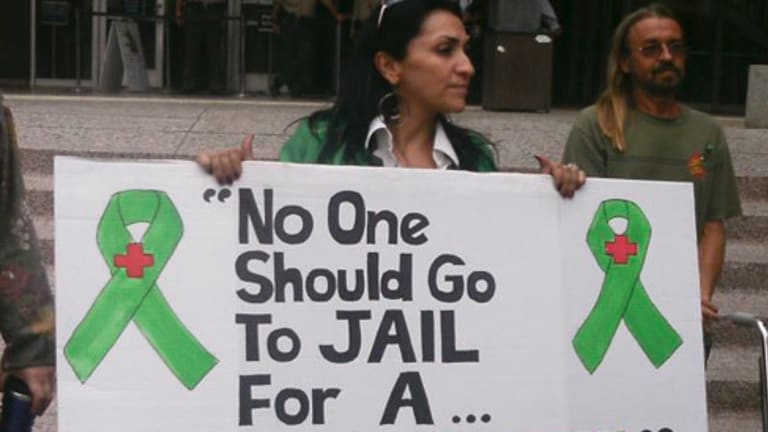 Life in Prison For Pot: How America is Creating Domestic POW's
Fate Winslow was homeless and trying to make a couple of bucks, literally, a couple of bucks when he acted as the middle man to deliver $10 worth of marijuana to an undercover cop. Fate is now doing a LIFE sentence for pot, and he is not the only one.
The number of people in jail for a plant is staggering. At any one time, 59,300 prisoners charged with or convicted of violating marijuana laws are behind bars. Of those, 17,000 are behind bars for possession ONLY, not trafficking. Dozens of people are doing life without parole.
Enforcing marijuana laws costs an estimated $10-15 billion in direct costs alone. Not to mention the sustained costs of incarceration of the individual who has done nothing to harm anyone. It is estimated that the money spent enforcing useless marijuana laws is double what we spend on education in this country.
The list below should serve as a wake up call to everyone. When a person is found to be in possession of a plant and locked in a cage for it, society has lost its way.
The war on drugs is criminal. Since when did "The pursuit of happiness" become "the pursuit of what we say you can do for happiness and anything else will get you locked in a cage"?
The people at The Human Solution are dedicated to trying to stop this horrible injustice. They have put together a database of people serving many types of sentences for the non-crime of marijuana possession and distribution. Please visit their page and show your support.
Welcome to our POW page. This is a list that is on-going and constantly changing. We call our brothers and sisters in jail/prison for a plant a POW, why? Well, President Nixon declared a WAR on Drugs- and sadly the Federal Gov't considers cannabis a drug. So, cannabis supporters are targeted out –raided, arrested, convicted, and jailed. This is a list of our POW 420′s doing time for a plant. We got brothers and sisters on this list doing 1 year to LWOP (Life With Out Parole)- Yes, I just said LIFE for pot. We encourage and strongly support you putting POW's on our list and helping THS keep the most up-dated POW list. But, most importantly pick up a pen and paper and write to a pow today.
—On a side note..as this list is always in the works..we ask that you help us keep this list update by helping us edit the articles we have written about theses POW's and submit new POW's -thank you..THS…
——-Please, click on the blue writing for more information about POWs—-
—-The following POWs are missing and we need your help to locate them—–
Cornell Hood is serving LWOP for cannabis. We need your help to locate what prison he is in.
Free Cornell Hood

Travis Bourda is serving LWOP for possession of 130 grams of marijuana with intent to distribute. Although no marijuana was found in his possession, the 29-year-old oil rigger was convicted at trial in October 2009. Please, help us find Travis we believe he is in a Louisiana prison.
Free Travis Bourda

Fate Vincent Winslow was homeless when he acted as a go-between in the sale of two small bags of marijuana, worth $10 in total, to an undercover police officer. Fate is doing a LIFE sentence for pot. We believe he is in a Louisiana prison we need your help to find him.
Free Fate Winslow

Terrance Mosley has a LIFE sentence for POT. Terrance was sentenced to life without the possibility of parole for possession of marijuana with intent to distribute. Mosley, a former special education student who has an eighth grade education, had two priors from his teen years related to drugs. Please, help us locate Terrance. We believe he is in a Louisiana prison.
Free Terrance Mosley

Leland Dodd has a Life without parole sentence for cannabis. We believe he is an Oklahoma prison. Please, help us find him. Without his DOC we have been unable to locate him.
Free Leland Dodd

DALE WAYNE GREEN-Please help us find Dale. We believe he is in a Louisiana Prison. Without his DOC number I have been unable to locate him. I do know he is serving a LWOP sentence.
Free Dale Green

Please, help us find William Duffries.William Dufries – serving LWOP for pot. We believe he is a Oklahoma prison but without his DOC number we have been unable to locate him. Please, help us find him.
Free William Dufries

The following people are IN TRANSIT or are UNKNOWN————————-