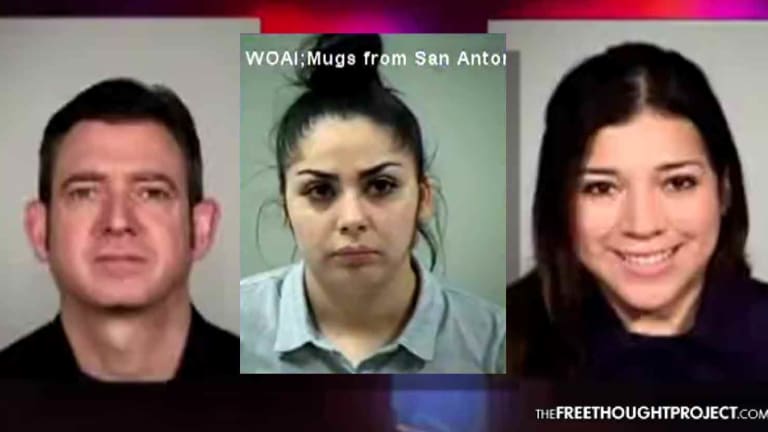 3 Cops in 1 Night, in the Same Town, All Arrested for DUI - One Had Kids in the Car
Bad apple? Isolated incident? Three cops in San Antonio were busted for DUI in the same night blowing the isolated incident theory out of the water.
San Antonio, TX -- The police officer DUI is so common that it usually doesn't get our attention. However, when three police officers are arrested, in three separate incidents, by their brothers in blue, on the same night, in the same town, it becomes newsworthy.
San Antonio Police Officers Gena Rodriguez, Harold Thomaston were arrested within hours of each other Friday night, and then a Bexar County sheriff's deputy Sabrina Moreno was arrested by yet another SAPD officer. In all, three officers were arrested on the same night by SAPD officers. According to WWLP:
Police say Rodriguez is an 11-year veteran and was driving with her three kids in the car when she rear-ended another car. When an officer arrived to the accident, he said Rodriguez was slurring her speech, smelled like alcohol and was unsteady on her feet. A few hours later, 20-year San Antonio police veteran, Harold Thomaston was pulled over. Police say he swerved into the lane of a fellow SAPD officer, then ran a red light.
Bexar County Sheriff Javier Salazar said he was "extremely disappointed" in his officer but commended the SAPD for doing their jobs and ensuring those officers are held to the same standards as the rest of the general population.
He said, "I am extremely proud of those officers that made the right calls last night and did what they had to do in spite of their own personal feelings, in spite of whatever else may have been going on, they did their job and I am proud that we have officers like that on the streets that are willing to make that sacrifice."
San Antonio Police Chief William McManus said, "Anytime an officer gets arrested for anything it's disappointing, but DWI is just so, so preventable, and there is really no excuse for it."
The smear on the SAPD comes just months after one of its deputies made headlines for offering a feces filled sandwich to a homeless man. Matthew Lockhurst, was fired from his position as a law enforcement officer after the prank, which was really no prank at all. A fellow officer forced Lockhurst to return to the homeless man and dispose of the feces sandwich, but it didn't stop Lockhurst from continuing to smear the name of good police officers everywhere.
While working at a duty station, he reportedly used feces to smear a streak all along the toilet seat inside the female officers' restroom, after a fellow female officer requested the sanitary services remain clean at all times. The 'joke' was apparently in retaliation for her insistence on bathroom cleanliness.
As TFTP reported, Lockhurst now realizes he made a mistake saying, "This has taught me to stop acting childish and making stupid baseless jokes," Luckhurst wrote in a statement to investigators. "I need to stop the pranks and juvenile jokes to get arise (sic) or reaction from fellow officers and friends." He was fired after the second stain on the SAPD.
SAPD cops have a terrible track record when it comes to corruption and abuse.
Previously, the Free Thought Project brought you the story of SAPD officer Serena Botello whose GPS was also used to show her negligence, exposing the fact that she had refused to do her job, not once, not 5 times, not 15 times, but 23 times in just a two-month period.
One of these 23 incidents was even caught on Botello's dashcam as well. She was seen driving away from a shooting in which she could have possibly saved the victim's life.
Also, a former SAPD officer was sentenced to 18 months in jail for gruesomely stabbing and shooting his family's dog.
Also, it was the SAPD who brutally beat a 16-year-old boy because they smelled marijuana.
Yet again, it was 2 SAPD officers who brutally beat a 70-year-old man because they thought he was drunk. He was actually having a diabetic attack.
These are just the tip of the iceberg. For a full rap sheet on SAPD corruption, you can visit this link, here.
It's unclear why the SAPD continues to have such trouble employing quality police officers. Maybe, as TFTP has contended, police departments like SAPD are having so much trouble because the employment qualifications for police officers is so low.
Think about it. If it takes 2 years for a person to become a nurse, and four years for someone to become a teacher, then why do we continue to employ individuals for one of our most crucial public service positions, police officers, after only giving them four months of basic law enforcement training, also known as the "Academy." It appears that the time spent in the academy needs to be much, much, longer.