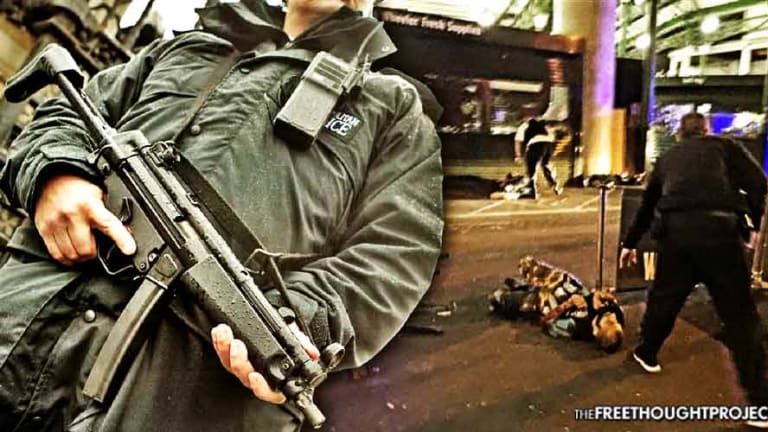 Eyewitnesses Recall Police Shooting American in the Head During London Attacks
An innocent American bystander was reportedly among the victims of a series of attacks in London on Saturday after he was shot in the head—by police.
An innocent American bystander was reportedly among the victims of a series of attacks in London on Saturday after he was shot in the head—by police.
A total of seven people were killed and 48 injured after multiple suspects in a van mowed down pedestrians on London Bridge, and then went on a stabbing spree in London's Borough Market.
Fabio Lamas, 20, works at the Wheatsheaf pub in Borough Market. He told NBC News he witnessed three men "carrying knives" and "wearing body armor" walking through the market before police arrived.
"I got people to start evacuating inside from our little garden that we have," Lamas said, "and got people to come into the bar and to go into toilets, hide under tables and hide in our cellar where we keep all our stock. Then I heard shooting and I saw an American guy get shot in the head."
The U.S. Embassy has yet to comment on whether any Americans were victims in the attack. However, Lamas noted that the man was at the pub with two friends who said they were American doctors living in London.
"He was bleeding through his eye," Lamas said. "I went to get the first-aid kit and I started speaking to his friends and to try and calm them down."
While the suspects in the attack reportedly carried 12-inch knives, as opposed to guns, police fired a volley of bullets, and one of the suspects was shot and killed outside the Wheatsheaf pub, which could account for a stray bullet striking the innocent bystander in the head.
Police responding to the attacks used an unprecedented number of rounds, with eight officers firing 50 shots, in an attempt to kill the three suspects,according to Mark Rowley, assistant commissioner for specialist operations in the Metropolitan Police Service.
After killing the three suspects on Saturday night, police then went on a raid Sunday, arresting 12 people in Barking, east London. The ages of the detained ranged from 19-60, and 11 of people were arrested in one complex. Rowley claimed the arrests were justified under Britain's Terrorism Act.
As the Telegraph reported Monday morning, these arrests were made after counter-terrorism officers secretly recorded an alleged Isil-inspired terror cell in Barking last month discussing how to use YouTube to plot a van and knife attack in London. They knew of the attack before it took place and did not stop it.
The investigators were said to be monitoring the terrorist cell weeks before the attack, yet arrests were not made until after the attack. How or why were they allowed to carry out this atrocity when they were being watched and recorded?
In response to the attacks, British Prime Minister Theresa May called for new international agreements to regulate the internet. She claimed that introducing new rules for cyberspace would "deprive the extremists of their safe spaces online."
The innocent American bystander, who became a victim after police opened a barrage of gunfire on a crowded market, is expected to survive. However, his injury does raise serious questions about the attack that have been ignored by media outlets and politicians alike.
Over 50 people were killed or injured in London on Saturday—but how many victims were injured by the three suspects, and how many were "collateral damage" after police chose to fire an unprecedented number of bullets into a crowded public area?