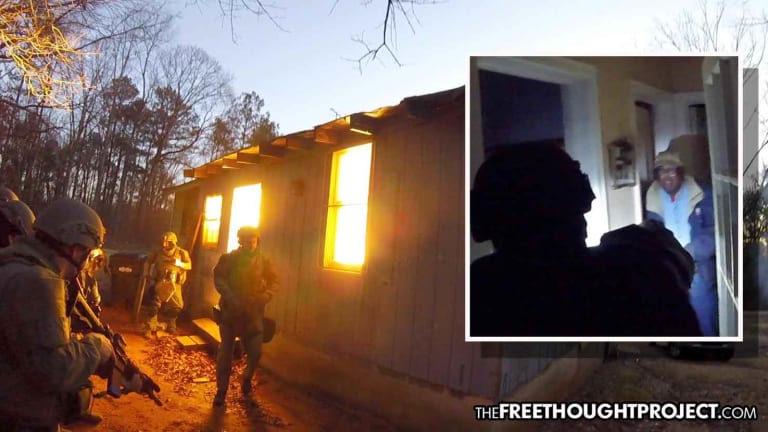 'Where we at?': SWAT Gets Lost, Throws Grenade Into Innocent Elderly Man's Home as He Watches TV
An innocent 79-year-old man was watching TV when a lost SWAT team threw a flashbang grenade into his home and attacked him.
Henry County, GA — The Free Thought Project has reported on countless cases of police officers, SWAT teams, and other law enforcement agencies going to the wrong address, kicking in doors and terrorizing entirely innocent people. This is a common trend in American policing. However, the following case out of Georgia shows a level of incompetence that rivals many of our most egregious cases.
"Something went off like a bomb in my house," Onree Norris, 81, recalls from the night incompetent cops raided his home, throwing a flashbang grenade inside after getting lost. As the explosion blew out windows and lit up the inside of his house like a fireball, deputies with the Henry County Sheriff's Office Special Response Team smashed down his door with a battering ram.
"Sheriff's office, search warrant!" a deputy is heard yelling. But the search warrant was not for Norris' home. A scathing report from 11 Alive details the utterly shocking incompetence and excessive force used to terrorize this innocent man.
Before making their way to the wrong home, deputies are recorded on their body cameras, clueless as to where they are.
"Where's the house?," a deputy is heard on camera asking, with no response. "Where we at? Where we at?," he asks again, without any answer.
Another deputy asks, "where's the f***ing house?," as the unit continues past the actual house on their way to Norris' house.
Instead of confirming the correct house, they simply chose Norris' house, threw in a grenade and went right on in. Had they taken just ten seconds to read the description of the home, they would have known they were at the wrong home.
As 11 Alive reports, "the warrant described an off-white house with a black roof. Norris' house is yellow with a gray roof. The houses even had separate driveways, addresses, and mailboxes."
But deputies didn't care, they just wanted to smash things and kidnap those damn "dope heads."
When the SWAT team entered Norris' home, Norris was temporarily kidnapped and his things smashed.
"Got to the hallway, they was all over me," Norris said. "Grabbed my arm, twisted behind my back, and handcuffed me."
Norris was 79 years old at the time and presented a threat to absolutely no one.
"That just like scared me to death. I'd already had heart trouble, I had heart surgery," Norris said.
Norris is heard on the body camera video telling the deputies who just flash banged his home as he watched TV that he has heart trouble. But they couldn't have cared less.
Eventually, police realized they were in the wrong house and so they began turning off their body cameras in a likely attempt to cover up their dangerous ignorance. Norris says that's when a deputy told him that they will uncuff him and leave, so long as he signs this piece of paper they placed in front of him.
"So I signed my name on there," Norris said. "I didn't get a chance to read it."
After police eventually left, they walked to the correct house and the heavily militarized SWAT team, equipped with M4 rifles and grenades confiscated a small amount of drugs. The term "overkill" doesn't even begin to describe the situation and speaks to the utterly anserine and violent nature of the war on drugs.
According to 11 Alive, Norris' grandson, Wantez Robinson, called 911 and requested an ambulance to check out his grandfather after the raid.
For two years, Norris has been fighting unsuccessfully to sue the cops involved. Thanks to qualified immunity, the officers involved remain protected.
"A pizza delivery man could have delivered a pizza to the correct address," Norris' attorney Darryl Scott said of the police incompetence.
"You're able to come and kick someone's house down, let flash grenades go, and you're at the wrong house, and you're not held accountable for it?," Robinson questioned. "Someone has to be held accountable for this. You should not be able to just go into someone's house because you feel like it," he added.
A few days after the raid, deputies came back and fixed the door but lawyers for the SWAT team have fought vigorously for two years against any other form of compensation.
Norris' granddaughter, LaCristy Johnson, minced no words when saying, "the government has given officers a blank check to go out in the community and break the law. They feel like they have the right to do that with no consequence." And, unfortunately, she is right.
Based on how he was treated and the utter lack of concern given to his case, Norris says he has no confidence that these raids on the wrong homes will ever come to an end.
"They're just gonna keep on doing it," he said. "They probably go into somebody's wrong house, somebody's gonna get hurt."
Sadly, he's right.