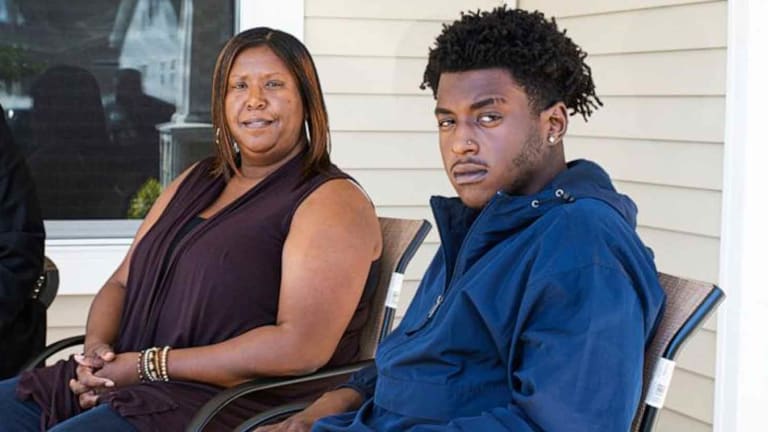 'They Might as Well Have a Noose': Cop Arrested for Leading Armed Lynch Mob After Innocent Teen
A North Carolina police officer was arrested after forming a "lynch mob" off-duty and terrorizing an innocent teen they wrongfully accused of a crime.
Rocky Point, NC — Last week, video of two men carrying out what was appeared to be a race-motivated killing of Ahmaud Arbery, shocked the country. What was so shocking about the entire ordeal was the fact that the killing took place in February and the retired cop and his son who pulled the trigger never faced a charge until last week — only after Arbery's family and community pushed for justice.
Greg and Travis McMichael claimed they went after Arbery because they believed he was burglarizing homes. Even if Arbery would have been burglarizing homes, grabbing a shot gun and chasing him down in a pickup truck is hardly a warranted response. It is half-cocked vigilantism and it led to an innocent man being slaughtered in the street. Yes, we are aware of the video showing Arbery entering a home that was under construction — but this is something people do all the time just to look around. He walked out of the home empty handed.
Now that the nation is finding out these two men were able to get away with the killing of Arbery for so long likely due to McMichael's status as a former cop, authorities in other places aren't willing to tarnish their images by doing the same. Just like the McMichaels grabbed their guns and went after an innocent man in a vigilante mission more akin to a lynch mob than actual justice, New Hanover Sheriff's officer Jordan Kita did the same.
Last week, Kita organized a heavily armed mob and led them to the home of an innocent black teenager. Just like the McMichael's, Kita was not arrested and charged immediately after his actions which could have spilled even more innocent blood. Not until Arbery's case and video began garnering national headlines did authorities in North Carolina actually charge the corrupt cop.
As the Daily Beast reports:
The teenager, Dameon Shepard, was playing video games late one evening when the group of men arrived at his door, demanding to know the whereabouts of a 15-year-old girl named Lekayda Kempisty who had been reported missing. Three in the group were said to be armed, carrying a shotgun, a semi-automatic rifle, and a handgun. Kita wore his New Hanover County Sheriff's deputy uniform and gun, though he had not come to Shepard's house on official business.

The group said they were going to enter the house and question him, the Port City Daily reports. But in addition to having no legal authority to question or detain Shepard, they also had the wrong guy.

The mob was in search of a man whose first name was Josiah. Josiah had reportedly previously lived in the neighborhood, but the only thing he apparently had in common with Shepard was being African-American in the predominantly white neighborhood. The armed group reportedly did not believe Shepard when he told them he wasn't who they were looking for.
"There's one in a police uniform, and he speaks to me first," Shepard told the Port City Daily. "He says, 'We're looking for a missing girl. We were given this address, we were given your name, and we were told that she's here. So we're going to enter,'" Shepard was quoted as saying.
Shepard is a smart kid and told the off-duty cop with his angry lynch mob carrying long rifles that they could not come inside. When he tried to shut the door, however, Kita put his foot in the door and would not let him close it.
According to a letter from the Shepards' attorney, James Lea, "Dameon became very frightened and hysterical, and kept repeating that his name was Dameon and that he attended Laney High School."
Shepard's mother, awoken by the confrontation, then came to the front door.
"The crowd was angry, and I still did not know what was going on," Monica Shepard told the Port City Daily. "[Kita] kept saying, 'I'm going to step inside, close the door, and talk to you,' and I said, 'No, you're not.'"
After Shepard refused to allow the mob into his home, they eventually left.
"The whole time, I was worried the worst would happen," said Monica Shepard. "I'm still in shock. I don't sleep well."
The cops were called, but they made no arrests and, according to Lea, took no names.
The missing girl, who the innocent family had never heard of, was found alive and well later that night.
Monica Shepard said, "Coming to the door like that with a mob of people with guns, what do we expect? What were their intentions? What if he was the person they were looking for or what if I was not home? What would've happened? I don't want to have that conversation. I don't want him to be a statistic. It's scary."
In a likely attempt to avoid a situation like Arbery's, Kita was finally arrested days later for forming the mob and attempting to force his way into Shepard's home.
According to reports, he's charged with breaking and entering, forcible trespassing, and failure to discharge duties. A second man, Austin Wood, is charged with "going armed to the terror of the public."
Attorney for the family Jim Lea III told Newsweek in an interview that the situation was the "quintessential Southern story" and that the group that attempted to gain entrance into the Shephard home was a "lynch mob, literally."
"They might as well have shown up with a noose in a tree," Lea said.
In 2020, the fact that this is still happening in the land of the free, and being carried out by law enforcement, is disheartening to say the least and a testament to many of the officers who fill the ranks in departments across the country. Luckily, Dameon Shepard lived to tell his story since Ahmaud Arbery did not.