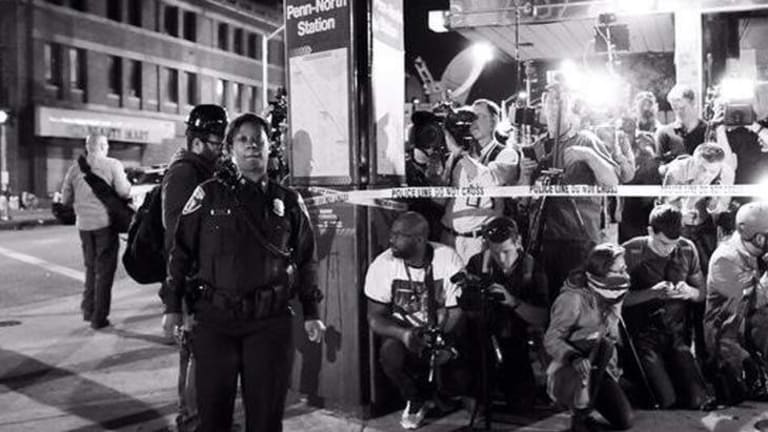 MSM Put in Tiny Sanctioned Area in Baltimore, Unable to Do Their Jobs- Threatened with Arrest
Baltimore police used intimidation techniques and pepper spray to censor journalists covering the protests in Baltimore this week.
Baltimore, MD-- Riots broke out in Baltimore this week after the police began provoking a group of high school students who were protesting. Due to this, the militarized Baltimore Police in conjunction with the National Guard have been selectively enforcing a curfew and shutting down the entire city at 10 pm since Monday. It has been left to the officers discretion to decide whether or not to arrest someone for being outdoors, although media was supposed to be exempt:
Just over an hour later, a second tweet was posted clarifying that they only meant credentialed media.

On Friday and Saturday, just like we saw in Ferguson the city took it a step further by creating a very small boundary in which the disgraced press is required to remain after the curfew begins. This prevents them from documenting the arrests and any abuse taking place in other areas.
While offering an area for press to use for their own safety should they choose, would be entirely acceptable, the press have the same
rights as the general public to access public space and if media is exempt from the curfew, being boxed into a tiny area on a corner of the intersection is not very "exempt" at all.
Not only did the mainstream media remain largely silent on this absurd violation of free press, but Don Lemon was even caught on video telling another journalist from CNN that questioning press freedom isn't worth it.
" width="790" height="444" frameborder="0" allowfullscreen="allowfullscreen">
On Friday evening, the press was boxed in by riot police with shields obstructing any view of arrests that were taking place. Press was told that we were not subject to the curfew and that the staging area was simply for our safety - yet anyone who stepped outside, myself included, was threatened with arrest. A helicopter overhead warned media that we were subject to arrest if we dared to venture out of our First Amendment zone. " width="789" height="592" frameborder="0" allowfullscreen="allowfullscreen"> Saturday evening, they went even further and pepper sprayed and arrested media, which was caught on livestream by a Ferguson based independent journalist known as Short Stack. Broadcast live streaming video on Ustream After being sprayed herself, she captured footage of an officer pointing a pepper spray canister directly at a cameraman who was filming a handcuffed man that they had left laying face down on the ground. She was repeatedly ordered to move into the press staging area, but defied the orders.

We spoke to Short Stack, and asked her why she refused to comply with being put into the pen, which is appropriately marked by yellow crime scene tape.

"F*ck your theatre, this isn't a stage for the state to put on propaganda. People's lives are at stake, and the underlying story must be told." she told us, speaking of the way the police are seemingly controlling the narrative.
It's important to note that while Monday was certainly rowdy, the subsequent days have not been. There is zero justification for the amount of officers they have present, or the amount of force being used.
On Tuesday, tear gas, rubber bullets, and pepper balls were lobbed indiscriminately into a primarily peaceful crowd, comprised of a significant amount of press. They were even caught on camera shooting directly at journalists who posed absolutely no threat to anyone.
" width="790" height="444" frameborder="0" allowfullscreen="allowfullscreen">
On October 27, 2014, following the abuse of press that occurred in Ferguson, such as arrests, physical assault, threats, and obstructing the media's access to the scene, the PEN American Center put out a 40 page report on the violations of press freedom that they documented. The organization is aimed at defending freedom of expression and press rights and has called for a Department of Justice investigation.
"Congress shall make no law respecting an establishment of religion, or prohibiting the free exercise thereof; or abridging the freedom of speech, or of the press; or the right of the people peaceably to assemble, and to petition the government for a redress of grievances."
In the report, they noted:
"The Supreme Court has defined 'press' in the context of this amendment as 'every sort of publication which affords a vehicle of information and opinion.'

The United Nations Human Rights Committee, the body that provides authoritative interpretations of the ICCPR's provisions, has recognized that journalism may be engaged in not only by professional full-time reporters, but also "bloggers and others who engage in forms of self-publication in print, on the internet or elsewhere."
By picking and choosing who is and is not press and allowed exemption from the curfew, Baltimore is violating the Supreme Court ruling.
By blocking and hindering press who is exempt from the curfew from being in public spaces, they are violating press freedom. Sadly, this is something which mainly alternative and independent media who don't have to answer to corporate or government interests seem to care about.
Those are the real journalists - the brave men and women sometimes only armed with cellphone cameras. The people who are willing to risk their own arrests to film abuse and arrests of others and make sure there is a record for accountability purposes.
Old media is dying, its time for more journalists without borders.