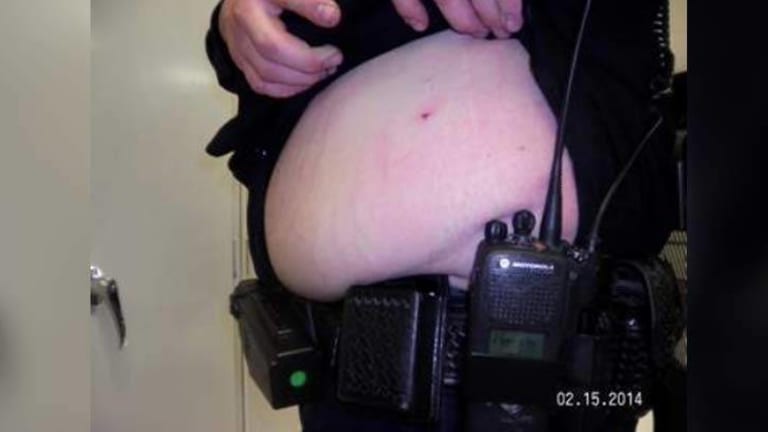 Man Acquitted of Stabbing a Police Officer, Juror says he Was "Protecting his Family"
A Texas man has been acquitted after being accused of stabbing a police officer during a violent confrontation with six "amped up" police officers.
Cortez, TX -- A Texas man has been acquitted after being accused of stabbing a police officer during a violent confrontation with six "amped up" police officers.
A jury of seven women and five men cleared Shane French, 38, of four counts of assaulting a peace officer and three counts of resisting arrest. After the incident in February, French was originally charged with attempted murder.
On February 14, 2014 police responded to a 9-1-1 call asking for assistance during a family disturbance. Somehow the police were given a "10-Zero" warning, meaning that they should use caution when dealing with the suspect. This 10-zero call, is what likely led to the quick escalation by police.
"I think the 10-­Zero call was detrimental to the whole situation," said one of the jurors in an interview with The Cortez Journal.
Jurors had to contemplate the legality of police officers entering the North Texas Street home that Valentine's Night.
"We were divided," said the juror.
French's public defender, Amy R. Smith, said that her client was "beaten," "tortured" and "insulted" by six "amped up" police officers. She said officer Casey Eubanks' vulgar remarks, including a statement that he should have shot the defendant, also shows that officers didn't place any value on the defendant's life.
"Mr. French is being blamed for it all," Smith told jurors. "It doesn't make sense."
During the altercation with police, officer Boyd Neagle admitted that he electrocuted French seven times, including five times in two-and-a-half minutes span, while French was in handcuffs.
"We thought he reacted to protect his family," explained the juror.
According to the Juror, the most important aspect of the evidence was sifting through the four pages of jury instructions regarding the state's Make My Day law, which enables a person to use force in the defense of self, others or a dwelling.
The Make My Day Law, arose in the US at the time of the 1985 Colorado statute that shielded people from any criminal/civil suits for using force – including deadly force – against an invader of the home. The law's nickname is a reference to the line "Go ahead, make my day" uttered by actor Clint Eastwood's character "Dirty Harry" Callahan, in the 1983 police film Sudden Impact.
In an interview, Glenn French, Shane French's father, said he believes that the police were the criminals in the incident.
"They attacked our son," he said. "I've never seen the cops act like that."
After a three-and-a-half-hour deliberation jurors felt that there was sufficient reasonable doubt to acquit.
The family of French is now deciding whether or not they want to launch a civil suit against the city. "We have two years to file a civil suit," said Glenn French. "We haven't really decided yet."
According to The Cortez Journal, the elder French also said he hoped the officers would be reprimanded or discharged. Eubanks was ordered to undergo anger management counseling, but no other officers were admonished, according to the Journal's review of public personnel files. Police Chief Roy Lane said Neagle wasn't at fault.
Despite the acquittal of their victim, the police chief remains unapologetic. "I see no violation of policy by officer Neagle, and there will be no investigation or reprimand of officer Neagle by the Cortez Police Department," Lane wrote in a email to the Journal.
The outcome of this case is entirely atypical of the normal outcomes in situations in which a citizen uses force against a police officer. It's heartening to see that a jury was able to look past the badge and examine the facts, in turn facilitating justice.