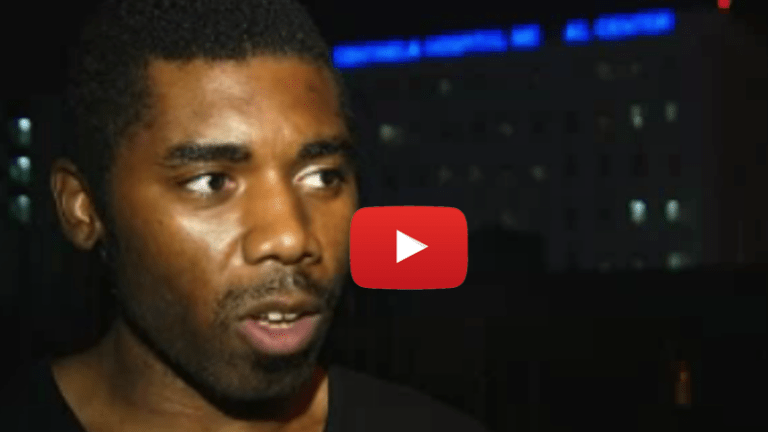 Man Arrested for Assault After He Says, Police Attacked him and "Snatched" his Infant Daughter
"They snatched my baby and that's when I got mad..... Everything was like a blur, just bodies on top of me."
Los Angeles, CA -- A 26-year-old dental assistant, with no police record, was arrested Sunday night for assaulting a police officer after picking up his 8-month-old daughter from his babysitter.
Brandon Dawson was arrested on suspicion of assaulting a gang officer from the Los Angeles Police Department's Newton Division, according to Officer Lilliana Preciado, who said she did not have any details on what led to the arrest.
Out on $50,000 bail, Dawson and family claim he was the victim here, not the LAPD.
Dawson was approached by several officers while strapping his daughter into her car seat. According to Dawson, they were questioning his motives for parking in this empty business parking lot. Dawson parked in the lot because the street was full, which is what he told officers.
The officers then told him to stop doing what he was doing and grabbed him, because he wasn't complying quickly enough with their commands.
Apparently Dawson thought that the well-being of his infant daughter was more important than curtseying to his uniformed assailants.
At this point, Linda Washington, Dawson's mother, says, police took the baby seat our of the car, prompting Dawson to snap, "What are you doing?!"
Words were exchanged and Dawson was taken to the ground. He then called for his grandmother to come and get his daughter.
Dawson was arrested and then treated at a local hospital for his injuries sustained during the altercation.
While the LAPD has yet to give any further details on the case, on the surface this looks like a typical profiling shakedown, that turned sour after police escalated violence.
LAPD has not released any information that states Dawson was suspected of a crime or any other reason for approaching him Sunday Night. Had they simply left the non-suspicious man, with a baby, alone, none of this would have happened. Did they really think a great criminal mastermind would have an 8-month-old infant in tow?